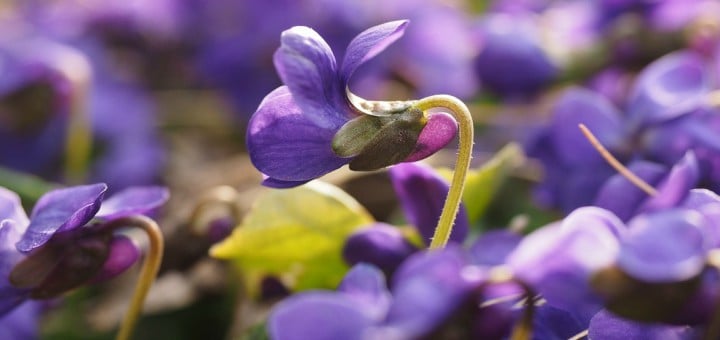 The flowers associated with the Annunciation (usually celebrated on March 25, but moved to April 9 this year because March 25 is Palm Sunday) represent in varied ways the spiritual fruit of the event — purity of heart, humility, fruitfulness, and The Mother of God. The Annunciation to Mary, found in Luke 1:26-39 and Matthew 1:18-21, is not only recognized by Roman and Eastern Catholics, but is also recorded in the Qur'an. We read in the Bible that the angel St. Gabriel came to Mary and announced to her what her vocation would be.
"…you will conceive in your womb and bear a son, and you shall call his name Jesus … therefore the child to be born will be called holy, the Son of God." (Luke 1:30, 35).
This closeness with God and her trust in him allowed Mary to fully submit to his request at the Annunciation, and allowed God's saving grace to work through her.
Pixabay (2014), CC0 Public Domain[/caption] The most familiar flower is the Madonna lily, Lilium candidum. This plant symbolizes confirmation of a message from God to only the purest of hearts. It is included in paintings of the archangel Gabriel — messenger of God, and on the staff of St. Joseph to indicate his worth to guard and care for Mary and the Son of God, and of course artwork of Mother Mary. Native to West Asia, the Madonna lily is seen in images dating back 4000 years. This is a true lily and can grow up to five feet, but more commonly 24 to 36", topped with its signature white trumpet flowers. It is easily grown in most gardens. Where temperatures run high, keep the soil cool with a deep layer of mulch. This plant reproduces from both bulblets and seed.
Pixabay (2015), CC0 Public Domain[/caption] There are several plants associated with the Virgin's humility. Bluebells, Hyacinthoides italica, represents humility, constancy, and gratitude. The Italian squill or bluebell is a spring-flowering perennial bulb native to the central Mediterranean region. In a woodlands area, plant the spreading English Bluebell, Hyacinthoides non-scripta, for an exquisite blue carpet of flowers in spring. Take note — this is a dominant spreading plant having a special beauty in mass, and is not suited to grow among other flowers. In your garden you can also use these plants symbolic of humility: spring-blooming Virginia Bluebells, Mertensia virginica, the woodland violet, Viola odoratoa, or the low-growing herb thyme, Thymus vulgaris.
Pixabay (2016), CC0 Public Domain[/caption] Mary's purity of heart is symbolized by the white flowering Japanese Camellia, Camellia japonica 'Alba Plena'. An interesting note: the genus Camellia was named after the Jesuit priest George Kamel who was also a botanist. For most of us, this is a potted plant. It is an evergreen shrub in warmer Zones 8-10. For more information on growing this beautiful fragrant plant, visit the Royal Horticultural Society web page.
Pixabay (2016), CC0 Public Domain[/caption] Mary's fruitfulness is symbolized by the pear tree, Pyrus communis. The European pear or common field pear is the parent of numerous cultivars grown for fruit production. From the University of Minnesota come the following recommendations for the Midwest home garden:
The varieties we purchase at the grocery store – 'Bartlett,' 'Bosc,' and the pricey Asian pears – are not hardy here. The good news, however, is that the main differences between grocery store pears and those we can grow here are size and fresh fruit keeping ability. Gourmet: 'Gourmet' produces medium-sized fruit in mid- to late September that are juicy and sweet with a firm, crisp texture somewhat reminiscent of an Asian pear. It is somewhat resistant to fire blight. Luscious: 'Luscious' bears medium to medium-small fruits in mid to late September with a flavor similar to 'Bartlett,' but more intense. Texture is firm but melting. Like 'Gourmet,' 'Luscious' reportedly is somewhat resistant to fire blight. Parker: An older University of Minnesota release (1934), 'Parker' produces fruit similar in size, flavor and texture to 'Bartlett.' Somewhat less hardy than other varieties listed here, it may not grow well north of the Twin Cities. Harvest mid-September. Patten: Originally from Iowa, 'Patten,' like 'Parker,' produces fruit comparable in character to 'Bartlett.' Hardiness is slightly better than 'Parker.' … Harvest mid- to late September. Summercrisp: 'Summercrisp' produces medium-sized, red-blushed fruit that is mild and sweet with a crisp texture strongly reminiscent of an Asian pear. Hardy in most of Minnesota and moderately resistant to fire blight. An early variety – harvest in mid-August.
Pixabay (2017), CC0 Public Domain[/caption] As a final consideration, Sweet Marjoram, Origanum majorana, can be planted around the base of a Marian statue, it symbolizes the Mother of God. Marjoram is one of my favorite herbs; it blends well in soups, and goes well with meats, eggs, or mushrooms. I always use a touch of it dried in fresh fruit salads (those that do not have melons mixed in!), adding some finely diced celery to the mix. Marjoram is a Mediterranean herb intolerant of freezing temperatures and usually grown as an annual. It can be grown indoors but requires a lot of direct sunlight. It is a sprawling 12-15" and a wonderful edging plant. It likes to be kept moist and, like most herbs, needs good drainage. Fertilize it about every three to four weeks with an all-purpose organic fertilizer. Cut stems back early and often to encourage branching, and shear down by two-thirds when harvesting — a second cutting should be ready before frost.
---
Copyright 2018 Margaret Rose Realy, Obl. OSB
About the Author