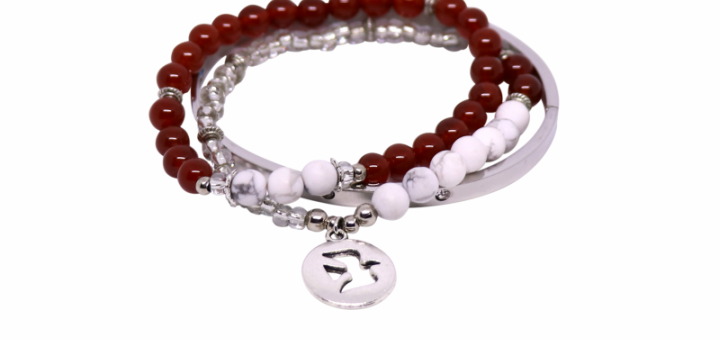 Courtesy of Denise Travers of Contemplative Rebellion Jewelry. All rights reserved. Used with permission.
This month Denise Travers is launching her new jewelry business, ContemplativeRebellion.com. While we live across the country from each other now, we both have our roots in the Catholic faith from growing up in the same diocese in rural Oregon under the leadership of Bishop Thomas Connolly. Our memories of youth programs have impacted us into our adult lives. I have enjoyed getting to know Denise and the vision behind her business after a chance invite from a mutual friend to give feedback on her works in progress as she prepared to create her business. The following are excerpts from a Q&A with Denise.
What is the story behind starting your jewelry business?
Did I ever think I would own a jewelry business? No. Did I ever see myself as a crafty person? Nope. I didn't know a jump ring from a 49-strand bead string until a few months ago. Something has been tugging at my heart the last few years. It happened when I saw that photo of the drowned Syrian refugee toddler, Alan Kurdi, face down in the water, washing up on the shore of Turkey. My son was his age at the time. How could I not care about another mother's children? I have a middle-class life, a beautiful home, a great job in IT. What was I doing to make the world a better place? How could I contribute, in some small way, and also involve my family? Donating money was out of the question based on financial realities. But I had to do something and I had to do something that was manageable for me. I contacted Catholic Charities and worked with them to set up apartments for incoming refugee families. This amounted to a few hours per month. This led to some beautiful relationships, and the result was this: I was blessed to see poverty in America face to face. I was blessed to see racism up close (most refugees were from Africa). And I was blessed to see true religious discrimination up close (most refugees were Muslim). I say "blessed" because when you are faced with a truth, are in close proximity to a truth, and you open your heart to what the consequences are for the rest of your life, you are "blessed" with being uncomfortable. And the only way to feel at peace in your soul is to continue to help the people who need it the most. Long story short, these refugee families are living on minimum wages and even with food stamps and a local food pantry, they may not be able to eat every day. I was trying to think of ways that the mothers could earn more money from home. I thought they could probably make jewelry, and then that kicked off months of sleepless nights thinking and planning and dreaming.
Courtesy of Denise Travers of Contemplative Rebellion Jewelry. All rights reserved. Used with permission.[/caption]
You mentioned that some but not all of the jewelry will be linked to your Catholic faith. Can you talk a little bit more about the scope of your jewelry and how you are deciding on what to include?
I love the Catholic faith. I love the depth and beauty and stories of our patron saints. Their lives point us toward those universal truths that are true at any time, any place, and true for all humanity. I want to tell their stories. I want to celebrate our sacraments and provide gift options that the receiver would wear to work or out with friends. The symbolism in some pieces are very real and very "present" to the wearer, but it may not be immediately obvious to their friends. That's okay. We need to be able to wear small symbols that throughout our day, no matter what we are doing, help keep our mind focused on the higher ideals we strive for. There are some pieces that are heavily Catholic, with very specific Catholic symbolism. The Thérèse of Lisieux piece has a beautiful medal of Saint Thérèse the Little Flower, a cross, and little symbols of new life. That's the fun of getting to create! I can make things that are interesting to a wide variety of Catholics. The other pieces will celebrate our interconnectedness as human beings, regardless of faith. Over the last several years, I have intentionally made it a priority to get to know families of other faiths. I wanted my children to know these families. The unintended but beautiful result is that I have friends who are helping me design Hindi, Islamic, and Jewish collections. My friend Joy Dale has become instrumental in designing the pieces related to social justice: racism, DACA, poverty, and so many of the sorrows of our time. Many of these pieces incorporate both Catholic symbolism and political weight.
Courtesy of Denise Travers of Contemplative Rebellion Jewelry. All rights reserved. Used with permission.[/caption]
What are you most excited about as you begin your business?
The depth of symbolism in Catholicism is so incredible. I was talking with a Protestant friend the other day. Her pastor had just given a sermon on how their church lacked ritual and symbolism. They were very strong in fellowship, but there was a realization that ritual and symbolism were very important to us as human beings. We need symbolism and ritual to help us escape these confines to contemplate the infinite. I am most excited about sharing this vision of God in a way that possibly hasn't been done before. There is a strong social justice piece. If your faith isn't leading you to be concerned with the poorest among us, the most disenfranchised, and to truly live the Golden Rule, you are missing Jesus' purpose for coming to us. Our faith must lead us to take political action. If more Catholics fell in love with the church's social justice teachings, we may not be in the political situation we are in today.
Learn the symbolism behind Contemplative Rebellion's Confirmation bracelet design. Courtesy of Denise Travers of Contemplative Rebellion Jewelry. All rights reserved. Used with permission.[/caption] Visit ContemplativeRebellion.com to learn more or to place an order.
---
Copyright 2018 Amanda Villagómez
About the Author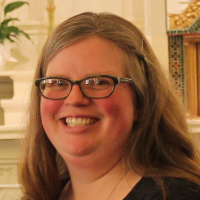 Amanda Villagómez is a wife, mom, and teacher educator. Her five girls range in age from 1 to 16. She blogs at Focusing on the Core to reflect on the journey of attempting to align her life to what matters most in different contexts.