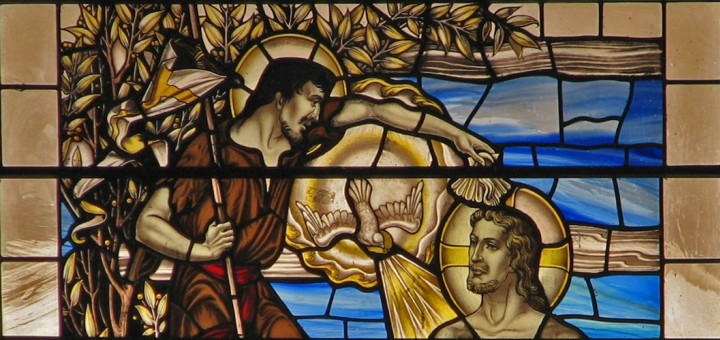 Photo by Fr. Lawrence Lew, OP (2006) via Flickr, CC BY NC-ND 2.0[/caption] It never fails. Since contributing to CatholicMom.com I always seem to write about Lent and its impact upon me. Lent 2018 is no exception. This Lent was very time-consuming, physically exhausting, spiritually challenging at times, sad, and in the end, extremely gratifying. Vicki and I usually vow to devote more time to God during Lent. We try to make daily Mass and increase our personal devotion times. I am happy to say that I made it to every daily Mass, except for one day when I had another church-related commitment that conflicted with the Mass time. I helped again this year in preparing the RCIA elect and candidates for their reception of the sacraments. One of our elect needed a sponsor. Our coordinator asked me if I might be willing to be a sponsor. I was not keen on the idea. I knew that being an RCIA helper and a sponsor at the same time would tax my time. I spoke with Vicki and she told me to pray about it. The selfish side of me said, "I want my own time. What about my own spiritual needs? The RCIA activities will interfere with the Bible class I am taking." I wrestled with the idea. Finally, I made the decision that I would indeed sponsor him. He was so excited about coming into the Church, how could I deny him that and cause him additional stress in finding a sponsor? The week prior to Holy Week, a beloved priest from our diocese suddenly and unexpectedly died. Though Vicki and I did not know him personally, his first assignment after ordination was at our parish, so we were very familiar with him. He came to the priesthood late in life. He had only been a priest for five years at the time of his death. But he was on fire! His life experiences and his approachability really drew people to him. His death hit us hard. We were actually very sad over his death. We reminisced about him and how he touched us and several people we know. The passing of Father was kind of a low point for me this Lent. All of my Lenten activities were starting to wear on me. The news of his passing did not help. I knew that God took him for a reason. I had the opportunity to receive Reconciliation twice this Lent; once at the beginning and the second during Holy Week. On the second occasion I got to the church somewhat early to "beat the crowd." And what a crowd it was! There must have been at least 50 people waiting. It was very heartening to see so many sinners! It was hilarious to watch monsignor's reaction as he exited the sacristy and saw the crowd. We all saw him mouth the word, "WOW!" Everyone started laughing. After being absolved, I was ready for the upcoming Triduum. Being with my elect during Holy Week was very special. He was taking it all in. Stations of the Cross on Tuesday night, Holy Thursday service (his final dismissal service), and finally his reception of the Sacraments on Holy Saturday. The baptism enraptured him. So much so, we had to nudge him to get out of the kneeling pool! I was "up close and personal" has he received all the Sacraments of Initiation. It was exciting to watch not only him but all the other elect, that in some small way, I had a hand in helping become members of the Church. It was very gratifying also when they came-up to me and thanked me for my help. By the end of Lent I was exhausted on many fronts. I had struggled with selfishness of my personal time, but I overcame that for what I thought was a better good. I suffered after learning about the death of a priest who I admired, but I realized that God knows what He is doing. I was also absolved of my sinfulness, twice. Holy Saturday energized me even though I was exhausted. The church was gorgeous. I was happy for our elect. I was happy that I had sponsored someone. In the end it made all the time sacrifices worth it. To top it all off, on Easter Sunday evening our former vicar general who had become a bishop, came "home" and celebrated Mass at our parish. It was so great to see him since he has been assigned elsewhere now for several years. What a wonderful end to a wonderful Lent. He is risen! Alleluia!
---
Copyright 2018, Michael T Carrillo
About the Author

Michael Carrillo is a retired police officer from a large California metropolitan police department. He is married to Vicki and they have five adult children between them. He is an unabashed fan of Jesuit education, though he regrets not obtaining one himself. Day hikes and walks give him opportunities and inspirations to look for and find God.