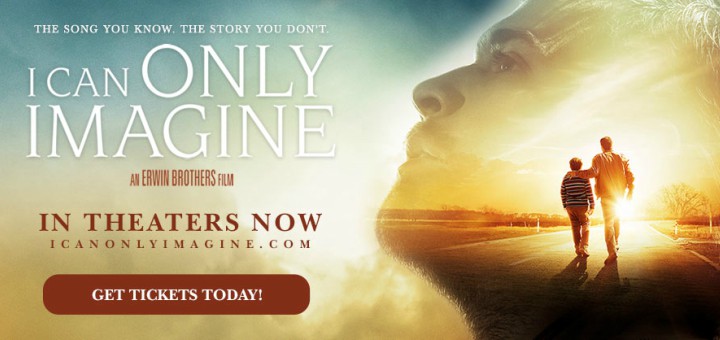 Via ICanOnlyImagine.com. Used with permission. All rights reserved.[/caption] What happens when you blend an iconic song with a powerful story of grace and forgiveness? You have "I Can Only Imagine," the new movie directed by the Erwin brothers and starring J. Michael Finley as MercyMe front man and songwriter Bart Millard. The song "I Can Only Imagine" is the most played Christian song of all time; Millard wrote it after experiencing the graces of transformation and reconciliation regarding his abusive father, played by Dennis Quaid. The movie opens with Millard and Christian singer/songwriter Amy Grant. Grant is about to record "I Can Only Imagine" and asked Millard to share the story behind the song. Telling her that he had written it in about ten minutes, she counters that a song like that would take a lifetime to write. Millard then begins to tell the story of his relationship with his father, Arthur, whom he referred to as a "monster." Millard grew up in a home full of fear and abuse. When he was ten, his mother drops him off one weekend at a Christian camp only to abandon the family in desperation. Yet in the midst of that devastation a seed of faith is planted in Millard's heart that would take many years to grow and mature. He also meets his future wife, Shannon that weekend. Millard uses music as a refuge from his home life. His collection includes an album by Amy Grant called "Never Alone," given to him by Shannon; it would prove to be a great source of inspiration. While in high school Millard plays football to please his father but suffers a career-ending injury. Ending up as the sound technician for the school's glee club, Millard is caught singing in the auditorium by the director who then casts him as Curly in the school musical "Oklahoma." He is then invited to sing for the local church which broadcast its services on the radio. This sets Millard on his trajectory as a singer and eventually, songwriter. Unbeknownst to him, his father discovers that he has cancer. The necessary parts are in place for reconciliation and healing. Breaking up with Shannon after graduation, Millard moves away from home to strike out as a singer, coming together with other musicians to form MercyMe. Frustrated and discouraged after the band is rejected by music professionals, Millard returns home at the behest of his manager, to confront his past and make peace with his father. The process of reconciliation had already begun with Arthur, profoundly moved when he had heard his son sing "Amazing Grace" on the radio at that local church service years earlier. That plus his cancer diagnosis brings him home to the Lord. Father and son forgive each other over time and form a loving relationship before Arthur passes away. This experience of grace moves Millard to write "I Can Only Imagine." And now, Amy Grant wants to record it.
Via ICanOnlyImagine.com. Used with permission. All rights reserved.[/caption] My memory of the song is Amy Grant's rendition which is slightly different than Millard's. I remember being moved by the words:
Surrounded by Your glory What will my heart feel Will I dance for you Jesus Or in awe of You be still Will I stand in your presence Or to my knees will I fall Will I sing hallelujah Will I be able to speak at all?
It moved me to tears as did the movie; I had a strong visceral reaction and was glad I was by myself so I could cry in peace. I have dedicated much of my life to singing and writing Christian music; it is the form of prayer I use to melt my hardened heart, chase away anger and discouragement, to feel and to show my love to God. Amy Grant was my influence; knowing that she played a part in this story drew me to see the movie. When I realized that Arthur's heart had been opened by his son's rendition of "Amazing Grace" my own heart burned with deep longing that all people could know the power of music in bringing them closer to God. It saddens me to think that many Catholics lock sacred music away in the church building. It is often not associated with a form of prayer that can accompany you wherever you go thanks to the miracle of technology. I often use singing as a way to work through feelings of anger and resentment. When I have those feelings or my faith life runs dry, I turn to music as a way to reconnect to God. And I long for others to know that secret! Thanks to YouTube, much beautiful Christian music is available free of charge. One can listen to a wide variety from classical to contemporary. You can sing along in the car, listen while at work, or use it for inspiration as you clean house or prepare dinner. And just like Arthur in "I Can Only Imagine," your heart can be changed. Bart Millard used his gift of music to write the song of a lifetime, bringing him fame and fortune. But I am certain that he knows the greater success came when his father heard him sing "Amazing Grace." Millard answered the call to pursue music as his vocation despite all the hardship of such a calling. In the end, God granted him the privilege of singing his megahit for the first time at Amy Grant's concert (thanks to her generous heart) in front of a sold-out crowd. And as he sang, he imagined seeing dad, in glory, in heaven, waiting for their eventual reunion. Take a moment and search for either "sacred music" or "Christian music" on YouTube and give these songs a listen. Let the words lead you into meditation and allow the melody to soften your heart. There is a reason why St. Augustine said that singing is praying twice. https://www.youtube.com/watch?v=ZNDEyxEMNp0 Whether you are a musician or one who loves the song, I highly recommend seeing "I Can Only Imagine."
---
Copyright 2018 Susan W. Bailey
About the Author