One of my book companions on the walk through the desert of Lent this year was a little book called The Spirituality of Fasting: Rediscovering a Christian Practice by Charles M. Murphy. Let's face it. People are quick to add in a charitable act or prayer during the 40 days leading up to Easter, and much more reluctant to truly "give up" something or to forego a pleasure. Furthermore, fasting from things like social media seem more common these days than fasting from certain foods or embracing a simplistic way of eating. But these concepts only scratch the surface of the depths to which fasting can take us spiritually.
Copyright 2018 Kaitlyn Mason. All rights reserved.[/caption] My favorite component of The Spirituality of Fasting, and the reason I wanted to read this book in the first place, is because it addresses our need for fasting in our modern world that is so full of consumerism and instant gratification. Are we in a certain sense, losing our grip on this ancient practice of fasting? What's in it for us anyway? And … is that really the right question? What's in it for us? The truth is that fasting opens up many opportunities for giving and sharing with others in our lives. And it creates space in our heart for us to hear and interact more intimately with our God. This book takes us back to the roots of this ancient Christian practice of fasting. It explores the ideas and lifestyles of the Desert Fathers of our Church who left everything behind in seeking out simplicity and penance.
"We seek through fasting a greater compassion, a softer heart," Murphy says.
Murphy goes on to explain that through fasting we also seek a solidarity with the poor. This is a concept that all humans should be interested in embracing – solidarity with the poor! This book really is a quick read, full of gems of wisdom and tons of great information. Thanks to Ave Maria Press for the opportunity to share this book with you today. It's available from Ave Maria Press and Amazon.
---
Copyright 2018 Kaitlyn Mason
About the Author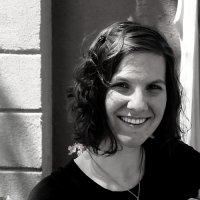 Kaitlyn Clare Mason is founder of Mary Garden Showers, a national ministry sharing Christ's mercy with women and families in crisis pregnancies. Author, songwriter, and homesteader, she is blessed to be a wife and the mother of four children. She writes to help you trust & serve the world through your home at KaitlynClareMason.com.