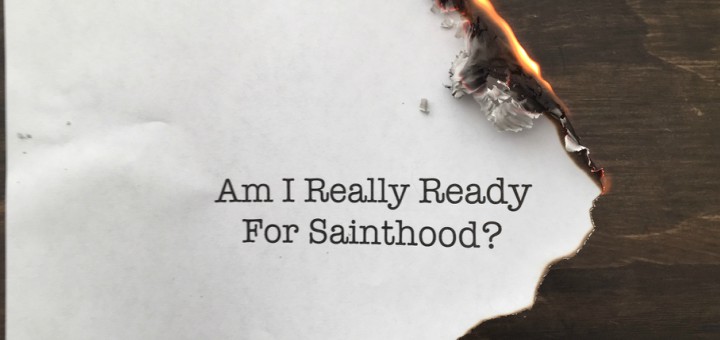 Copyright 2018 Courtney Vallejo. All rights reserved.[/caption] How many of you woke up on Ash Wednesday with your Lenten plan? How many of you got to Ash Wednesday Mass and realized it was Ash Wednesday? Every year it's a different journey for me. Some years, I come into the season with my list all made -- a prayer, a fasting, and an almsgiving idea. I usually have a few of each, end up getting overwhelmed and fail at everything within a day or two. Another typical tradition for myself is start strong for about a week, bottoming out the middle two or three weeks, and trying to finish up Lent in a cramming sort of style. This year I started a few weeks before Lent. I had a note on my phone that I was brainstorming and debating over. Going in, I felt strong. I had picked some "good ones," and had a plan of attack! This year, Ash Wednesday ended up falling on the first day of a statewide teacher's conference my husband was running. I feel like I need to admit something right away: I am not a fan of fasting, to say the least, and each year I dream of being in my 60s, outside of the fasting requirement age. I know, it's awful and I'm sure I'm wasting such an opportunity for spiritual growth. I'm working to embrace it, but I just don't like starving! I'm so spoiled! Anyway, I digress. We were staying at a hotel for a few days and I felt like I was almost forgetting it was Lent. Room service and housekeeping don't make me feel very penitential, but I was trying to keep with my plan. We got home on a Monday, and that following Wednesday I left to help my dad, who was having surgery. Here's where it got tricky. My Lenten plan flew out the window, and I realized that each year I tell God what I'm going to do; I mean it's like I send him an evite to my Lenten adventure and just wait for him to RSVP. This year He sent me the evite. He had a whole different plan on what my Lent would look like. Some brief highlights: Week 1: We came home on the Monday after Ash Wednesday to find that our poor family cat had died while we were gone. It was a good lesson in comforting my kids and detaching from my desire to save them from sadness and grief in their lives. Week 2: I left the Wednesday after coming home from the conference, and spent five days taking care of my dad, who had had surgery. I came home Sunday night and jumped back into life with three kids first thing Monday morning. Week 3 was mostly a blur, but it ended, just five days after I came back home, with my husband taking his music students to NY for five days. Week 4: While my husband was gone, things continued to be entertaining here! Some highlights include: waking up the day after he left, to sick kids. The kids graciously took turns getting sick and so the illness ran through our house the whole time he was gone. I had all kinds of plans for fun activities while my husband was gone, and I learned to detach from my plans and just realize I'm not always in control. On the night before he came home, I put in one last load of laundry so he'd come home to a clean laundry. I woke up the next morning to a wet floor in the laundry room and a broken washing machine. He ended up getting snowed in and had to stay in NY longer. Side note: After a week without a washing machine, we got our new one and that same night, the laundry room flooded just like before! Now I was learning to detach from luxury! Week 5: I think if I remember correctly, at this point we were up to the Thursday before Palm Sunday. Since it was winter, there was a rainstorm and my windshield wiper had broken a few days earlier. It snapped off while I was driving through a rainstorm. I decided to borrow my husband's truck to take the kids around to their activities. He has a big truck that I never drive, and by this I mean, I've driven it maybe three days in the two years we've owned it. I ended up having to drive it for four straight days because I could never get to the dealership to order my new windshield wiper piece. On the last morning of having to drive the truck, I stopped for gas and thought I was pulling out wide enough but misjudged and scratched/dented the truck by hitting a rock-covered trash can. Another lesson in detaching from my possessions (and my husband's). Who knows what happened during Holy Week, but one thing that kept resonating with me, through all of this, was a sense of peace, that I so rarely feel. I knew God was in control in each moment and that He'd get me through whatever the latest "crisis" was! I knew He was supporting me through each one of these steps and while I wondered what the heck was going on in my Lent, I knew for sure that God was with me and that Easter would be glorious. This was different for me too, because I usually relate more to the cross and the sorrow of the Triduum, but this year I was more moved by the Resurrection. I'd like to think I finished strong, but then there's the whole complaining about fasting on Good Friday thing again. BUT when Easter came, I made my whole family attend sunrise Mass, and when that sun came up just after we received Communion, I got all choked up. Lent was over! Christ had risen! And it was time to celebrate! So am I ready for sainthood? Well, I think based on my attachment to my washing machine and the dented truck, I may need some more time! When I think about sainthood, I think about saints like St. Joan of Arc, who was burned at the stake for proclaiming her faith. I think about St. Maximillian Kolbe, who died by lethal injection in a concentration camp, after taking the place of a fellow prisoner who was convicted of stealing. I have been reading about the saints of the day on the Laudate App, and it's interesting because it lists the saints who I'm familiar with and then a bunch that I'm not familiar with. Have any of you ever heard of Blessed Boniface Zukowski? He was a Friar Minor, who was arrested by the Gestapo in 1941 because he worked under St. Maximillian Kolbe in publishing and used the printing press to publish Catholic newspapers. He was sent to Dachau and was forced to labor in the terrible weather; he was beaten and died from his abuse. He is considered a martyr. He died in a concentration camp for defending his faith. I'm over here worrying because my indoor washing machine is broken. How about Blessed James Duckett, husband and father who was killed in 1602, after being arrested multiple times for printing and selling Catholic books? He is also considered a martyr. Finally, there's Blessed Bernard of Sithiu, who spent the later part of his life trying to make up for his sinful life and for a murder he committed. He wore rags and ate whatever he could find. He spent his final years in private doing penance and praying. So if I'm comparing myself to them, I'm sure I'm there yet, but I'm working on it. I'm hoping that one day I can echo St. Paul in 2 Tim 4:7 "I have competed well; I have finished the race; I have kept the faith." Considering my Lent, I might be working toward being the patron saint of washing machines or car dents, but I'm always reminded of St Matthew's Gospel on the dependence on God. So I challenge each of us to go back and read Matthew 6: 25-34. I laughed to myself when I read verse 27-28:
"Can any of you, by worrying add a single moment to your life-span? Why are you anxious about clothes? Learn from the way the wild flowers grow. They do not work or spin."
Maybe it was referring to my broken washing machine! In any case, I encourage each of us, no matter what our crosses are, to continue the good fight, to continue to trust in our God and to be completely aware of His awe struck love for us! I admit I'm pretty thankful my washing machine broke, because my new one is incredible!
---
Copyright 2018 Courtney Vallejo
About the Author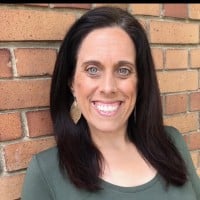 Courtney Vallejo is a convert to the Catholic faith, who lives in California. She and her husband homeschool their three adopted children. She is the cofounder of AMomRevolution.com, whose mission is to inspire, encourage, and reclaim joy in motherhood. She also writes for her own blog, CourtneyVallejo.com. Courtney holds a Master's degree in Film Production and a California Multiple Subject Teaching Credential. Follow her Gluten Free/Dairy Free adventures on Instagram: @aglutenfreerevolution.