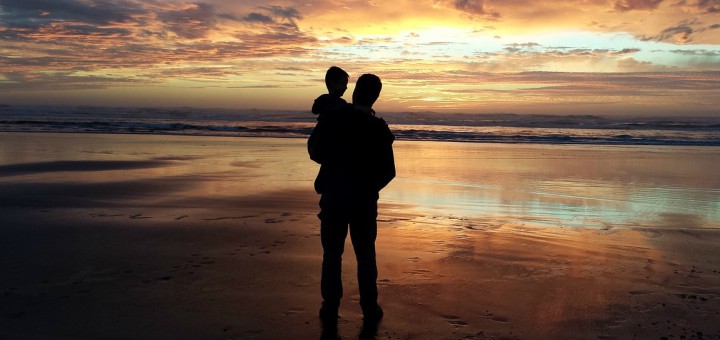 Pixabay (2015), CC0 Public Domain[/caption] Ah, sin. You small word with such large import. Does anyone really get how bad sin is? I've thought for a long time that I just don't get it when it comes to sin. I desperately want to think of the everyday genre of sin as being not that bad. Bad enough that the holy, omnipotent, immortal God chose to send his son to die on the cross to reconcile us to himself -- well, sure. But you know, the daily ill-spoken word, the stubbornness of heart, the uncharitable thought … is it really that bad? The most unselfish love I have is the love I have for my children. I wish I could say that I had all kinds of unselfish love for my husband, but I'm still working on this. How do I know? Because when my husband is sick (particularly when he is a "little sick," in my personal estimation), all kinds of ugly creeps into my head and heart. There is no greater assurance that I am not yet a saint as when my sniffling husband takes to his bed and leaves me with five kids for the weekend. However, for those kids, I will get up in the middle of the night, I will climb mountains, I will cook allergen-free dinner after allergen-free dinner and not complain. The love isn't selfless, mind you, but it's the best I've got right now. Last night my oldest child shot me a dirty look as he headed upstairs after I had asked him to get ready for bed (for the third time). That dirty look hurt a little. It was a sign that, from his perspective at least, something was amiss in our relationship. I am one of those people who constantly has her radar on, gauging the soundness of my relationships. I might be the best "phone-loser" as my kids call me, and I might be completely oblivious to the large billboard sign in front of my face advertising store hours, but I rarely miss a sideways glance, a hesitation in answering, or a stifled giggle. My relationship with my son at the moment was ruptured. Only slightly, but it was. We had to talk it out and restore it. Could sin be like that? Could sin be comprehended as a rupture in our relationship with God? One priest I heard described sin as the Good Shepherd slinging the lost lamb over His shoulder and the little lamb peeing all over His shoulders and face. This metaphor might resonate with men well. As a mom, I've been peed on a lot anyway. It doesn't touch my heart. What I yearn for most is to be connected with my children, for them to want to be with me, to want to share themselves with me, to want to accept my love for them. I want the love between us to be free, joyous, and self-giving. Do you think that God doesn't want the same? When will I realize that the way He has ordered our earthly relationships reveals something of Himself? Jesus taught us to call God "Abba" or "Daddy." Mother Teresa of Calcutta taught us that God Himself thirsts for our love. He thirsts for an unruptured, free, joyous, self-giving relationship with each one of us — and he embraces us as we are. From the meditation entitled "I Thirst," attributed to Saint Teresa of Calcutta:
"I thirst for you. Yes, that is the only way to even begin to describe My love for you. I thirst for you. I thirst to love you and to be loved by you—that is how precious you are to Me. Come to Me, and I will fill your heart and heal your wounds … Open to Me, come to Me, thirst for Me, give me your life — and I will prove to you how important you are to My Heart." (For the entire beautiful meditation, visit Ave Maria Radio.)
How do I make myself believe in my heart what I believe in my head: that each ill-spoken word, each stubbornness of heart, each uncharitable thought is rupturing my relationship with my heavenly Father? The common garden variety of sin is really a big deal, no matter how little I want to make of it. The key, I think, is to learn to love God more. Because when we love, we instinctively shrink from causing offense (this is why I, relational being that I particularly am, perpetually scan the horizon to be sure all of my relationship boats are upright). How do we love better? By getting to know the person we love. How can we know God better? Myriad ways: by asking for the grace, by staying close to the Sacraments, by reading the Bible, by training our hearts to love what is good, by looking for God in each day, by praying and conversing with Him … basically, by showing up. Just show up via whatever means you are able and He will assuredly do what He does best: transform us by His grace, love, and mercy. As a priest taught me, I pray, "Lord, I love. Help my unlove."
---
Copyright 2018 Amanda Woodiel
About the Author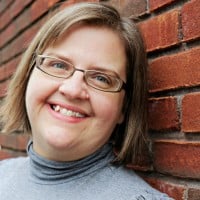 Amanda Woodiel is a Catholic convert, a mother to five children ages 14 to 6, a slipshod housekeeper, an enamored wife, and a "good enough" homeschooler who believes that the circumstances of life—both good and bad—are pregnant with grace. Her oldest son was diagnosed with cancer in the summer of 2022, which is providing plenty of opportunities to test that hypothesis.