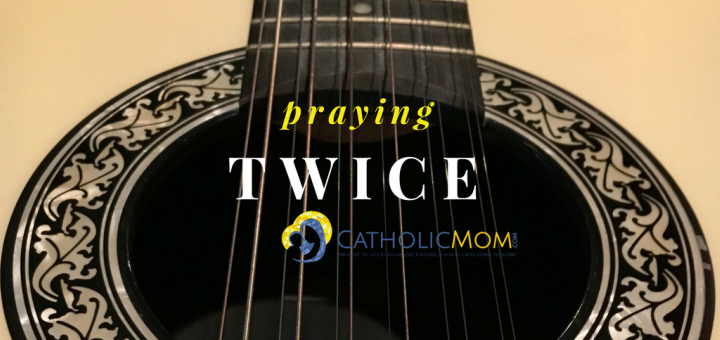 Image copyright 2018 Barb Szyszkiewicz. All rights reserved.[/caption] This is the first in a series of monthly musical reflections. St. Augustine is credited with characterizing singing as "praying twice." With that in mind each reflection will include one video of sacred music and a theme to ponder with questions. I have deliberately chosen videos that feature only the music, to minimize distraction. You may want to have a journal at hand so you can jot down your thoughts. It is suggested that first, you sit very still and listen to the song all the way through. Allow the music to lead you into that inner room of your soul where you and the Lord can meet. Then cue the song again and complete the exercise.
Theme: Imagining Heaven
It seems only appropriate to begin with the song that inspired this new series. In my recent post on CatholicMom.com I shared my powerful reaction to the movie I Can Only Imagine. I was already familiar with the song through Amy Grant's "Legacy" album. Thus, I felt it was appropriate to feature her version:
Imagine/Sing the Wondrous Love of Jesus
https://youtu.be/QrVEXuzTMNc
Pondering the music
As you listen again, close your eyes and ponder these lyrics:
Surrounded by Your glory, what will my heart feel Will I dance for You Jesus or in awe of You be still Will I stand in your presence or to my knees will I fall Will I sing hallelujah, Will I be able to speak at all I can only imagine, I can only imagine
What do you imagine Heaven to be like? Ask the Holy Spirit to stimulate your imagination and then jot down your ideas.
Imagine yourself in front of Jesus at your death. Can you see yourself reacting as the song describes? What do you think you might do?
How does your faith in Heaven shape your feelings about dying? In describing any fears you might have, what does the hope of eternal life do to mitigate those fears?
Take a moment and compose a prayer to God expressing your praise and awe at His love in redeeming you and welcoming you into His presence. Imagine the veil being lifted and seeing Jesus in His glory as you write or speak your prayer.
Find out more about St. Augustine and music as a form of prayer.
---
Copyright 2018 Susan W. Bailey
About the Author