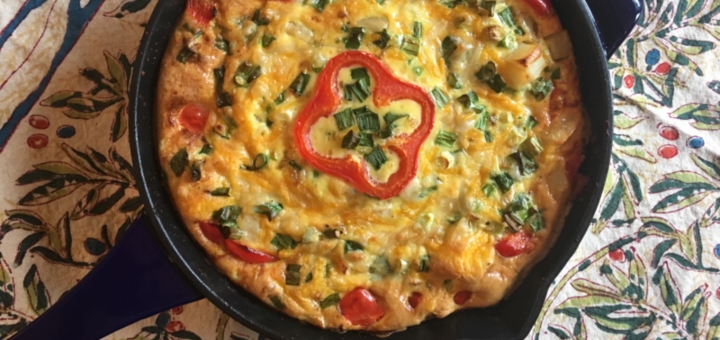 This savory egg and potato pie is a delicious one-skillet meal, and it's super easy to make. Just what we all need after a busy week. Right? And best of all, it uses only six ingredients that most cooks will likely have on hand—eggs, milk, cheese, potatoes, green onions, and a bell pepper. No trip to the grocery store for this meatless dish! With a cheesy, pillowing, melt-in-your-mouth texture, it is simply seasoned with green onions and bell peppers. So it's healthy, satisfying, and colorful! If you're looking for a crust-less egg pie that's a family pleaser, this is the recipe you'll want to save in your file!
Copyright 2018 Catherine A. Hamilton. All rights reserved.[/caption] For those who have dietary restrictions, the recipe is gluten-free — and can be dairy free. We have lactose intolerance in our house, and I always make this skillet pie "dairy-free." (I prefer Daiya non-dairy cheese products for cooking, especially the "mozzarella".) But when we have a big family gathering that includes the cheese-lover bunch, I make one with dairy and one without. Everyone's happy! Before we head to the kitchen, I'll share a secret. I'm terrible about following recipes. Even when they're my own! This simple egg pie is delightful as is, but you could add a layer of smoked salmon or smoked steelhead (8 oz. package) flaked on top the potatoes before you add your egg mixture. Other veggies also sometimes find their way into this pie—even sliced mushrooms. The point is, you can experiment with this very basic suppertime-anytime egg pie. When you have the time and feel creative, transform my recipe into your very own family favorite.
Suppertime Egg and Potato Pie
MAKES: 6 servings Prep: 20 min. – Skillet time: 8-10 min – Bake time: 25 min. INGREDIENTS
1 lb. russet potatoes (two medium-large), peeled and cut into 1/2 in. cubes
1 red bell pepper, corded and rough cut into 1/2 in. pieces
5 green onions, thinly sliced
7 large eggs
1/3 cup 2% milk (or your favorite unsweetened non-dairy milk)
1 cup grated cheese, (jack, Colby, cheddar, or non-dairy cheese)
1 tablespoon cooking oil
1/2 teaspoon salt (more or less to taste)
1/8 teaspoon pepper (more or less to taste)
Copyright 2018 Catherine A. Hamilton. All rights reserved.[/caption] PREPARATION Preheat oven to 400 degrees. In a 10-inch ovenproof non-stick or well-seasoned cast iron skillet, heat oil over medium-high heat. Add chopped potatoes and bell pepper; cook and stir until potatoes are slightly browned. Place a lid on skillet and cook on medium heat for 8 minutes, stirring occasionally and adding a splash of water or more oil if needed. In the meantime, whisk (or beat with an egg beater) egg and milk product in medium bowl. Fold in the green onions and cheese of your choice. Pour egg mixture evenly over potatoes and peppers. Press one ring of sliced pepper in the center with a sprinkling of green onions. Bake for 25 minutes or until egg has risen, is lightly golden and set.
Copyright 2018 Catherine A. Hamilton. All rights reserved.[/caption]
---
Copyright 2018 Catherine A. Hamilton
About the Author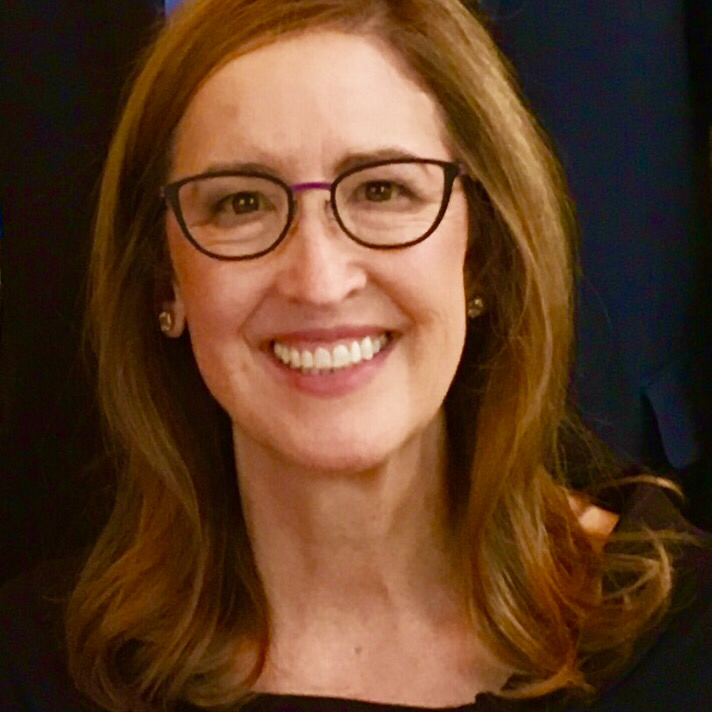 Catherine Hamilton, a Catholic freelance writer, member of Catholic Writers Guild, and Benedictine Oblate, has articles in magazines and newspapers. Nine Days--Poems Remembering Pope John II (2015), is available on Amazon. In the year 2000, Hamilton met Pope John Paul II in his private library while on pilgrimage. An Oregonian of Polish decent, she lives with her husband of twenty-five years and is blessed with five stepchildren and four grandsons.