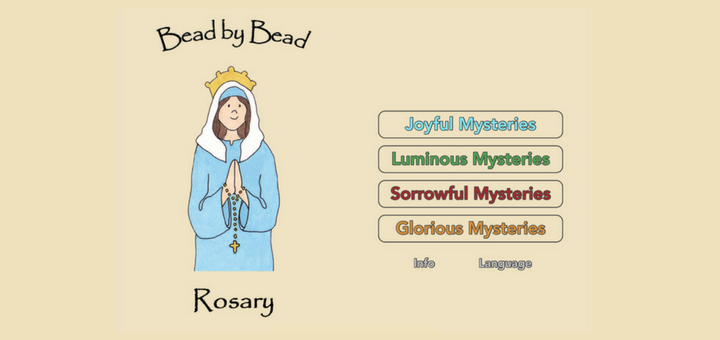 When I became a mom, I had this image of my family sitting around praying the Rosary, the kids fully engaged and taking turns praying. Then I had kids! If I was fully honest with you, my mind can wander during the Rosary and I've found books and programs to use to keep me focused on the different mysteries.
Screen shot of Bead by Bead Rosary app.[/caption] I am excited to share with you, a new app, geared toward children, but could be enjoyed by all ages. Bead by Bead is a new app which makes the Rosary interactive! On the home page, you pick the which set of mysteries you want to pray and then it takes you into that mystery.
Screen shot of Bead by Bead Rosary app.[/caption] Once inside the mystery, there is an interactive Rosary on the bottom of the screen so that you can tap the beads to highlight as you go through the Rosary. Each bead has a picture to show a part of the mystery being prayed. If you don't know which prayer accompanies that bead, there is a prayer button to press that will pull up the prayer, for you to read. Each new decade has a scripture button as well, where you can read the scripture pertinent to the mystery you'll be praying.
Screen shot of Bead by Bead Rosary app.[/caption] My children liked to be able to pick which ministry they'd be praying and they liked touching the buttons to move onto the next bead of the rosary. My ten-year-old did mention that the art looked a little too cartoony for her taste. It would be wonderful if a future version could also include an audible version of the prayers as well, so kids could listen to it as well, to learn the prayers.
Screen shot of Bead by Bead Rosary app.[/caption] I definitely recommend purchasing this app to share with your children. I love that the app gives my ability to have Rosary pictures with me at all times, to share with my children. It's great for traveling or waiting in the doctor's office. It's a great way to give them pictures to focus on and use to engage in their Rosary.
Screen shot of Bead by Bead Rosary app.[/caption] The Bead by Bead Rosary App is available for iOS and sells for $3.99.
---
Copyright 2018 Courtney Vallejo
About the Author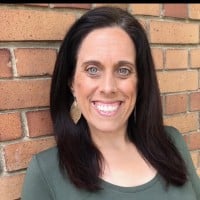 Courtney Vallejo is a convert to the Catholic faith, who lives in California. She and her husband homeschool their three adopted children. She is the cofounder of AMomRevolution.com, whose mission is to inspire, encourage, and reclaim joy in motherhood. She also writes for her own blog, CourtneyVallejo.com. Courtney holds a Master's degree in Film Production and a California Multiple Subject Teaching Credential. Follow her Gluten Free/Dairy Free adventures on Instagram: @aglutenfreerevolution.