Soon after I wrote my post last month linking the time approaching labor with the Agony in the Garden and the actual labor process to the Stations of the Cross, I started to read Mary Haseltine's new book, Made for This: The Catholic Mom's Guide to Birth from Our Sunday Visitor. Even though this will be my fifth labor and I thought I should have more peace and confidence as a result, I had more anxiety than I remember with previous labors. I had a sense of a struggle between anxiety and trust. Through the process of reading the book alongside prayer and journaling, I was able to reflect more deeply on potential reasons for my anxiety and to eventually shift to a better perspective in these last days leading up to labor. The book affirmed the faith-based connections I had already been making to give me strength and then provided me with many additional angles to consider when working to counter those anxiety-related thoughts. I can see women finding peace reading Made for This regardless of whether it is their first labor or after having already experienced labor multiple times because of the many layers it addresses in the 22 chapters, meeting readers where they are at in their journeys. The book intentionally explores many options or possibilities while honoring different contexts and decisions along the way, helping readers to keep perspective of what matters most -- the grace and beauty of cooperating with God to bring new life into the world. Early on in the book, Haseltine wrote, "the actual process of childbirth itself has the potential to transform us. And it is meant to. The physical process of birth is intimately tied to a mental, emotional, and spiritual one. [...] God wants to come with us into each pregnancy and birth and do something powerful" (pp. 12 & 14). This became a thread woven throughout the book. I am in that phase where my baby could be born any day, or I might still be waiting a few weeks. There were some points reading about women sharing their labor stories that I debated whether or not to continue reading because I could feel my anxiety rising, but because they were ultimately looking at the bigger picture of labor from a faith-filled perspective, those same stories and reading through to the end were a powerful way to aid me in feeling mentally prepared to approach this labor.
---
Copyright 2018 Amanda Villagómez
About the Author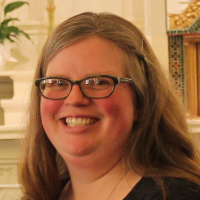 Amanda Villagómez is a wife, mom of 6, and teacher educator. On her personal site, she focuses on the beauty of becoming who God created us to be by celebrating the process of change and growth.