Moms need friends! Why is this so hard sometimes? We let things like shyness, jealousy, competition, and comparison get in the way. In this Hangout Danielle Bean shares some ideas for how we can overcome these obstacles, through prayer and perseverance, in order to reap the benefits of positive and encouraging relationships with other women our lives. Friendships are important! We women re uniquely gifted in our ability to build one another up and encourage each other in our vocations in marriage and motherhood. We NEED each other! What are your struggles with friendship? In what ways do you battle the temptation to let jealousy de-rail your female relationships? Share your thoughts in the comments! Join us for this fun & inspiring CatholicMom Hangout. And be sure to add your thoughts, questions & ideas in the comments!
---
Copyright 2018 Danielle Bean
About the Author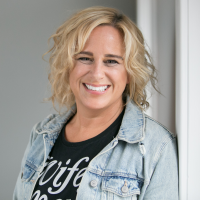 Danielle Bean is an author, speaker, podcaster, and brand manager at CatholicMom. She and her husband Dan have 8 children and live in New Hampshire.