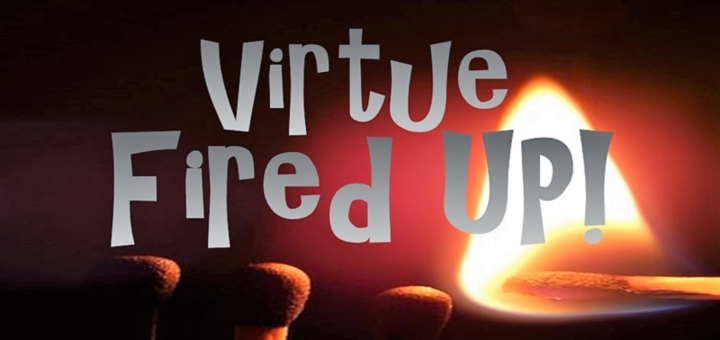 Copyright 2018 Virtue Works Media. All rights reserved.[/caption] This summer, Catholic moms and dads ;) have a fresh and fun new way to get their sons and daughters fired up with virtue through summer reading. Virtue Fired UP!™ is the new simple, and free, book club for kids age 10 - 14. Readers earn points for the number of chapters completed. And they get BIG points for discovering virtues in what they read. This way, reluctant readers experience equal opportunity for success as avid bookworms. Children enjoy the friendly competition between siblings in a family or among a group of friends. Play is structured within an eight-week schedule. Here is a handy printable flier with more details. The club can actually be utilized any time of year, but summer is perfect to experience it the first time.
Discover Virtue Titles
Readers choose from the ever-growing list of reading recommendations on VirtueWorksMedia.com. Click on Discover Virtue Titles and scroll to the choices for middle grade. Among a sampling of classic reads and popular favorites, many gems written by Catholic authors fill this list. These writers routinely receive great reviews on CatholicMom.com. Surprisingly, many of these faith-affirming books hide like buried treasure, unknown to many librarians and teachers. The Virtue Fired UP! method energizes not just literacy, but virtue literacy. This happens in in three important ways. First, it promotes the discovery of great material. Next, it motivates middle-grade readers to enjoy fun-to-read content that is also food for their souls. Perhaps most importantly, discussion of a Virtue Fired UP! book is a catalyst for constructive, virtue-focused, conversation between parents and children.
Firing UP! Imagination
Virtue Fired UP! equips families with a simple tool to evangelize the imagination of young teens and pre-teens. The unique power of story

opens

imagination as a portal to deeply internalize what is preached in church and taught in school. Faith and virtue, affirmed in story, breathe eternal TRUTH into the quiet soul-space hidden deep in the heart. Virtue Fired UP! enriches the interior life of a child because it gently teaches a young mind to discern virtue from vice. As the program trains them to look for virtue in what they read, it helps to imprint a strong moral compass. In their hunt for true goodness, participating readers build skill to distinguish goodness from evil. The end result: this easy-to-understand framework gives kids increasing clarity to distinguish right from wrong.
Copyright 2018 Virtue Works Media. All rights reserved.[/caption]
Bookmarking Virtue
The process of participating is extremely simple. Players use weekly print-at-home bookmarks to capture the virtues they notice in what they read. Virtues are categorized by targeting select virtue habit groups each week. Consequently, this structure affirms a healthy approach to interior spiritual and emotional development. Virtue Fired UP! goes beyond secular character-building programs that emphasize positive willpower-based behavior. Virtue Fired UP! helps children see how virtue infuses grace into our human effort and superpowers us in spiritually heroic ways. The motto for Virtue Fired UP! is:
"Believe. Perceive. Think. Feel. Decide. DO. VIRTUE!™"
Fired UP! readers earn points in three ways. They Read 4 Speed: completing chapters or whole books. They Read for V's: by describing to a parent the virtues they see in a book. Players record point-value virtues as expressed in a character's thoughts or as demonstrated in story situations. And they Read for Jesus: earning points by reading to a younger sibling, or to an elderly grandparent, or to neighbors young and old. The process of accruing points opens up family virtue dialogue. These encounters connect parents and children in natural, not lecture-based, conversations. Virtue Fired UP! Pilot Test families confirm this in their feedback.
The Power of Parable
Throughout His ministry, Jesus exemplified the power of parable. Over and over, He showed us the most effective method to inspire, teach, and internalize faith. Parables. Catholic author Amy Welborn, in her Bible study guide, Parables: Stories of the Kingdom, describes parables as the invitation, "To perceive the God we cannot see through a comparison of Him and His ways with that we can see." By giving our children the lens of virtue through which to consider what they read, each story can take on the comparison value of a parable. Thus, children learn the art of looking for deeper meaning in the stories they experience. As a result, they can apply this skill to what they watch and listen to as well.
Copyright 2018 Virtue Works Media. All rights reserved.[/caption]
Virtue Reading as a Team Sport?
While many of the links in this article are to help families participate in Virtue Fired UP! Individual Play, there is another way to participate. The informal approach allows individuals and small groups to be completely free to adjust the schedule to suit their own calendar and availability. Just have 3 weeks to play? Then tally totals recorded on three bookmarks and celebrate that smaller success. However, for families who get really fired up about virtue-rich reading, Virtue Fired UP! is also piloted for CLUB TEAM play this summer. What's the difference? Virtue Fired UP! CLUB TEAMS are being introduced as the first ever competitive reading team sport. The vibe of "official" team-based play motivates kids to compete. The competition is friendly. Yet, virtue in thought, word, and action is still the goal. The TeamSnap platform is where parent coaches manage teams and record statistics with ease and simplicity. There is a $20 per player registration fee for CLUB play, whereas individual play is free. Here is a link for information about Virtue Fired UP! CLUB TEAMS. With either style of play, the vision behind the Virtue Fired UP! is a deep desire to MOTIVATE spiritually vulnerable teens and pre-teens to:
Discern good from bad in reading and media content
Build habits to seek out and consume positive reading and media, and
Allow what they consume to inspire virtue in their thoughts, words and deeds.
Click on: Virtue Fired UP! to find out how to ignite your children's summer with virtue. Virtue Fired UP! is inspired by the words of St. Catherine of Siena: "If we are who we are called to be, we will set the world ABLAZE!" But of course … never literally. ;)
---
Copyright 2018 Cathy Gilmore
About the Author