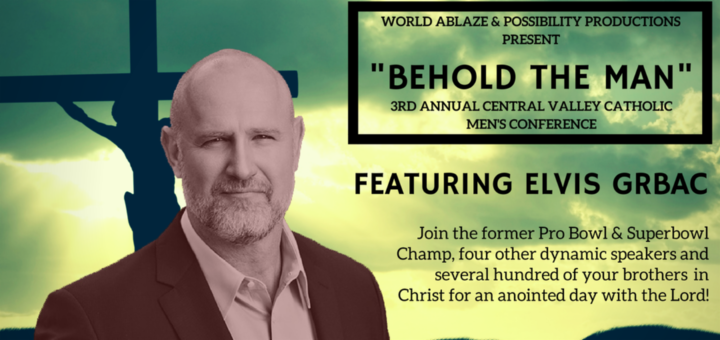 Copyright 2018 Brian K. Kravec. All rights reserved.[/caption] San Francisco 49er Super Bowl XXIX Champion Elvis Grbac, will lead an all-star team of DYNAMIC speakers at BEHOLD THE MAN 3rd Annual Central Valley Catholic Men's Conference​ presented by World-Ablaze and Possibility Productions.
When: Saturday, July 28, 2018
Where: Our Lady of the Assumption Catholic Church, Turlock, CA
Details and Registration: Visit www.catholic-men.com
Copyright 2018 Brian K. Kravec. All rights reserved.[/caption]
THE TEAM
Elvis Grbac
Following a record setting college career at Michigan, Elvis was drafted by the San Francisco 49ers in 1993 and went on to play 9 seasons in the NFL. Throughout the span of his football career, Grbac received many accolades and recognition including an AFC West title, Pro Bowl appearance, and Super Bowl XXIX Championship. With all of these great achievements also came sacrifice and failure. Grbac now speaks openly about his American dream, the challenges he's faced along the way and how he overcame them through faith, hard work and perseverance. Elvis was recently featured on EWTN with Dr. Ray Guarendi and is currently pursuing a Master's degree in Theology at St. Mary's Seminary. Learn more about Elvis Grbac.
Jared Zimmerer
Jared is a Catholic author, speaker, blogger, husband and father of 6 and the Director of Outreach and Mission at Word on Fire Catholic Ministries founded by Bishop Robert Barron. He holds a bachelor's degree in Kinesiology, is a competitive all-natural bodybuilder, a martial arts practitioner, and a passionate advocate of evangelizing the fitness culture with the help of the Catholic Faith. He also holds a Master's Degree in Theology from Holy Apostles College and Seminary. Learn more about Jared Zimmerer.
John Sablan
John is known and highly regarded as "The Man On Fire" with love of Jesus Christ and His Church. He is the co-founder and President of World Ablaze Incorporated, an apostolate inspired by his call to the Dominican spiritual life of the Order of Preachers. John is a dynamic, engaging and inspirational Catholic speaker and evangelist with a passion for reaching, teaching and preaching to all ages in a way that's relatable, understandable and easily received by all. John has been featured on major Catholic media outlets including EWTN Global Catholic Radio, Ave Maria Radio and Shalom World TV. A devoted husband, father and Third Order Dominican, John is currently pursuing a Master of Arts Degree in Theology from the Augustine Institute and is in Permanent Diaconate formation for the Diocese of Stockton. Learn more about John Sablan.
Richard Braun
Richard holds a BA degree in Psychology and a Master's Degree in Educational Psychology from University of California, Berkeley. A humorous and engaging Catholic speaker, Richard serves as a Lector, Extraordinary Minister of Holy Communion and a Catechist for both children and adults. Richard is a co-founding member of World Ablaze, Inc. and he leads St. Joseph's Evening Workshop, a thriving men's ministry movement at his home parish in Modesto, California. Richard has been married 33 years and is currently in formation for the Permanent Diaconate in the Diocese of Stockton.
Brian K. Kravec
As the Co-Founder and Executive Director of Possibility Productions, I am thrilled to partner with my dear friend and colleague, John Sablan and World-Ablaze, to present Behold the Man. As a keynote speaker for this extraordinary conference, I hope to introduce hundreds of men to Mary, the Mother of God - our Mother.
"Her only desire is serve the King and help her spiritual children be fully conformed to the likeness of her first-born Son." - Champions of the Rosary, Fr. Donald H. Calloway, MIC
ARMEE Ministries
ARMEE is an acronym for Adoration, Reconciliation, Mass, Eucharist and Evangelization. ARMEE Ministries will be providing contemporary, sacred music to create a beautiful and edifying environment of receptivity to the Holy Spirit during Eucharistic adoration and the closing vigil mass. Learn more about ARMEE. Behold the Man 3rd Annual Central Valley Catholic Men's Conference will be a jam packed day of faith, fellowship, resources, inspiring talks, and abundant grace. Join us for retreat and renewal. Visit Catholic-Men.com for details and registration TODAY. https://www.youtube.com/watch?time_continue=258&v=HKtSMCpec_A
---
Copyright 2018 Brian K. Kravec
About the Author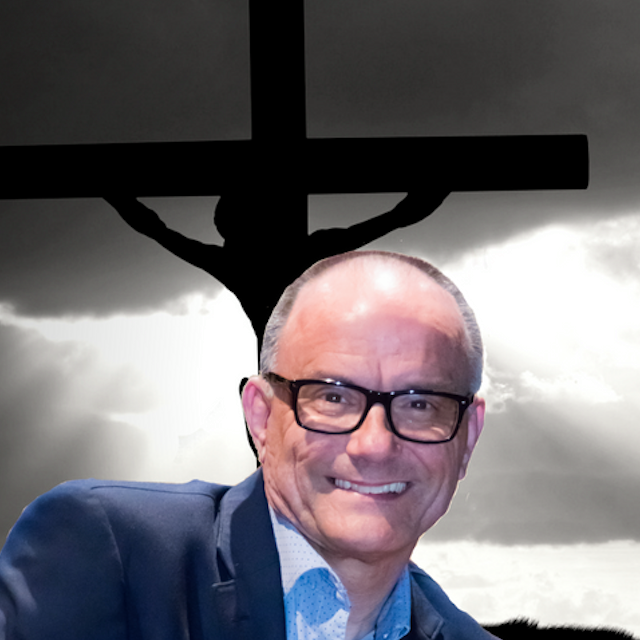 Brian is a cradle Catholic, husband and father. He's the Co-Founder and Executive Director of Possibility Productions, a 501(c)(3) faith event evangelization apostolate in service of the Body of Christ. Brian has proudly served the Roman Catholic Diocese of Fresno on the Board of Directors for KNXT Catholic Television, is the Steward of St. Patrick's Faith Event Ministry for his local parish and a 4th degree member of the Knights of Columbus. Brian and his wife are consecrated members of the Militia Immaculata. For information on the MI and Total Consecration visit Consecration.com.