Courtesy of the Catholic Writers Guild. All rights reserved. Used with permission.[/caption] The Catholic Writers Guild (CWG) is hosting Catholic Writers Conference Live (CWCL) July 31 - August 3, 2018 in Lancaster, Pennsylvania, in conjunction with the Catholic Marketing Network (CMN) Tradeshow. The CWCL, celebrating its 10th anniversary, provides writers, artists, editors, and illustrators opportunities for networking; workshops on writing, publishing, and marketing; pitch sessions; critique sessions; and more. Attendees have access to the CMN Tradeshow floor, allowing interactions with publishers, vendors, and bookstore owners from across the country. Also in conjunction with CMN, the Holy Sacrifice of the Mass, Adoration, and recitation of the Rosary will be offered. Marian priest Father Donald Calloway, MIC, will deliver the keynote presentation, "The Power of a Book." Presenters include Celeste Behe, Regina Doman, Gary Zimak, Lisa Mladninich, and many more.
New this year, attendees are invited to participate in a game night, social, and trunk sale.
Separate critique sessions will be offered for poetry, fiction, and nonfiction.
Pitch sessions are planned with publishers Ave Maria Press, Ignatius Press, Marian Press, and Our Sunday Visitor.
Also new this year, Meals with Mentors are a chance to share food and discuss a topic of mutual interest with a small group.
Learn more about the Catholic Writers Guild at the annual CWG meeting.
The CWCL is a thoroughly Catholic, always inspirational mingling of industry professionals, brand-new writers, and seasoned veterans across every genre of creativity. Come for new encounters, shared wisdom, and the chance to share your faith and passions with others.
CatholicMom.com authors at the 2017 Catholic Writers Guild Conference. Courtesy of Barb Szyszkiewicz.[/caption] Several CatholicMom.com writers will participate in the conference as presenters, volunteers, and organizers. Plan to meet them there! As of this writing, CatholicMom.com writers participating include:
Carolyn Astfalk
Colleen Duggan
Cathy Gilmore
Allison Gingras
Lisa Hendey
Ellen Gable Hrkach
Erin McCole-Cupp
Lisa Mladinich
Donna-Marie Cooper O'Boyle
Barb Szyszkiewicz
Nancy Ward
Rebecca Willen
Information about registration, accommodations, and the conference schedule are available online at CatholicWritersGuild.org/Live-Conference. The event, which will be held at the Lancaster Convention Center, welcomes CWG members and nonmembers alike. Clergy and religious attend for free.
Courtesy of Rebecca Willen. All rights reserved. Used with permission.[/caption]
---
Copyright 2018 Carolyn Astfalk
About the Author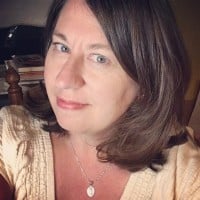 Carolyn Astfalk is a wife, mother of four young children, and a writer. Her contemporary Catholic romances are available at Amazon.com. She is a member of the Catholic Writers Guild, a Catholic Teen Books author, and blogs at My Scribbler's Heart. Visit CarolynAstfalk.com.