Copyright 2017 Erin McCole Cupp. All rights reserved.[/caption] Want to know what happens when other Catholic moms find out that our family prays the Rosary nearly every day together? They start, well … apologizing. "We're lucky if we can get a decade in after dinner," one mom tells me. Another admits, "We forget to say it more often than we remember." "The best I've been able to do is an audio Rosary in the car, and that always puts my six-year old to sleep." And then another says, "I just can't figure out how to get the toddler to stop moving long enough for us to even think about a Family Rosary most nights." I see self-reproach in these moms' eyes. I hear sorrow in their voices. I see guilt and disappointment weighing down their shoulders. They want more for their families than they think they can give. I hear you, Momma. I've been there. I know how it feels to think that adding the Family Rosary into an already bursting schedule could only be impossible, all the while craving, absolutely aching for that peace that Our Lady promises all who walk through Her Son's life with her through those memories she treasured in her heart. So often, we frail humans think we shouldn't bother setting prayer goals for ourselves and our families because we're afraid we won't be able to keep up with them in the long term. Why bother starting something when we are convinced we'll be unable to follow through? We're afraid of disappointing ourselves. We're afraid of disappointing God. In other words, we're afraid of doing it wrong. So, let's clear the air. Are you one of those people who is afraid you're praying the Rosary wrong? You may be, if you're doing any of these things:
Pyrotechnics
Jesus said He came to set a fire upon the earth. Help Him out a little! Set up a series of bottle rockets, one for each Our Father, Hail Mary, and Glory Be. Use Roman candles (get it? Roman?) for the larger prayers, like the Apostles Creed and the Hail, Holy Queen.
Bodily Noises
Did you know that most youth groups are required by canon law to include at least two boys who are able to burp The Lord's Prayer? Train them to expand their skill set to include the entire Rosary, from "I believe" all the way through, "Amen."
Beverages. Yes, Those Kinds of Beverages
You're not praying the Rosary wrong until you've turned it into a drinking game.
Not Praying the Rosary At All
Be so afraid of praying the Rosary wrong — not frequently enough, not quietly enough, not on actual rosaries instead of your fingers because you can't find the rosaries enough — just some idea of "wrong," that you don't even try. God never puts a hunger in our hearts that He can't fill. If you want to pray the Rosary with your family, let go of all the fears of not doing it right, not doing it enough, not doing it perfectly. As long as you're not being downright irreverent (as in xxamples 1-3 above), I'm pretty sure there's no wrong way to walk beside the Jesus of salvation history while holding His Mother's hand. Try. Fall. Then try again. Don't worry. Mary will catch you. The Rosary is supposed to be a place where we drop off our anxieties, not where we pick them up. For more helps towards praying the Rosary with confidence and comfort, visit Family Rosary's "How to Pray the Rosary" page. Oh, and keep an eye out for more Adventures of a Rosary Family right here on CatholicMom.com. Our Lady of the Rosary, pray for us.
What are three reasons you don't feel like your family would be able to pray the Rosary "right"? What would happen if you tried anyway? What's the worst thing that could happen if you dropped the Rosary habit and had to pick it up again?
---
Copyright 2018 Erin McCole Cupp
About the Author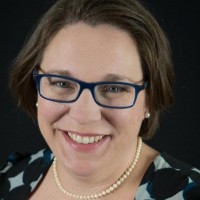 Erin McCole Cupp is a wife, mother, and lay Dominican who lives with her family of vertebrates somewhere out in the middle of Nowhere, Pennsylvania. She's working with Our Sunday Visitor on a book about parenting spirituality for survivors of family abuse and dysfunction. Find out more about her novels and other projects at ErinMcColeCupp.com.