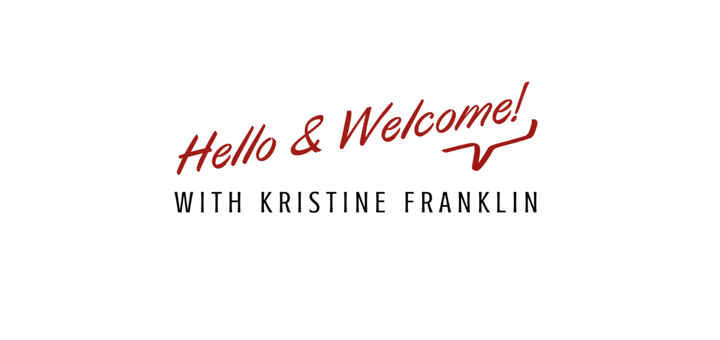 I am honored to have been able to interview Mrs. Kristine Franklin, the host and developer of a new podcast, the Hello and Welcome Show. Her life story is a book in and of itself, complete with being struck by lightening and living to tell about it. Her whole family converted to the Catholic faith in 1995. Coming from an evangelical background and carrying a degree from an evangelical university as well, Kristine quickly found herself on EWTN radio and The Journey Home. She began speaking and traveling in addition to giving retreats and evangelizing with great apologists such as Sister Rosalind Moss. In the height on her traveling, her vocational call of motherhood called her back home to be present to her family and allowed her the opportunity to concentrate on her writing.
Courtesy of Kristine Franklin. All rights reserved. Used with permission.[/caption] Now that her children are grown, her heart is for evangelism has led her into the world of podcasts. During the Year of Mercy she began the podcast Mercy Unwrapped, where she interviewed people in search of stories of mercy. She featured people that had lost multiple children in one year, had abortions, and suffered with stage 4 cancer, just to name a few topics. The program has more than 14,000 downloads with the uniting theme that you unwrap the mercy of God when you open yourself up to him and accept His love. She began working with Immaculate Heart Radio, where she had her own hour-long show. For almost a year she ventured with IH Radio, working full time Monday through Friday and again felt the call to slow down and refocus on her family. When Relevant Radio purchased Immaculate Heart Radio, the schedule was restructured and her hour was reassigned. In searching for her next evangelical mission, she decided to return to podcasting. Her latest podcast, Hello and Welcome Show, is a show that she hopes will appeal to people across the board. She has purposely chosen not to target a niche audience but is working with more universal themes such as health and safety, personal transformation, friendships, relationships, how to understand money and how people can idolize it. She designs her show to cover everyday topics for everyday people. There is no politics featured and a goal being to avoid topics that as super confrontational. She also features episodes that discuss faith, marriage, personal growth, child rearing, and communication in relationships. She hopes to impart the reminder to her listener that they can't control the universe or others, but instead focus on ways to better themselves.
Courtesy of Kristine Franklin. All rights reserved. Used with permission.[/caption] Within the first month of releasing The Hello and Welcome Show, there was already an international market, with listeners in the UK, Canada, and the Ukraine. While the show is slated for listeners of all ages, Mrs. Franklin does recommend the show be listened to with parent participation, so as to explain and discuss further, depending on the topic. It is her hope that her audience walk away knowing, that God loves them infinitely, they are never alone, they can change, and they can become saints. I found Mrs. Franklin's motherly approach and attitude soothing and comforting. I greatly enjoyed my time spent getting to know her and felt thankful to have encountered a woman with such deep regard and care for the human race. You can listen directly to Hello and Welcome Show on HelloAndWelcomeShow.com.
---
Copyright 2018 Courtney Vallejo
About the Author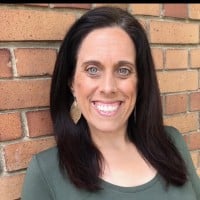 Courtney Vallejo is a convert to the Catholic faith, who is currently living in Arizona. She and her husband, homeschool their three adopted children. She is the cofounder of AMomRevolution.com, whose mission is to inspire, encourage, and reclaim joy in motherhood. She also writes for her own blog, CourtneyVallejo.com. Courtney holds a Master's degree in Film Production and a California Multiple Subject Teaching Credential. Follow her Gluten Free/Dairy Free adventures on Instagram: @aglutenfreerevolution.