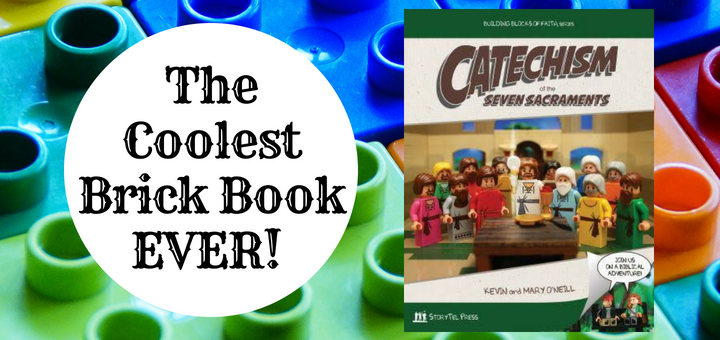 Copyright 2018 Michele Faehnle. All rights reserved.[/caption] When my son was little, he was a Lego fanatic. He would build complex structures and was attracted to anything that had these mini-bricks and tiny figures. While his attention span might have been short for many things, if there were Legos involved, he would be engrossed for hours. There was something magical about those multicolored plastic pieces that could grab his attention like nothing else. Understanding the power of the mini-brick, when I received an email promoting a new Building Blocks of Faith brick book, Catechism of the Seven Sacraments by Kevin and Mary O'Neill, I knew it would the perfect addition to for the bookshelf in my office where I am a school nurse. This amazing comic-book-style creation has over 745 pictures of biblical brick scenes that lead the reader through salvation history. The O'Neills created a book that makes the Bible come alive and paired it with Pope Emeritus Benedict XVI's teaching on Theology of Covenant. The scenes are incredibly detailed and the script is written so that young and old will both learn so much about the teachings of the Church. When the book arrived I was totally blown away! This amazing brick book walks through the seven sacraments with two characters, Cynthia and Fulton, beginning with the Eucharist. As Fulton explains what Passover is to his counterpart, they are transported back to the Old Testament and the adventure begins. Salvation history unfolds next through Baptism, Reconciliation, Confirmation, Marriage, Holy Orders, and Anointing of the Sick. Under each sacrament, a plethora of Catholic teaching is introduced including the 4 types of prayer, the intercession of Mary, how to pray the Rosary (and even includes a super cool diagram of how to make a brick rosary), original sin, how to go to confession, the works of mercy, papal authority and even a cool minifigure of my favorite saint – St. Faustina Kowalska!
Copyright 2018 Storytel.org. Used with permission. All rights reserved.[/caption] The students at school absolutely loved it! I had a hard time getting them to go back to class once they picked it up. They pored over each page and loved seeing mini-figures of Jesus, biblical figures, and priests and sisters. In fact, I had more than one student ask if they could keep it! The teachers also thought it was a great tool for teaching the Faith in a fun and engaging way. Learning our Faith has never been this cool. If you have a Lego lover in your life, Catechism of the Seven Sacraments is the perfect gift for a birthday, Baptism, First Communion or special godchild. Check out the book trailer below! https://www.youtube.com/watch?v=UFVbwnrbe8c
---
Copyright 2018 Michele Faehnle
About the Author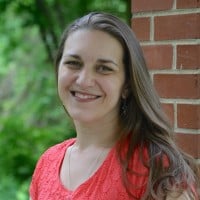 Michele Faehnle is a wife, mother of 4 and a school nurse. In her free time she enjoys volunteering for the church and is the co-chair of the Columbus Catholic Women's Conference. She is also the co-author of The Friendship Project, Divine Mercy For Moms, Our Friend Faustina and Pray Fully; Simple Steps to Becoming a Woman of Prayer. Read more of her work at InspireTheFaith.com.