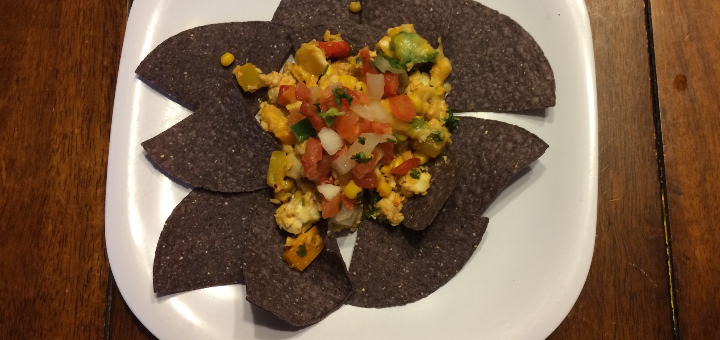 This recipe has been a favorite in our house for years. It's very easy to prepare, and also easy to double for dinner parties.
Copyright 2018 Karen Ullo. All rights reserved.[/caption]
TILAPIA NACHOS
2-3 large tilapia fillets, cut in half long ways, then into 1-inch pieces 5-6 colorful sweet pepper, cut into rings, or ½ of each of red, yellow, and orange bell peppers, chopped 8.5 oz. can of corn, drained Juice of 1 or 2 limes 1 tsp. or more lime zest (optional) 2 tbs. olive oil or avocado oil ½ tsp. salt ½ tsp. crushed red pepper ½ tsp. chili powder ¼ cup chopped fresh cilantro ¾ cup shredded Mexican style cheese (this one was cheddar, Colby jack, and queso fresco) 1 bag blue corn tortilla chips Fresh pico de gallo (You can either buy it pre-made from the produce case or make your own) My secret: heat the chips in a 350 degree oven for about 10 minutes. Take them out just before serving. Heat the oil in a large skillet, then add tilapia, peppers, corn, salt, crushed red pepper, chili powder, lime juice, and lime zest. Sautée until the fish flakes apart, creating something you could use as a dip. Add the cilantro. Turn off the heat and top with the cheese. Cover to allow the cheese to melt. Serve over the chips. Garnish with pico de gallo and more lime zest, if desired. Enjoy!
---
Copyright 2018 Karen Ullo
About the Author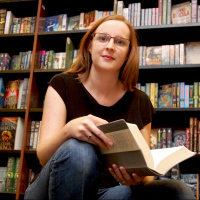 Karen Ullo is the author of two award-winning novels, Jennifer the Damned and Cinder Allia. She is one of the founding editors of Chrism Press, which is dedicated to publishing Catholic and Orthodox fiction, as well as the managing editor of the Catholic literary journal Dappled Things. She's also a wife and mother of two. Find out more at KarenUllo.com.