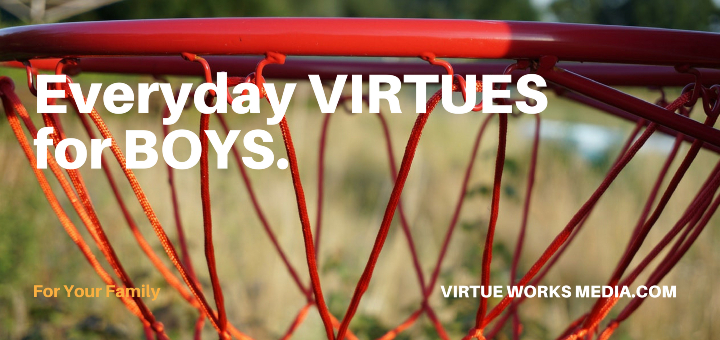 Original photo via Pexels (2016), CC0 Public Domain. Text added by author.[/caption] At a time when children are confused by a culture that intentionally blurs gender identity, we parents need help to affirm our children's natural masculinity or femininity. For those of us with boys, we can find help in a surprising place. Manly virtue shines in a group of crazy guys on YouTube called Dude Perfect. Dude Perfect has become such a sensation, with over a billion views on YouTube, that they now also have a line of licensed sporty products for sale in stores and a TV series on Nickelodeon. With all that success, why would we highlight them here? Because the influence of entertainment is profound, and our boys hunger deeply for examples of what it looks and feels like to be a man. A young guy's important developmental growth can actually be aided by watching these guys who play ridiculous games, create outrageous battles, and do impossible trick shots, while celebrating every moment with relentless enthusiasm. Here are what I call the Everyday Virtues of Dude Perfect.
Kindly Humor
I feel strongly that humor (seeing and sharing the lighter side of life with others) is an everyday virtue. Boys seem hardwired with a huge appetite for humor. Guys love to laugh. Culturally, our collective sense of humor has deteriorated too often into sarcasm and wit that laughs at someone's expense. The Dude Perfect Guys show boys how to belly laugh WITH, and not AT, each other. They demonstrate a relentless competitiveness that is super-glued to a smiling sense of sportsmanship. This positive experience of humor alone is worth having our DVR full of DP episodes for our boys.
Cooperation and Inspiration
The Dudes demonstrate a cooperation and teamwork that always affirms and encourages. In battle after battle, these guys show the virtue of cooperatively working together. Whether or not a team is ultimately victorious, it doesn't really matter. You can't help but notice how each player makes the sacrifice to dig deep to give their best. As an everyday virtue, inspiration is the way someone can energize greater faith, effort, or enthusiasm in someone else. The Dudes inspire each other throughout every game and challenge. These are the kind of down-to-earth, subtly faith-filled Christian guys we parents would like to clone and adopt as big brothers to inspire our sons. Without the option of cloning, having these guys as video big bros will do the job nicely.
When the Dudes meet fans at an event, their generosity is amazing... smiling and laughing genuinely for photo after photo for hours at a time. Here's one of those shots taken with the Dudes: Tyler, Cody, Coby, Cory and Garrett with a fan at an event at Top of the Rock in the Branson area in Missouri. Photo copyright 2018 Cathy Gilmore.[/caption] Devotion and Faithfulness Most importantly, the Dudes show young boys how men can have have fun and healthy friendships. Men thrive relationally by experiencing bonds of faithful brotherhood. Man-to-man virtuous devotion is something almost sacred. Soldiers in the military sometimes describe this bond. Young boys growing up in a hyper-sexualized culture need to witness manly brotherhood that has NO sexual innuendo and no sexual confusion. The Dudes demonstrate this brotherhood with refreshing consistency. Viewers can practically smell the testosterone coming through the TV screen when the Dudes are on. As we Catholic parents try to raise holy young men of courage and integrity, that scent, experienced "virtually," is a smiling affirmation that it is OK to be manly in the living of a Christian man's life. I'm so glad the Dudes are out there, I bet you, and your sons, will be too.
Everyday Virtues
You may be wondering at the terms, "Everyday Virtues." These virtues refer to the collection of thirty virtues that are used to evaluate the books, movies and other media recommended through the ministry of VIRTUE WORKS MEDIA. Everyday virtues are like small "v" virtues that are good habits based on our will-power. These habits dispose our hearts so that when we decide to cooperate with faith and God's grace, he supersizes them as the big "V" VIRTUES that can be recognized as holiness. The Dude Perfect guys are great everyday virtue trainers for our boys, warming them up for the holiness that God will call them to as men. Whether Virtue Works Media is offering families simple tools to teach young children that virtues are their super powers, or offering lists of fresh book choices to inspire virtue in all age readers, our goal is always the same: to protect the souls of children, teens, and families, with the power of virtue. The positive power of parables ... the power of story ... is undeniable. Even stories of silliness created by a bunch of good guys who call themselves "Dude Perfect."
Have you discovered other effective models of manly virtue for our boys?
---
Copyright 2018 Cathy Gilmore
About the Author