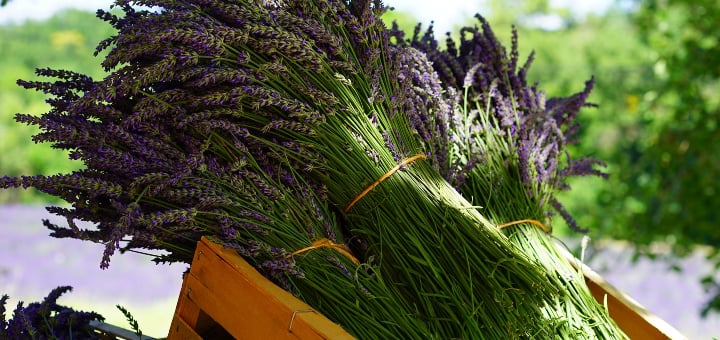 Copyright 2018 Hilary Thompson. All rights reserved.[/caption] My home parish, the Assumption of the Blessed Virgin Mary (or Assumption Grotto, as it's commonly called) goes all out for its feast day. The whole campus hums from sunrise until well past sunset with Masses, prayers, and literal feasting -- then ends with an outdoor procession as we sing "Ave, Ave, Ave Maria!" at the top of our lungs. Buses come and go, bringing pilgrims from neighboring parishes, and the Detroit police help direct traffic along Gratiot Avenue. After the festivities conclude, I have a reminder to bring home and hang in my kitchen: a bouquet of blessed herbs. As part of the festivities, pilgrims bring these herbs in baskets for the priests to bless. It is an old German tradition dating back to the 10th century. The Assumption coincides with the early harvest, and it was another way for the faithful to offer the fruits of their labors to God, and ask for a blessing on them. Traditionally, many flowers and herbs have Marian meanings, so it is very fitting to tie the blessing to one of her greatest feasts. The blessing itself asks that God "increases the natural powers to keep away disease" and the blessed herbs are a sacramental that carries with it a mild exorcism. Three days after the Assumption, our local Renaissance fair begins. Its mostly good fun, but there's always a few stalls selling bundles of herbs for smudge pots along with other elixirs and potions. The vendors claim that the herbs "release positive energy" and "ward off spirits" and all sorts of silly things. Now I don't know if the modern vendors really believe it or not, but there definitely is a history and stigma of herbalists and Wiccans using the fruits of God's creation for nefarious purposes. That's not what they were meant for. God gave us Creation to use for our good! I'm not as "crunchy" as some, but you can't deny that aloe heals a sunburn and lavender calms you down after a stressful day. The devil can't make anything new; all he can do is pollute the original, and unfortunately, he had a pretty strong hold on herbs, at least in anecdotal history.
Via Pixabay (2015), CC0 Public Domain[/caption] The Blessing of Herbs on the Assumption is one way we can reclaim for God what is rightfully His. With the blessing and use of these plants, we proclaim the goodness of God's creation, and we thank Him for His wisdom and generosity in providing them for us. This year for the Feast of the Assumption, ask your priest if he will bless herbs for you and your fellow parishioners. It is a beautiful custom, and the sacramental is a wonderful way to remember to praise and thank God all year long. You can find the blessing of herbs in the Book of Roman Ritual, or at CatholicCulture.org.
Does your parish bless herbs on the Assumption?
---
Copyright 2018 Hilary Thompson
About the Author

Hilary Thompson is a young wife and mother of two boys in southeast Michigan. She has been an organist since she was twelve. When she grows up, she wants to be a 97-year-old church cleaning lady. You can find more of her work at Messy Buns & Latin Chant.