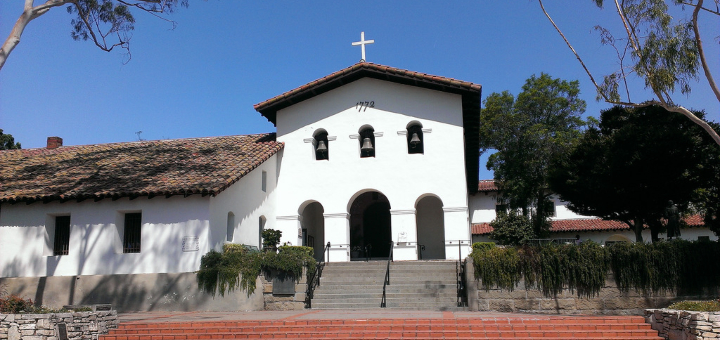 Kristin McLatchie; Mission San Luis Obispo de Tolosa; (2014) via Flickr, CC BY-SA 2.0[/caption] As I write this article, I am in the city of San Luis Obispo, a city that holds one of the 21 California missions from which it got its name. Even though I have been here numerous times, I knew nothing about the mission's patron saint, Louis, Bishop of Toulouse (France). Louis was born in the late thirteenth century into a royal family that held large portions of Mediterranean Europe. His grandfather was Charles I of Anjou. Three saints are within his pedigree: Saint Louis of France, Saint Elizabeth of Hungary, and Saint Margaret of Hungary. The Spanish captured Louis' father, Charles II of Naples, during a war with Spain. The ransom he paid for his own release were his three sons. The Spaniards took Louis to Catalonia. The Franciscans educated him there during his captivity. After his brother died and his inheritance transferred to Louis, Louis rejected all of it and became a Franciscan around 1295. Pope Boniface VIII ordained Louis bishop of Toulouse (France) in 1297, after Louis had reached the age of majority and was no longer in captivity. Louis was only 22. His deceased uncle had been the prince of Toulouse. Louis could have very easily taken over as the secular ruler, but he chose to work among the poor. He worked tirelessly for about six months and gave up his bishopric. Louis died at the age of 23 due to a fever. He was canonized in 1317. As he was a Franciscan, the friars have always venerated Louis. This veneration, no doubt, motivated the Franciscan missionaries to name their fifth California mission after one of their own. They founded it on September 1, 1772, very near the feast day of Saint Louis, which is August 19. If you ever have the chance, do visit the mission. It is well preserved, with a nice museum, and is still an active parish in the Diocese of Monterey. It sits in the middle of the city, with a creek that flows in front of it and is very much a major part of the civic community. San Luis, Obispo de Tolosa, pray for us.
---
Copyright 2018 Michael T Carrillo
About the Author

Michael Carrillo is a retired police officer from a large California metropolitan police department. He is married to Vicki and they have five adult children between them. He is an unabashed fan of Jesuit education, though he regrets not obtaining one himself. Day hikes and walks give him opportunities and inspirations to look for and find God.