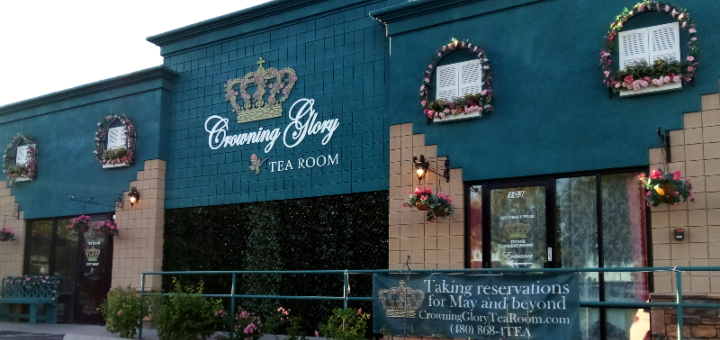 Copyright 2018 Sherry Boas. All rights reserved.[/caption] If you want to regain your faith in humanity, open a tea room. That's what I did a couple of months ago. It's the only Catholic tea room in the world, as far as I know. Our seven individual tea parlors are dedicated to the saints and decorated for the countries from which they came. OK, I really didn't open the tea room in order to regain my faith in humanity. I opened it to share my faith in God. But every day brings something remarkable at Crowning Glory Tea Room in Fountain Hills, Arizona. Last Saturday, we witnessed something that set our hearts aglow. An eleven-year-old girl was having her birthday party in our three adjoining European parlors: Assisi, Lisieux, and Polska. Seven of her friends were there helping her celebrate, indulging in the variety of finger sandwiches, various kinds of Crowning Glory private-label teas, and lots of sugar cubes. Lots and lots of sugar cubes.
Copyright 2018 Sherry Boas. All rights reserved.[/caption] They were having a grand time "traveling" from France to Italy to Poland and back to France again, pretending to visit each other in far-off lands, sitting in fancy parlor chairs and Victorian couches, sipping tea from fine china cups. Stirring in lots of sugar cubes. Lots and lots of sugar cubes. Their joy was complete. There is nothing more they could have wished for. Except for maybe a fluoride treatment for their teeth. Then, in walks another party, into our greeting area, which is right outside the European parlors where the birthday party was being held. The four ladies and one little girl had reservations for the New York City dining room, which honors Elizabeth Ann Seton. The little girl was curious about what kind of fun was being had in the European parlors. She peered into the room and instantly found herself swept up into the revelry. Within minutes, the mother of the birthday girl was asking me for an extra cup. Within seconds of my bringing the cup, all the birthday party guests were gathered around this little girl, pouring her tea, making suggestions for her next cup and offering her sugar cubes. Lots and lots of sugar cubes. "What a coincidence," I remarked, "that the girls would run into someone they know here." "Oh, they don't know each other," the little girl's mother replied. "The girls just wanted to invite her to the party." And that is where the quickly-made friend spent the remainder of her time, as the rest of the adults she came with took their tea in the New York City dining room. It was a sweet day. And I am not referring to the sugar cubes.
---
Copyright 2018 Sherry Boas
About the Author

Sherry Boas is author of the Lily Series, which has grown into a beloved collection of novels whose characters' lives are unpredictably transformed by a woman with Down syndrome. The former newspaper reporter and special needs adoptive mother of four is also author of A Mother's Bouquet: Rosary Meditations for Moms, Billowtail, Victoria's Sparrows, Little Maximus Myers, Archangela's Horse, and Wing Tip. She runs Caritas Press from her home office in stolen moments between over-cooking the pasta and forgetting to dust the chandelier. Find her work at CaritasPress.org.