When the children were little our favorite song was "I am a Promise" by The Gaither Vocal Band. The refrain goes like this:
I am a promise I am a possibility I am a promise with a capital "P" I can be anything, anything God wants me to be ...
Why is it my favorite song then, and still to this day? As a Titus II Woman, I have had the opportunity to "mommy mentor" adult women in their journey to Christian maturity. Often one of their problems is not faith in God, but faith in themselves. I tell women, we are nothing apart from Him, but with Jesus nothing is impossible. God has a plan for each of us. I encourage them to confidently go forth, led by the Holy Spirit to fulfill their purpose. We are His masterpiece created to do a work that no one else can do. If we seek God with our whole heart we will discover our purpose. He will lead us to make a difference in this world. Daily, God is moving us toward our purpose, molding us on the inside while guiding us on the outside. Creation is God's masterpiece: "God looked at everything he had made, and found it very good." (Gen. 1:310) These are the words that God proclaimed after He birthed our world. The world was void, dark and empty. I like to think before Creation that our world was an empty canvas waiting to become a beautiful piece of art. Amazingly, as if with a stroke of the brush -- or in reality the Words from His mouth -- God created a masterpiece. I guess God thought of everything, even the stars to shine in the darkness of night. As you look up in the sky you see every star proudly shining light upon this world. Each star is unique, displaying its own beauty. We too were once void, dark and empty. We too are an empty canvas waiting for God to create a masterpiece within. We too are unique, displaying a beauty all our own once we are filled with God's love. He dispels the darkness and then we shine like the stars in the sky. When we walk in our gifts and give glory to God we light the way in the darkness and point others to Christ. Our purpose will match our gifts, our talents, our personalities, and our desires. One day in prayer I thought the Lord was calling me to be a nurse. My husband, Patrick, better known as the wise old owl, immediately dispersed that thought by saying, "That is not God." He was right. Those who know me are keenly aware of the fact that I faint at the sight of blood, speed-dial a friend in an emergency, and never even offered to put the bandage on the bleeding child. God knew what he was doing when I married a doctor. While some moms are peaceful and calm when disaster strikes, I immediately panic. Thankfully my friend Sue Hoyt was down the street as the first responder when an emergency knocked on our door. Sue may have missed her calling as a nurse, but certainly filled the shoes of a faithful friend. She remained calm no matter what the situation, and knew just what to do. Sometimes she had to calm me down first before tending to the child. You can always tell when someone is walking in their gifts: their eyes light up and they display a permanent smile upon their face. They put their whole heart into what they are called to do, and they never tire of being asked to do it. They are clothed in virtue and wisdom for that work is infused in them through the Holy Spirit. They are able to walk in joy which fuels their day. One of the roles of a mom is to guide our child in the way of the Lord and along the way help them to discover their gifts, their talents, and their purpose. It was actually my dad, not my mom, who spoke forth the purpose for my life. "Ellen, I think you should be on radio." I listened to his every word. As I took baby steps towards my goal, God birthed within me a ministry of speaking and writing, hosting on radio, and now WOW podcasts. Unlike being a nurse, this fits my gifts, talents, my personality, and my desires. In October, Deacon Pat and I are moving to Viera, Florida. My mission is to birth conferences for women along with the other two hosts of WOW podcasts, June Council and Jane Anne Bonbrake. If anyone wants to help, please contact me. Today I look back on my life with wonder and awe at what God has done. He truly molded, guided, and changed me. One of the first things I say when I speak is that I do not have a degree. I do not have a title. I only have Jesus and He is enough. He always gives me the words to speak. Lives are touched as I pray and yield. God has opened doors in my life which have given me the opportunities to use my gifts for His glory. "Let your light must shine before others, that they may see your good deeds and glorify your heavenly Father." (Mt. 5:15) "Whoever boasts, should boast in the Lord." (2 Cor. 10:17) I pray that each of you discovers God's purpose for your life and uses it for His glory. Let your light shine brightly as you "be the star you are." Shine for Jesus alone!
I was blessed to be a part of Cynthia Brian's book, Be the Star You Are! My chapter is titled the "The Gift of Wings," and is about teaching your child to fly. This book shines brightly with wisdom that you will want to pass down to the next generation.
"In this eye-opening third installment in the Be the Star You Are!® series, Be the Star You Are! Millennials to Boomers Celebrating Gifts of Positive Voices in a Changing Digital World, you will discover 55 true stories about life's greatest gifts as told by 31 incredible individuals. Each chapter ends with an inspirational quote and a simple, fun exercise to help you embrace your inner star qualities to live a fuller, meaningful life."
Copyright 2018 Ellen Mongan. All rights reserved.[/caption]
---
Copyright 2018 Ellen Mongan
About the Author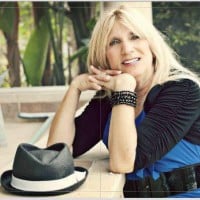 Ellen Mongan, a Catholic writer and speaker, has been married more than 40 years to Deacon Pat Mongan. They have 7 children and 12 grandchildren. Ellen is a host of WOW Radio Podcasts, a religious columnist for the Augusta Chronicle, and has spoken on both radio and television. She is the founder of Sisters in Christ, Little Pink Dress Ministry, and Women-Fests.