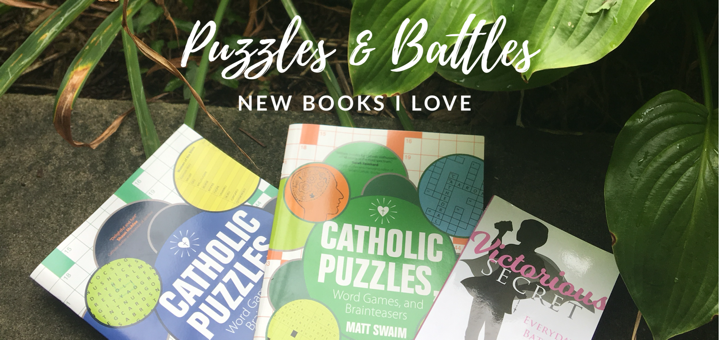 Copyright 2018 Sarah Reinhard. All rights reserved.[/caption] Whether you're an avid reader or just a dabbler, you'll find there's something here for you!
Catholic Puzzles, Word Games, and Brainteasers: Volume 1 and Volume 2
Copyright 2018 Sarah Reinhard. All rights reserved.[/caption] Matt Swaim (Ave Maria Press, 2017) Confession: When I'm at my mother-in-law's and find myself in her bathroom, I often give in to the temptation to sneak a few words in the word-find book that is invariably on the back of the toilet or on the edge of the tub. I have it on good authority other members of our family are guilty of the same. So I bring you, dear friends and bathroom-puzzle enthusiasts (however reluctantly you claim those titles), not one but two volumes of CATHOLIC puzzles. Matt Swaim has created 130 different puzzles (70 in Volume 1 and 60 in Volume 2, according to my ten-year-old counting assistant), ranging from word finds and anagrams to code scrambles and brainteasers. He's used saint names and quotes, wisdom from Scripture, and Catholic knowledge in a way that I can only marvel at as I try (in vain, it should be noted) to keep these treasure troves hidden in my bathroom under the magazines (because they are MINE! MINE! MINE!). Whether you're shopping for someone else, looking to share the faith in a not-so-subtle way, or just a fan of word games and brainteasers, give these collections a try. Perfect as a gift for catechists, priests and religious, nerdy aunts, Confirmation students, mothers-in-law, and yourself!
Copyright 2018 Sarah Reinhard. All rights reserved.[/caption] Laura Mary Phelps (Our Sunday Visitor, 2018) When I first read Victorious Secret, I had to stop a few times. The room seemed to get dusty. My mind seemed to cloud. How did Laura Phelps know these things about me? How did she get in my head like that? I have since found out, on good authority, that I'm not the only person who had this reaction to reading this book. Phelps has a way of unpacking these battles, the ones so many of us face every. single. day. in a way that not only feels like she's sitting right beside you, but also like maybe she's been dipping into your salsa dish (and maybe even sipping from your coffee). That's not to make light of what's done in this book. Not at all. The battles Phelps outlines and describes are very real and very challenging (some more than others). Though she writes with humor and with an underlying desire for some of my favorite food, Phelps doesn't shy away from the difficulty and pain, the hurdles and stubbornness that we have to overcome to grow closer to God. Each chapter outlines a different battle — everyday battle, self-image battle, "what's in it for me?" battle, marriage battle, "what is my purpose?" battle, battle of finding rest in the mess, "too busy for God" battle, "it's not fair" battle, battle of boredom, battle of trusting in His plan, and quite a few more. At the end of the chapter, Phelps outlines a battle plan and recommends a weapon of choice. For example, for the "if only I had this, life would be perfect" battle, the battle plan advises us to "prayerfully list all the ways that God has showed up in the past. Tell him that you trust he will not leave you this way, and then thank him for all of the great things he has yet to do." The weapon of choice is the Sandals of Peace (and who doesn't love a new set of shoes?), and Phelps explains that "we dig our heels in, and we proclaim truth in the face of the lie." Phelps is so down-to-earth and conversational in this book that you might be tempted to think she doesn't know what she's talking about. Don't be fooled, and don't miss the wisdom and insight that this beautiful book holds for you.
---
Copyright 2018 Sarah Reinhard This article contains Amazon affiliate links; your purchases through these links benefit the author.
About the Author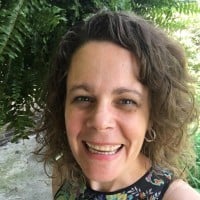 When she's not chasing kids, chugging coffee, or juggling work, Sarah Reinhard's usually trying to stay up read just one…more…chapter. She writes and works in the midst of rural farm life with little ones underfoot. She is part of the team for the award-winning Catholic Mom's Prayer Companion, as well as the author of a number of books. You can join her for a weekday take on Catholic life by subscribing to Three Shots and follow her writing at Snoring Scholar.