Thank you for joining us in prayer for justice and healing in our Church. Together, we pray this novena to Our Lady of Sorrows, for the following intentions:
Healing for all victims of clergy sexual abuse, and for victims' families from pain caused by clergy, consecrated religious and lay leaders in the Church
Justice for perpetrators of evil in the Church
Renewal at all levels in the Catholic Church
Mary's intercession on behalf of all who are suffering
Today's Prayer: Prayer in honor of the Fifth Sorrow of Mary: The Crucifixion and Death of Jesus Most sorrowful Mother, standing by the cross of Jesus, your heart was one great knot. And yet, you did not sit, you did not even lean, but stood as you watched Him suffer for the sins of the whole world–for my sins. Like Abraham, you offered the sacrifice standing up, consciously and willingly. In your case, you offered it for me, and for every sinner. Still, unlike Abraham, you stood and watched Him die. In your case, your perfect Son was not spared. Queen of Martyrs, let me join you in this sorrow, and obtain for me the grace to fight against temptation and sin at the cost of effort, suffering and even life. When my turn comes, grant me, Mother, by your Jesus' death and your sacrifice, the grace to die in His holy Grace–the grace of a happy death. Hail Mary, full of grace the Lord is with Thee, blessed art Thou among women and blessed is the fruit of Thy womb, Jesus. Holy Mary, mother of God, pray for us sinners now and at the hour of our death. Amen.
---
Did you miss a day of our novena? Catch up on the prayers.
About the Author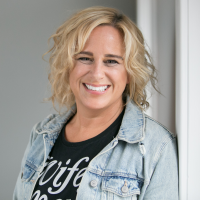 Danielle Bean is an author, speaker, podcaster, and brand manager at CatholicMom. She and her husband Dan have 8 children and live in New Hampshire.