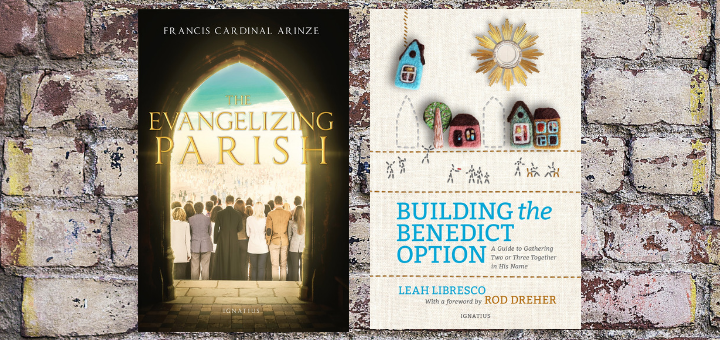 Created in Canva by Barb Szyszkiewicz, OFS[/caption]
After [Jesus] had finished speaking, he said to Simon, "Put out into deep water and lower your nets for a catch." (Luke 5:4)
In this time of crisis in the Church, it's time for us to stop depending on our priests and bishops to do our spiritual heavy lifting for us. If, like St. Francis of Assisi, we feel called to rebuild the Church, we need to realize that this means we're committing to hard work. No, we're not spreading mortar on bricks to repair buildings (not usually, at least). We're doing work on our own hearts and those of others. It's timely, then, that Ignatius Press recently published Francis Cardinal Arinze's The Evangelizing Parish and Leah Libresco's Building the Benedict Option. Both these books are concerned with evangelization, and in a time of scandal, I would argue that evangelization, particularly evangelization by example, is needed more than ever.
WHY
Cardinal Arinze's book, The Evangelizing Parish, is the more theoretical of the two. It lays out a plan for what parish life should look like and what it should mean to the faithful. Cardinal Arinze builds his case on the sacred Scriptures, the Catechism of the Catholic Church, papal encyclicals, and other primary sources. Arinze's synthesis of information spells out the ways parishes can evangelize.
A parish, by nature, is missionary. It opens out. It does not fold in upon itself. Jesus sent his disciples: "Go out to all the world and preach the gospel to the whole creation" (Mk 16:15). A parish is expected to look out in a dynamic way for what it can do for Christ. It does not settle down to a type of ordinary management pastoral activity, to a type of business as usual method. Rather, it is called to launch out into the deep. ... Pope Benedict XVI stresses that "A missionary outreach is the clear sign of the maturity of an ecclesial community ..." (p. 83)
At first glance, you might think that this book is just for priests -- but it's a useful tool for anyone interested in enriching the life of their parish.
HOW
Leah Libresco's Building the Benedict Option puts that theory into practice. She offers concrete ideas that don't require months of planning to pull off. The goal is to build community. (I'm going to admit right up front that I have not yet read Rod Dreher's The Benedict Option, but Libresco provides enough background information for the reader to understand the points she's making -- and to entice the reader to dig into the topic further by reading Dreher's book.) Libresco did her research, too: not by digging into papal encyclicals and the Roman Missal, but by digging deep within the community. She hosted pasta dinners in her home for a few dozen people at a time, asking them what they wanted in terms of ways to care for one another, pray for each other, and become more like Christ. The Benedict Option (or BenOp as Libresco refers to it) often calls for shared living space, whether within a neighborhood or a single building. Libresco discovered that, for her peer group of singles and young married couples (some with small children) this is a lovely idea but not one that they could sustain on a large scale.
We haven't been able to establish any long-term shared spaces, but we create ephemeral ones each time one of us opens his house for a dinner, a prayer session, or a discussion. We offer what we can, hoping to get into the habit of hospitality, and asking God to prompt us to offer more -- to trust in Him whenever a chance opens up. (52)
This idea is very intriguing to me. I remember when, early in our marriage, my husband wanted what his family had when he was growing up: the extended family living right down the street, or even in different apartments in the same building. By the time we were young adults, his family had scattered across zip codes -- and now, as we are into middle age, the family has scattered further, with our own son moving two time zones away earlier this summer. But we have learned that practicing hospitality brings us closer together with people from our community. For over a decade, we've hosted Wednesday-night music rehearsals in our living room. Originally a pragmatic measure intended to permit those of us with small children to practice without dragging the kids to church in the middle of the week (and close to bedtime), it's evolved into a combination rehearsal and group-therapy session. We share what's going on in our lives, community, and parish. We pray for each other, encourage each other, and challenge each other. When it's someone's birthday, someone else makes a cake.
I thanked God for the gift of these friends and prayed that He would show us how to offer ourselves for each other. (57)
Libresco invites -- and challenges -- the reader to find little ways of building hospitality. There's even a whole chapter, titled "Go and Do Likewise," that offers practical ideas for gathering small groups together. It doesn't have to cost a lot of money, or even any money. And for some of them, there's not a lot of preparation that has to happen, either. Basically, Libresco is challenging the reader to a "no excuses" life of hospitality. You'll be motivated without even realizing it. Go and do likewise.
---
Copyright 2018 Barb Szyszkiewicz, OFS This article contains Amazon affiliate links; your purchases through these links benefit the author.
About the Author