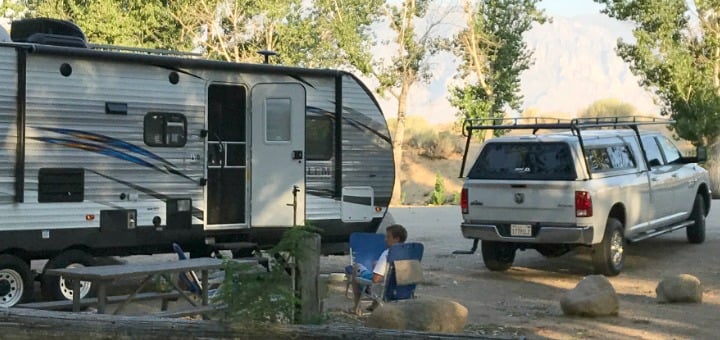 Copyright 2018 Jen Frost. All rights reserved.[/caption] This article is the first in my photo journal travel series. My family and I are on a one-year trip across the United States as we reconnect as a family, experience the natural wonders in the world God created, and see Catholicism – in all its uniqueness and beauty – across the country. This is our journey.
"The world is a book, and those who do not travel read only a page." -St. Augustine
Camping has always been a part of my and my husband's life. We started to camp in college, and found we shared a mutual love for the outdoors; the feeling of getting away, simplifying, and seeing the beauty around us is something that we both wanted more of. Twenty years later, we still camp – with our young son joining in the fun. However, in late April, after an especially cold camping trip (so cold, in fact, we threw the tent, sleeping bags, and all our gear into the freezing truck at 10:30 pm, unable to last the night), hubby and I tossed around the idea of getting an RV. After all, wouldn't it be nice to just have a trailer, already packed, with heat when it gets cold and AC for summer trips? It would save on all the hours of pre-trip packing, the leaking cooler, the tent snapping in the wind, the forgotten items at home. We knew we'd be able to take more frequent trips, as the packing would be less – and realized we could also take longer trips, too, as we would be more self contained. It was settled. We were going to buy a camper. We started talking about our first trip, and suddenly planned ourselves into a full one year trip across the USA. We searched for the right camper for us, as we really wanted a separate bunk house for little man as well as a small two person dinette in his room where we'll be doing our schoolwork for the upcoming year. For us, we wanted a separate bedroom (also with a door) for privacy, and a large dining area. We were thrilled to find a travel trailer that fit our needs – it even had a couch! It's a much larger trailer, at 32 feet, than we would normally want, but since it's our home for a year we wanted to be cozy and comfy inside. Just before we pulled away, our pastor, Father Mike, blessed our home on wheels. It was such a special moment for us. Our community at St. Thomas More is one of the things we will miss most on our trip.
Copyright 2018 Jen Frost. All rights reserved.[/caption] Now, if you're following our Instagram account, you know we've actually been gone a month already. Time goes so fast! We left San Diego in early August, and explored the Eastern Sierras. So so beautiful. I thought I knew what large mountain ranges were, but – you guys – these were so big. They seemed to almost reach the heavens. We stayed in Bishop for a few days, fishing in Lake Sabrina and at the campground and the surrounding lower ponds. It's just east of the Sierras, north of Mount Whitney. Lake Sabrina brought a cool wind and gentle drizzle, which was so welcome to the otherwise hot sun.
Copyright 2018 Jen Frost. All rights reserved.[/caption] The way the lake reflected the mountains around it was breathtaking – it was as if a mirror were sitting atop the lake. The boys got down to fishing right away, and – on the second day in the lower ponds – we caught one!
Copyright 2018 Jen Frost. All rights reserved.[/caption] After a three-night stay in Bishop, we continued to head north to Mammoth. Mammoth is a key skiing destination in California, so during the summer months it's much quieter – unless you're into mountain biking. If you are, it's a mecca of downhill slopes and turns. My husband has found a renewed interest in bombing down a hill at light speed, but little man and I took advantage of the paved roads for our bike rides! One of the most beautiful places in Mammoth was Convict Lake, named after a battle undertaken by a sheriff, Native American, and officers against a posse of convicts that escaped from jail! The showdown happened here at the lake (earning its name), and the convicts got away. We spent some time looking for the bad guys (a perfect game to play with kids), but we couldn't find them either. ;)
Copyright 2018 Jen Frost. All rights reserved.[/caption] While in Mammoth, we went to Mass at St. Joseph's Catholic Church. Started in 1939, this dual-language (English & Spanish) parish serves both the local and tourist community. It's built into the rolling mountains, and the interior of the church mirrors the beauty of Mother Nature outside. We had never seen such a unique wooden altar – twisting and turning, like the surrounding branches in the trees, it seemed such a perfect fit for this mountain town.
Copyright 2018 Jen Frost. All rights reserved.[/caption] We're from California, so we didn't want to linger too long in our home state during our journey. Our last stop in CA, before we headed across the desert to Utah, was an old abandoned mining town named Bowdie. The town was named after a man by the last name of Bowdy ... a shanty fellow who found gold and – in an attempt to get more for himself – froze to death while sneaking back to mine in the winter season. Perhaps the town received some of his bad luck, as – in 1932 – 95% of the town burned down (it was blamed on a two-year-old playing with matches). The town is now a state park and is in a state of "arrested decay," where the buildings are left as they were found and no restorative work is done.
Copyright 2018 Jen Frost. All rights reserved.[/caption] The town had both a Catholic and Methodist church, but only the Methodist church survived the fire. The inside of the church, built in 1882, held a simple quiet beauty. The plot of land where the Catholic church stood, under the pastoral care of Father Cassin, is marked – but little remains today.
Copyright 2018 Jen Frost. All rights reserved.[/caption] We're so excited for this trip on the road as we explore the natural wonders that our beautiful country holds, and as we visit cathedrals, shrines, and see the beauty of our faith along the way! We invite you to join us for the adventure both here on CatholicMom.com and on our Instagram account, where we're sharing regular updates of our trip. If you're in an area we're visiting, we would love to meet up!
---
Copyright 2018 Jen Frost
About the Author