Raise your hand if you know you probably should take care of yourself but feel guilty when you spend time taking care of only you? Well, the good news is you're right -- you do need to take care of yourself and the good news also is that you can take care of yourself without the guilt! In It's Ok to Start with YOU, Julia Hogan, MS, LCPC shows you why it's not only OK to start with you but even necessary. Julia reminds us that
When we aren't our best selves, it shows. ... When you're exhausted and overwhelmed, you simply can't be the friend, family member, significant other, coworker, or boss that you want to be. Even worse, neglecting our well-being makes it nearly impossible to live life as authentic Christians, because we aren't caring for ourselves the way God calls us to ... 'love your neighbor as yourself' (Mt. 22:39, emphasis added.)
Julia's work as a Licensed Professional Counselor gives her the gift of understanding how crucial self-care is for our whole health and how destructive it can be to ignore ourselves at the cost of our health and our relationships. Julia hosted a blog-tour of It's Ok to Start with YOU focusing on the following topics from her book: Physical Self-Care, Mental Self-Care, Emotional Self-Care (that's me today!), and Relational Self-Care, and Spiritual Self-care.
When Julia invited me to participate in her book blog tour last week and asked which topic I'd like to write about, I zoned in on the emotional self-care one because that seems to be where I've needed the most help. I think most people can understand the obvious needs of our physical care and much attention is given to our spiritual self-care but there's always been sort of a disconnect that leaves the emotional and mental-health side out -- as if we are just body and spirit with no mind. This quote from C.S. Lewis that Julia includes at the beginning of her "Managing Emotions" chapter perfectly describes this discrepancy:
Mental pain is less dramatic than physical pain, but it is more common and also more hard to bear. The frequent attempt to conceal mental pain increases the burden: it is easier to say 'My tooth is aching' than to say 'My heart is broken.'
Wow, ain't that the truth? It's easy to pay attention to something bleeding or causing us physical pain but what about when we feel like we are bleeding from the inside? I have to admit that for the longest time, I was captive to my emotions. How I felt ruled the way I lived, how I acted with others, and how I made decisions. It's really only been in the recent 3 - 5 years that I've begun learning how to really manage (not control) my emotions so they don't manage (or control) me. Julia provides simple yet highly effective emotional self-care strategies:
Tips for Managing your Emotions
1. 'Feel' your feelings. 2. Harness your emotions for growth. 3. Live in the present moment. 4. Take a deep breath. 5. Give thanks. 6. Write it down.
Julia walks you through how exactly to do all that because it's easier said than done. Or maybe you feel like that all sounds too easy to have any real long-lasting affect on you. So why not try it and find out? This week, or whenever you happen to come across this blog post, I invite you to join me in practicing those six self-care tips for your emotional well-being. This might mean you'll have to actually pay attention to your emotions and look at them straight-on instead of trying to hide from them and that is OK. In fact, that's exactly what you need to do first. I've discovered that it really is All in the Pause. Out of everything I've done to better care for my emotional and mental health, learning to recognize and embrace the present moment has been my hardest challenge and my greatest aid in overcoming emotional and mental disorders.
My New Emotional Self-Care Goals
My newly-motivated emotional self-care goal is to devote at least one 10 - 20 minute block of time each day to my emotional self care. In that time, I'm going to either pray quietly and reflect on my emotions, work on "living in the moment," practice deep-breathing exercises, and get out my journal so I can get back to keeping a Gratitude journal because that helps me so much! I highly recommend getting Julia Hogan's It's Ok to Start with YOU and give yourself a chance to feel better -- emotionally, mentally physically, spiritually, and relationally. Follow along with Julia's blog tour through her website, Facebook, and be sure to enter her Instagram book-giveaway! You can also check out her YouTube playlist to get a full week of self-care challenges. What about YOU? How do you feel about Self-Care? What are some tips you've learned that help you take time to Start with YOU?
---
Copyright 2018 Erika Marie This article contains Amazon affiliate links; your purchases through these links benefit the author.
About the Author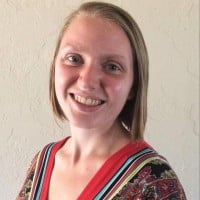 Erika Marie is a simple Catholic, Wife, and Mama. She relishes snuggles and free time with her family and enjoys reading, writing, blogging, and has a slightly obsessive addiction to creating Canva graphics. Enjoy more reflections by Erika at her personal simplemama blog.