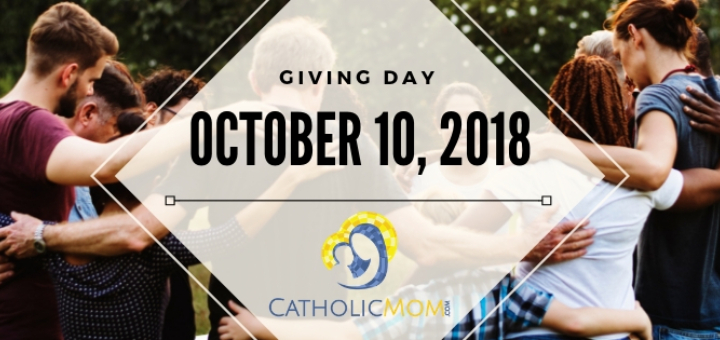 A Special Opportunity: CatholicMom Day of Giving A Simple Yes When Lisa Hendey founded CatholicMom.com 18 years ago, she felt called to create a place where women like her could connect, share, and encourage one another in their vocation to Catholic motherhood. God called, and Lisa said yes. Is it any wonder that the simple "Yes" of the woman who would go on to write The Grace of Yes has yielded such beautiful fruit? All those years ago, as a young mom who simply loved her family and loved her faith, Lisa could not have imagined the enormous blessing CatholicMom would grow to become for so many. Through Lisa's dedication, hard work, and generosity, and the ensuing work and generosity of hundreds of contributors here, CatholicMom has grown into an online family that serves the needs of so many in so many ways -- thousands of moms at home, moms in the workplace, moms of kids with special needs, single moms, grandmothers, catechists in the classroom, and even dads visit CatholicMom and use our free resources every day. Changes and Growth A little over a year ago, CatholicMom was acquired by Holy Cross Family Ministries, and this change has brought new opportunities for growth and expansion of the services we provide. From daily blog posts and personal prayer support, from Sunday Gospel Activities to weekly CatholicMom Hangouts, CatholicMom books, and our popular Catholic Momcast -- everything we do is with you in mind. It is a privilege and a joy to support and encourage our listeners and readers in the important work they do in the hearts of their homes. I am honored to be part of the team at CatholicMom and excited about the new challenges and opportunities that lie ahead. One of those opportunities is that, for the first time since Lisa Hendey's simple "Yes" back in 2000, we are offering our readers and listeners the chance to give back and become part of the support system that keeps us running here at CatholicMom.
Catholic Mom Day of Giving Tomorrow, October 10, we will be hosting a CatholicMom Day of Giving, asking subscribers and friends of CatholicMom.com to support the vitally important, free resources we offer. 100% of proceeds from this special one-day event will go directly to our critical programs. And there will be fun too! All donors will be entered into a large giveaway to win exciting prizes, including CatholicMom books, Catholic toys, and magazine subscriptions. Information about the giveaways and our sponsors will be shared throughout the day on October 10, at CatholicMom.com and through our social media channels. To reach our goal of raising $5,000 on our very first CatholicMom Day of Giving, we will need your word of mouth, prayer support, and financial support. I hope that you will consider sharing our campaign with your friends and family, and linking to it on social media. Even now, before our official CatholicMom Giving Day starts, you can share our donate page with friends and family and participate in this event yourself. I also hope that you will join me in praying for the success of our CatholicMom Day of Giving, and consider carrying on the legacy of Lisa Hendey's "Yes" by participating yourself, with a donation of any amount you can afford. We have already kicked off our campaign in a major way, with a generous sponsorship from The Word Among Us Press who have donated $1,000. We are deeply grateful for their vote of confidence and ongoing support! Thank you for being a part of the CatholicMom community. Your presence and participation are truly a gift to us and you are a vitally important part of all we do. We here at CatholicMom are keeping you in prayer as we continue our work in service to God and families. God bless you and thank you for your support!
---
Copyright 2018 Danielle Bean
About the Author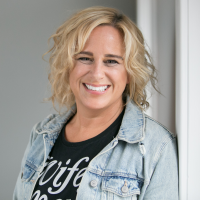 Danielle Bean is an author, speaker, podcaster, and brand manager at CatholicMom. She and her husband Dan have 8 children and live in New Hampshire.