A few months ago my family discovered Fishing for Saints, a fun card game to teach young kids about the saints. It's probably the best (maybe only?) thing to come out of my mindless Instagram scrolling. I'd stumbled on a series of photos of little hands holding the brightly colored cards and I immediately loved the concept and wanted those cards in my own kids' hands.
My kids hadn't yet shown much interest in the saints, even though we have a few lovely saint books; that changed once they started playing with the Fishing for Saints cards. The game is played just like "Go Fish" - your goal is to collect as many sets of matching saint cards as you can. My kids love yelling "Go Pray!" when they send each other fishing for saints in the big pond of cards. It's a good thing my husband and I both really like playing it, too, because our kids insist that we play it at least a few times each week. They like the cards because they are colorful and the images are sweet and childlike and simple enough that they can recognize their favorite saints easily. I like the cards because they include a little information about the saints and I can easily teach them about the saint they hold in their hand. My Catholic Kids, who makes Fishing for Saints, also has a series of simple coloring pages that you can find on their blog that match the cards. We also purchased the little saint book and my daughters take it to Mass with them every Sunday without fail.
We're even incorporating the game into our homeschool. Because they love learning about the saints pictured on their cards, we're choosing one to learn more about each week and using the stickers to make a big picture of all the saints interceding for us. I'm amazed at how many saints my two year old knows now and how she remembers their names and little details about their photos. And my five year old is beginning to think of the saints as friends. As we approach November and the Feast of All Saints, if you've got little ones and want to teach them about the saints, I'm happy to recommend these to you! It would also be a great gift for a godchild, a stocking stuffer or to put in a shoe on the feast of St. Nicholas, or a special surprise to toss in their candy bucket on All Hallows' Eve. Happy Fishing!
---
Copyright 2018 Megan Swaim
About the Author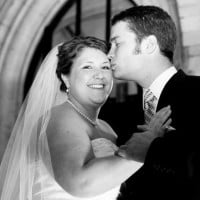 Megan Swaim is an Indiana girl on an east coast adventure. A former high school youth minister, she now gets to minister full-time to her three young daughters and her husband Josh. Megan spends her days homeschooling at the kitchen table, drinking iced coffee, and exploring coastal Virginia.