Thank you so much for your participation in our CatholicMom Day of Giving today! Now here's the fun part -- anyone making a donation in any amount will be entered to win one of dozens of prizes, and I want to share some of those prizes with you. Thank you so much to our generous sponsors who have donated these amazing prizes. Don't miss out on your chance to win. Make your donation now! Here are the prizes ... FUN! Card Game from SaintCards.com QUIRKY! Pope Francis bobblehead doll ADORABLE! 2 signed copies of Before I Was Me by artist Frank Fraser INSPIRING! 2 copies of Paul's Prayers by Susan Anderson EDUCATIONAL! Bible Blink card game from Cactus Game Design CHARMING! Galilean Boat With Jesus set from Cactus Game Design BEAUTIFUL! Tales of Glory Nativity set from cactus Game Design RELATABLE! 1 copy of Don't Forget to say Thank You from Ave Maria Press PRAYER-FILLED! 1 copy of The Catholic Mom's Prayer Companion from Ave Maria Press AUTHENTIC! 1 copy of The Grace of Enough from Ave Maria Press SOUL-FEEDING! Set of 3 prayer journals from Take Up and Read Flourish, Ponder, Stories of Grace, and True Friend CLEVER! 3 sets of Bible memory Table Tents from Ascension Press NEW! 2 signed copies of the soon-be-released You Are Enough from Danielle Bean CLASSIC! Signed copies of The Handbook for Catholic Moms, A Book of Saints for Catholic Moms from Lisa Hendey FOR KIDS! Signed 5-book set of Chime Travelers Kids from Lisa Hendey DEVOTIONAL! 1 Fr. Patrick Peyton Rosary gift basket from Holy Cross Family Ministries UPLIFTING! 1 copy each of 7 Secrets of the Eucharist, 7 Secrets of Confession, and 7 Secrets of Divine Mercy from Vinny Flynn ILLUMINATING! 1 copy of The Catholic Journal Bible from Our Sunday Visitor Your donation of any amount to the CatholicMom Day of Giving will qualify you to be entered into a random drawing to win one of these amazing prizes. Don't miss out! Enter right now! Thank you so much for your support!
---
Copyright 2018 Danielle Bean
About the Author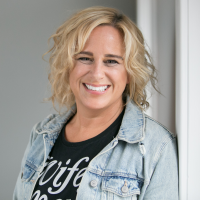 Danielle Bean is an author, speaker, podcaster, and brand manager at CatholicMom. She and her husband Dan have 8 children and live in New Hampshire.