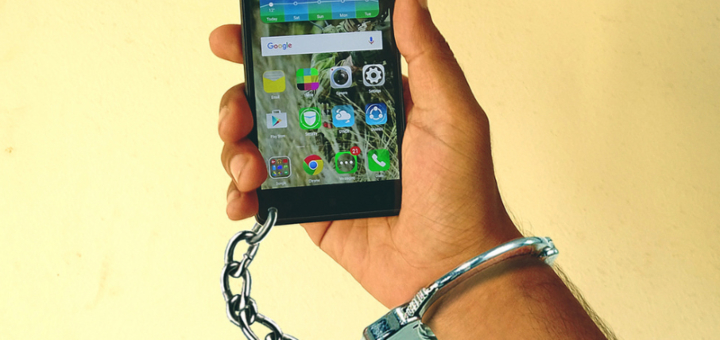 credit: Jangra Works Handcuff and Locked With Smart Phone via photopin (license)[/caption] Flávia Ghelardi writes from Brazil in English and Portuguese. Jump to the English version of this post. Nossa felicidade depende na forma que usamos as coisas que Deus nos deu. Precisamos usá-las de uma maneira heroica, com uma "divina indiferença" que cria um equilíbrio entre o apego e o desapego. Somos dependentes das coisas para sobrevivermos: precisamos de moradia, transporte, alimento, roupas, e tudo isso precisa ser adquirido pelo nosso trabalho. Nossa sociedade também cria uma série de "necessidades", coisas que tornam nossa vida mais fácil, que acreditamos que não podemos viver sem. Então, essa divina indiferença é muito difícil de se conseguir, pois nossa tendência é nos apegarmos demasiadamente aos bens materiais e deixamos de confiar na divina providência, de acreditar que o Pai cuida de cada um de nós. Não podemos viver sem as coisas materiais, mas podemos criar uma atitude de independência frente a elas. Podemos criar também uma atitude de independência frente ao conforto físico, honra, estima e os prazeres dos sentidos. Isso não acontece de uma hora para outra, precisa de treinamento. Da mesma forma que para participar de uma Olimpíada o atleta treina seu corpo, para sermos mestres da divina indiferença, precisamos treinar nosso espírito. O Pe. José Kentenich, fundador do Movimento Apostólico de Schoenstatt, disse que só conseguiu sobreviver aos horrores do campo de concentração nazista onde passou mais de 3 anos, porque durante toda a vida havia treinado seu espírito para suportar adversidades. Não sabemos o que ainda deveremos passar em nossas vidas, quais dificuldades precisaremos transpor, então um estilo de vida mais sóbrio, é sempre uma excelente opção. Presenciamos hoje uma juventude que não suporta a menor contrariedade, uma cara feia é motivo de divórcio, uma nota baixa é motivo de suicídio. Isso acontece porque durante a infância e adolescência, tiveram todos os obstáculos e frustrações removidas pelos responsáveis por sua educação. E sem superar obstáculos ou sofrer frustrações, a pessoa não amadurece e não sabe lidar com isso no futuro. Assim, quanto antes começarmos a nos privar voluntariamente de alguns prazeres e confortos, mais fácil será criar essa independência e veremos que nos satisfaremos com muito pouco. Pode ser coisas simples, como tomar banho um pouco mais frio do que gostaríamos, deixar de comer aquela sobremesa depois do almoço, ir a pé até a padaria ao invés de pegar o carro, renunciar um dia a assistir sua série favorita, etc. São inúmeras pequenas renúncias no dia a dia que tornarão forte nosso caráter e nossa capacidade de suportar as adversidades da vida. A confiança na divina providência nos ensina a fazer todo o possível para a saúde e segurança de nossa família, mas estar disposto a abrir mão de todo o resto, se Deus assim o permitir. Precisamos acreditar que Deus só irá pedir aquilo que é para o nosso bem, que em última análise, é a salvação da nossa alma. Podemos ensinar nossos filhos esse tipo de desapego através de nossas atitudes. Por exemplo, não perder a paciência se a internet está muito lenta ou se precisamos mudar o que havíamos planejado para o dia. Aos poucos os filhos irão aprender a superar suas próprias frustrações e se tornar mais desapegados do mundo para se apegarem mais a Deus. Oração do Abandono (Pe. Charles Foucauld) Meu Pai, Eu me abandono a Ti. Faz de mim o que te agradar. Não importa o que faças de mim, Eu te agradeço. Estou pronto a tudo, Eu aceito tudo. Tomara que tua vontade se faça em mim, Em todas tuas criaturas, Eu não desejo nada mais. Meu Deus, Eu coloco minha alma entre tuas mãos. Eu a te dou, meu Deus, Com todo o amor do meu coração, Porque eu te amo, E que é minha necessidade, De me colocar em tuas mãos Sem medida, com infinita confiança, Pois Tu és meu Pai.
---
credit: Jangra Works Handcuff and Locked With Smart Phone via photopin (license)[/caption]
Life's Needs
Our happiness depends on how we use the things God has given us. We need to use them in a heroic way, with a "divine indifference" that creates a balance between attachment and detachment. We are dependent on things to survive: we need housing, transportation, food, and clothing, and all of this needs to be acquired by our work. Our society also creates a series of "needs," things that make our lives easier, which we believe we can not live without. So this divine indifference is very difficult to achieve, for we tend to cling too much to material possessions, and we no longer trust divine providence. We cease to believe that the Father cares for each one of us. We cannot live without material things, but we can create an attitude of independence towards them. We can also create an attitude of independence towards physical comfort, honor, esteem and sensory pleasures. It does not happen overnight; it requires training. In the same way that an athlete trains his body to participate in the Olympic Games, we must train our spirits to be masters of divine indifference. Fr. Joseph Kentenich, founder of the Schoenstatt Apostolic Movement, said that he had only survived the horrors of the Nazi concentration camp where he spent more than three years because he had trained his spirit to endure adversity all his life. We do not know what we still have to do in our lives, what difficulties we need to overcome, so a soberer lifestyle is always an excellent option. Today we see a youth who cannot stand the slightest annoyance; an ugly face is a reason for divorce; a low score on a test is a cause of suicide. This is because during childhood and adolescence, children have had obstacles and frustrations removed by those responsible for their education. Without overcoming obstacles or suffering frustrations, a person does not mature and does not know how to deal with it in the future. Thus, the sooner we begin to voluntarily deprive ourselves of some pleasures and comforts, the easier it will be to create that independence and we will see that we will be satisfied with very little. It could be simple things, like bathing in water a little cooler than we would like, to skip eating that dessert after lunch, walking to the bakery instead of picking up the car, giving up one day watching your favorite series, and so on. There are innumerable small renunciations in the day-to-day that will make our character strong and increase our capacity to withstand the adversities of life. Trust in divine providence teaches us to do all we can for the health and safety of our family, but to be willing to give up everything else, if God allows it. We need to believe that God will only ask for our good, which ultimately is the salvation of our soul. We can teach our children this kind of detachment through our attitudes. For example, do not lose patience if the internet is too slow or if we need to change what we had planned for the day. Children will slowly learn to overcome their own frustrations and become more detached from the world to become more attached to God.
Prayer of Abandonment (Blessed Charles de Foucauld) Father, I abandon myself into your hands; do with me what you will. Whatever you may do, I thank you: I am ready for all, I accept all. Let only your will be done in me, and in all your creatures – I wish no more than this, O Lord. Into your hands I commend my soul: I offer it to you with all the love of my heart, for I love you, Lord, and so need to give myself, to surrender myself into your hands without reserve, and with boundless confidence, for you are my Father.
---
Copyright 2018 Flávia Ghelardi
About the Author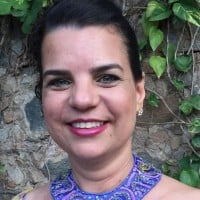 Flávia Ghelardi is the mom of four, a former lawyer already "promoted" to full time mom. Flávia published her first book FORTALECENDO SUA FAMÍLIA and is a member of Schoenstatt´s Apostolic Movement. Flávia loves to speak about motherhood and the important role of women, as desired by God, for our society. She blogs at www.fortalecendosuafamilia.blogspot.com.