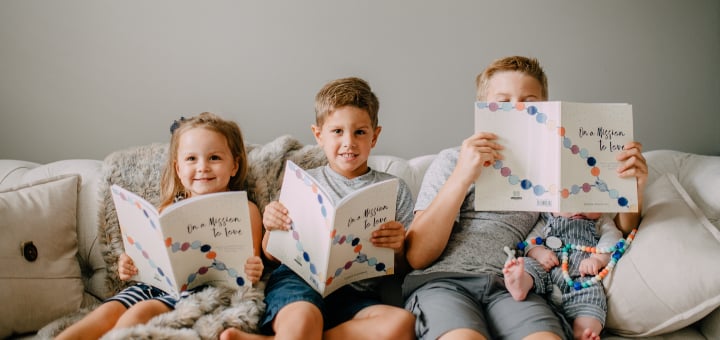 Copyright 2018 Corynne Staresinic. All rights reserved. Used with permission.[/caption] Debbie, thank you for taking the time to tell our CatholicMom.com audience about your new books, The Theology of the Body Rosary Meditations and On a Mission to Love. Can you tell us a little about yourself and how you came to author these books?

Thank you for the opportunity to share a gift that the Holy Spirit has placed in my heart: a deep love for Our Lady and for St. John Paul II's

Theology of the Body

(TOB)

.

I am a wife, mother, and grandmother, and as I reflect on these roles

I become ever more convinced that we must pass on to our children a love for Mary. Praying the Rosary is the best way that I have found to do that.

While I have always been drawn to the Blessed Mother, my relationship with her began to flourish several years ago when I consecrated myself to her, following St. Louis de Montfort's method of total consecration. As a part of that I promised to pray one Rosary a day. Rosary by Rosary I began to fall more deeply in love with Our Lady. The Church teaches that when we place our lives in the loving hands of the Mary, she will lead us to Jesus. In my case Mary led me to Jesus through John Paul II's teaching.

Here is how that worked.

Around the time of my consecration I was volunteering at a crisis pregnancy center as a client advocate, counseling women with unplanned pregnancies. I was struck by the brokenness of the young ladies we were serving, and I found myself constantly searching for words to convey to them their inherent beauty and worth. That is when a friend of mine introduced me to TOB

.

After taking a week-long course at the Theology of the Body Institute (TOBI), I knew this was the message our clients needed to hear. I would soon learn that it was, in fact, what

I

personally needed to hear and what my husband, children, grandchildren (and

everyone

) needed to hear. I decided at that point to pursue a full course of studies at the TOBI.

TOB transformed my life and my outlook on the world around us.

Recall that this all started with a newfound devotion to Our Lady, including the daily Rosary. It took a while to discern that the Holy Spirit was telling me that both TOB and the Rosary pointed to the same place: a deeper understanding of the mystery of "man." And that is what ultimately led to these two books of Rosary meditations.

Could you tell us more about the books themselves? Being about the Rosary, can you tell us who can benefit from reading both of these wonderful guides and/or how they can be used? The primary theme of the first book Theology of the Body Rosary Meditations: Contemplating Christ's Love for is Bride the Church is the spousal love of God for His people.

Drawing from Scripture and Church teaching, St. John Paul II demonstrated how the marriage of man and woman is a sign of Christ's love for His Church. Each meditation in the book attempts to highlight a different aspect of this theme.
Copyright 2018 Debbie Staresinic. All rights reserved.[/caption]

For example, with the Wedding Proposal (The Annunciation) God proposes to Mary, and Mary, on behalf of mankind, answers "yes". And in the Consummation of the Wedding (The Crucifixion) Christ makes a total gift of Himself to the Father and to all of mankind. Additional TOB themes are incorporated throughout the reflections as well.

Since we are speaking to Catholic moms, I would like to focus now on the second book, On a Mission to Love, which is written specifically for children and families.
Copyright 2018 Debbie Staresinic. All rights reserved.[/caption]

The primary goal of this book is to help form a daily habit of praying the Rosary; this book is written in a decade-a-day format. A decade a day requires only five minutes and is an approachable way for Catholic schools and families to introduce and maintain the habit of praying the Rosary each day. One-line meditations following each Hail Mary can help active young minds remain engaged. The concepts of self-gift, the dignity of the human person, our creation as man and woman, and our call to love are woven throughout the mysteries along with other key themes from John Paul II's teaching.

Can you tell us why you think the Rosary is so important today?

Our Lady of Fatima asked us to pray the Rosary

daily

for peace throughout the world and peace within our families. In an interview with Cardinal Caffera, Fatima visionary, Sister Lucia said, "The final battle between the Lord and the reign of Satan will be about marriage and family." We don't have to look far to witness the attack on marriage and family raging in our world today.

Saints throughout the ages have recommended the Rosary as a powerful weapon for bringing about miracles and victories. Even 15 years ago John Paul II said that we need the Rosary today more than ever.

How do you see the Theology of the Body and the Rosary as linked together?

It was John Paul II who introduced TOB and it is through John Paul II that this linkage is most clearly seen. He identified the problem with the modern world as a fundamental lack of understanding of the mystery of man. To fill that gap, he wrote TOB.

Eighteen years later, in his encyclical

The Rosary and the Virgin Mary,

he wrote about the anthropological significance of the Holy Rosary. He said, "Each mystery, carefully meditated, sheds light on the mystery of man."

Thus, it becomes clear that both the Rosary and TOB have the potential to inform us about "the human person" (which is how John Paul II referred to our human anthropology).
Copyright 2018 Debbie Staresinic. All rights reserved.[/caption] Can you explain what you mean by the Church as Bride? How can men, women, and children understand this concept?

Thank you for that beautiful question. My shortest answer is five words: God wants to marry us. But that isn't something I figured out; it is what the Church has taught since the beginning. The Bible begins and ends with weddings. Adam and Eve in Genesis and Christ and the Church in Revelations. And in between it is a consistent message from Hosea "I will betroth you to me forever" to Paul's mystical proclamation in Ephesians that, "by this I mean Christ and the Church." The Catechism is also very clear that God wants to marry us.

But the second part of your question deals with how we can understand this truth. First, I have to say that it is so mysterious that I seek each day to understand it more fully. It is beautiful and awesome. How could the creator of "all that is" determine to betroth Himself to me forever?

I have found that it is helpful to focus on love. On God's love for Christ. On Christ's love for God. On the Holy Spirit as the mutual love of God and Christ. And on Christ's love for his church…meaning all of us. It is only in contemplation of this eternal, perfect love that my role as eternal bride makes sense.

How have you seen these books affecting people who have used them?
Copyright 2018 Stephanie DeLaBruere from Pure in Heart America. All rights reserved. Used with permission.[/caption]

I have received pictures of groups of young adults on beaches, praying the Rosary with the books. I have seen the books in adoration chapels and on nightstands, suggesting that people are keeping them close to their prayer lives. I have heard from parents how the images and reflections in the book have sparked conversations with their children about particular virtues. I even received a picture of a tree that one person told me that their three-year-old named "the tree of the Holy Spirit" and asked if this is "the place where Jesus died." My heart breaks and overflows!

Within my own family I have seen our children and grandchildren draw closer to the Rosary while learning TOB concepts.

How did you choose the art in the children's book that is prayed with as the Rosary is said?

I wanted the design of the book to be attractive and colorful yet simple and clean. Children's lives today are so busy and filled with so many distractions. This needed to be a place for quiet reflection. A soothing color palette, minimal clutter and a lot of white space were all important.

Sacred art was needed to spur contemplation of each of the mysteries. I was blessed to discover the beautiful artwork of Swiss artist,

Bradi Barth

. A former kindergarten teacher, Bradi dedicated the last twenty years of her life to religious painting. Her simple yet engaging images provide a backdrop for each mystery that leaves room for young (and not so young!) imaginations to fill in the space.
"The Annunciation" copyright 2018 Bradi Barth. All rights reserved. Used with permission.[/caption] Are there any other aspects of the books that you'd like our followers to know about? Where can people get more information?

All proceeds from these books support

Ruah Woods Press

in Cincinnati, OH. Ruah Woods is a non-profit ministry dedicated to spreading the message of TOB throughout the world.

Readers may follow me on

Instagram

,

Facebook

,

and

Twitter

@tobrosary.
---
Copyright 2018 Cindy Costello
About the Author

Cindy Costello is a praying wife and mom who is settling into her empty nest. More than fall trees and caramel lattes, she loves a pen hitting paper to create something unique and beautiful for God. Cindy is challenging herself intellectually and getting ready for Career #2 by pursuing a MA in Theology. And on the side she gives parish talks and retreats , specializing in Theology of the Body and all things Catholic! Visit her website at CindyACostello.com.