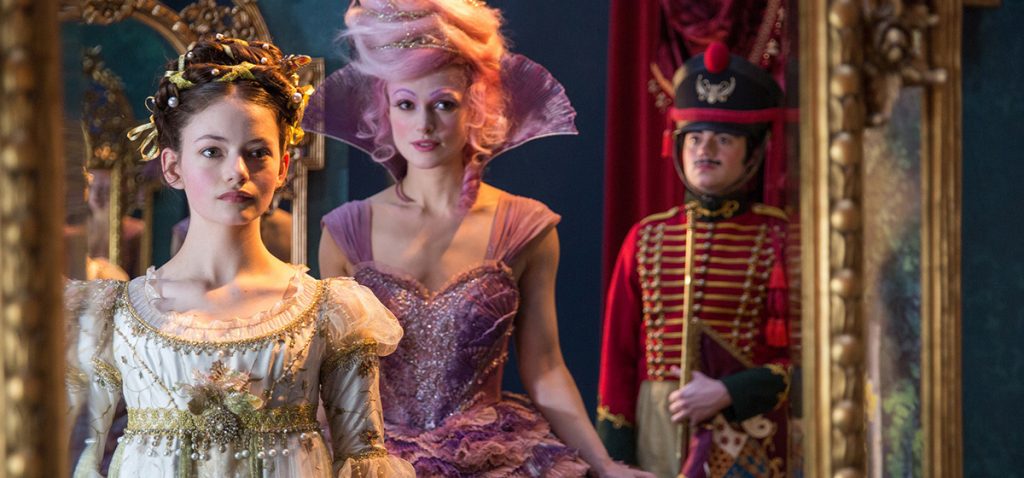 Disney's The Nutcracker and The Four Realms opens in theaters nationwide on November 2. Image courtesy of Disney.[/caption] Mine may be one of the few positive reviews you read for Disney's latest release The Nutcracker and The Four Realms. But I urge you to open your heart to the possibilities of this film as it opens nationwide tomorrow. Why listen to what I say? Because this review isn't just mine. After falling in love with the film following the screening I attended, I queried a few of my fellow moviegoers who also left the theater in love with what they'd just experienced. Among my informal survey respondents were two elementary school lads, a five-year-old princess in the making, an elderly couple, and a mom and dad with a four-year-old in tow. They all loved it as much as I did. Here's a look at The Nutcracker and The Four Realms: https://youtu.be/BXfxLIuNJvw
Synopsis:
(courtesy of Disney)
All Clara (Mackenzie Foy) wants is a key – a one-of-a-kind key that will unlock a box that holds a priceless gift. A golden thread, presented to her at godfather Drosselmeyer's (Morgan Freeman) annual holiday party, leads her to the coveted key—which promptly disappears into a strange and mysterious parallel world. It's there that Clara encounters a soldier named Phillip (Jayden Fowora-Knight), a gang of mice and the regents who preside over three Realms: Land of Snowflakes, Land of Flowers and Land of Sweets. Clara and Phillip must brave the ominous Fourth Realm, home to the tyrant Mother Ginger (Helen Mirren), to retrieve Clara's key and hopefully return harmony to the unstable world. Starring Keira Knightley as the Sugar Plum Fairy, Disney's new holiday feature film "The Nutcracker and the Four Realms" is directed by Lasse Hallström and Joe Johnston, and inspired by E.T.A. Hoffmann's classic tale.
The Nutcraker and The Four Realms opens nationwide November 2.[/caption]
My Take:
I am not a "Nutcracker" expert. I've attended Tschaikovsky's ballet adaptation of E. T. A. Hoffmann's short story "The Nutcracker and the Mouse King" enough times to recognize its iconic music. But I've never watched it closely enough to comprehend the story behind all that dancing. So I came to the theater with no preconceived notions but emerged two hours later anxious to dive into the source material and to book ballet tickets for early December. So buyer beware here - if you know every ounce of this story and have loved it for years, your results may vary. This caveat being issued, I love this film for the message it provides, for the technology that enables this story to be told in such an innovative fashion, for the costuming that brings the Realms to life, and for its solidly family-friendly adaptation of a cultural treasure. Do we need a new "Nutcracker" to replace the classic one? No. But will a new generation perhaps love this story in a new way for a new age? Absolutely yes.
Beachballs (stuff to love!):
I can't say enough about the power of Keira Knightley, Helen Mirren and Mackenzie Foy as the drivers of the energy here. In an awesome "good guys become bad guys" twist, we get to see both the sweet and sour sides of Sugar Plum and Mother Ginger. Alongside Mackenzie Foy's Clara, we witness empowerment in the making. But don't worry, this isn't just female empowerment, because, in company with Jayden Fowora-Knight's nutcracker Phillip, we find that each of us has a unique calling and the power to answer that mission with courage and selflessness. Some may hate the effects of this film, as Disney's clearly employing all kinds of new digital tricks. For me, I found this brought the Four Realms to life. I'd love a VR experience that would allow me to wander these worlds on my own. This may well be a film worth experiencing in 3D if you enjoy that format. Finally, music is very much a part of this film. Along with the classic score woven throughut the film, we have the beauty of Andrea Bocelli's "Fall on Me", a duet that's sung with his son Matteo. Stay through the credits to experience this work of wonder. https://youtu.be/y3x38EQSq-I
Jellyfish (stuff to watch out for!):
Rated PG for some mild peril, The Nutcracker and The Four Realms is very short on objectionable material. Morgan Freeman's Drosselmeyer takes God's name in vain (using the "D" word) and we have one "poo". Some parents of sensitive little ones may find the CGI "Mouse King" scary, but it's actually one of the coolest technical aspects of the film and (spoiler alert), the mice end up being good guys. There is one remarkable "jump scare" moment, but nothing overly violent or frightening. I would have liked to have seen more fleshing out of Clara's siblings. The film also opens with the very heartbroken Stahlbaum family, who have recently lost their beloved wife and mother. Additionally, this film centers around Christmas but the only mentions of the holiday involve entirely around social functions and gift giving, with no mention of "the reason for the season". For the most part, all but the youngest viewers will be brave enough to see this one and the boys I questioned found it filled with enough action sequences to keep it from being a "girl movie". In short, I found this film to be full of light, courage, and mission. The Nutcracker and the Four Realms pays beautiful tribute to the original source by reimagining this classic tale for a whole new generation to love. I'm calling it an instant classic! Copyright 2018 Lisa M. Hendey
About the Author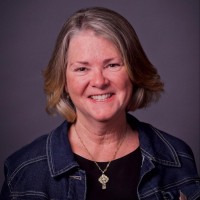 Lisa M. Hendey is the founder of CatholicMom.com, a bestselling author and an international speaker. A frequent radio and television guest, Hendey travels internationally giving workshops on faith, family, and communications. Visit Lisa at LisaHendey.com or on social media @LisaHendey for information on her speaking schedule or to invite her to visit your group, parish, school or organization. Visit Lisa's author page on Amazon.com.