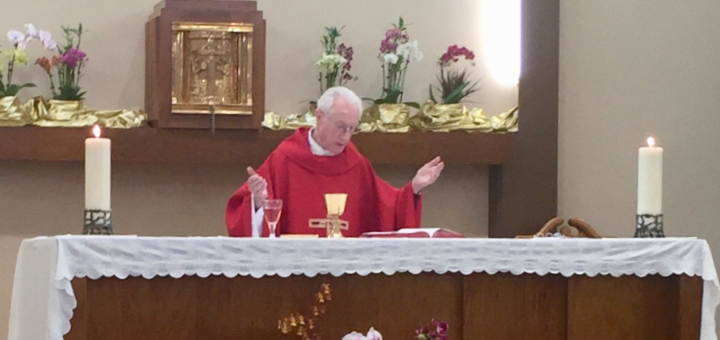 Courtesy of the Acton family. Used with permission. All rights reserved.[/caption] November is the month that our Church calls us to pray for the dead. We pray for the family, friends, and for me this year the clergy that have gone before us. A few weeks ago, Msgr. Thomas Acton anointed my sick mother in the hospital before she had surgery; it would be his last act of ministry to my family. Just two days later he died suddenly in his easy chair reading the morning paper, something he did every day. He was 84. For the last 44 years of my life this priest had been a part of the community and a member of my family. I mean for every high and low he'd been there to share, care, support, and console. As I looked through the sympathy cards at Hallmark to find one to share with his family, there was one in particular that really resonated for me.
"The impact of one life is like a stone dropped into a lake, it quickly disappears from sight - but its impact leaves behind a series of ripples that broaden and reach across the water. In the same way, the impact of one life lived for Christ leaves behind an influence for good that touches the lives of many others." - Roy Lessin
We are called to use our time, talent, and treasure to glorify the Lord. However, most people don't know intuitively what our talents are unless someone else they trust and respect tells them. Had it not been for my parish priest telling me that my ability to proclaim the word of the Lord as a lector when I was a tween, my talent would have been undiscovered. For a shy, introverted girl who had no idea what God-given talents I had, he planted the seed of confidence to speak in front of the entire parish. That seed of confidence blossomed into a budding career as a television journalist and motivational speaker, and now a ministry in which I share tips for using technology as an evangelization tool at Catholic conferences. When my head began to swell from all the notoriety, I asked him for advice. How do you remain humble? He said "When you receive Communion, both species, whisper, 'Jesus meek and humble of heart make my heart like your heart.'" It is a practice that continues to help me always remember it is God and not me who deserves the praise for my talents!
Copyright 2018 Sherry Hayes-Peirce. All rights reserved.[/caption] In his four decades of ministry to my family, I can recall so many times when he was there to celebrate with us for sacraments, graduation, blessing my first car, visiting sick relatives, monthly dinners, and a few road trips. He was also there to comfort and console at times of personal trials associated with life, such losing a job or the death of a loved one.

When my father died, it triggered deep depression in me. It was again this holy priest who sat with me, listening, praying, and consoling me in throes of grief. He even had to counsel me about standing in judgement of my mother, whom I felt didn't do enough in caring for my daddy. I moved away and stopped speaking to my mom. She told Fr. Tom about it and I'll never forget him calling me to say, "I have counseled hundreds of couples and you have no right to stand in judgement of your mother. No one ever knows what is shared in the bonds of a marriage that affects how they interact with one another." My grief was so deep that it caused me to question God's will - my desire to even want to live without my Daddy, but he brought light into this dark time in my life and restored my faith.

He served as my spiritual director, conferred the sacraments of Confirmation, Reconciliation, Anointing of the Sick, and Marriage as a part of his role in my life. I am a member of the baby boomer generation: We enjoyed the blessing of having our parish priests for generations. The shortage of priests and new term limits associated with a pastor's tenure will no longer facilitate the role of a priest in the lives of families who remain in the parish for generations like mine. This year in the Archdiocese of Los Angeles over twenty-five priests have died so far this year. It is likely that we will continue to see more priests from different parts of the world to fill the void until the numbers of U.S. seminarians rise.

His death was just days before Missionary Sunday and one of his nieces posted a tribute on her Facebook page:
"On this Mission Sunday I remember the missionary that had the most influence on my life. Rest in peace Uncle Tommy" - Kate Acton
Courtesy of the Acton family. Used with permission. All rights reserved.[/caption] Upon reading her post, for the first time in my life I realized that my Fr. Tom was a missionary. He had left his home in Northern Ireland to come to America in the 1950s to serve its people. Coming here would have been culture shock for sure! His family shared how he initially wanted to serve as a missionary in Africa, but was persuaded by his mother and cousin who is also a monsignor and now in his 90s to come to America instead. The main reason for selecting the U.S. was he could get back home every three years instead of the seven allotted for missionaries assigned to Africa.
Courtesy of the Acton family. Used with permission. All rights reserved.[/caption] God answers prayers, because although he didn't serve as a missionary in Africa like he wanted, he spent 11 years at Mother of Sorrows in the community of Watts, a historically African-American community. His most enduring legacy is that when he was named pastor of Maria Regina parish in Gardena, California, in the late '70s it became a mix of Irish, Italian, blacks predominantly from New Orleans, Samoan, Vietnamese, Korean, Palestinian, and Hispanic families. I remember him welcoming an associate priest, Fr. Al Roberts, one of the first ordained black priests I'd seen in our archdiocese. The sisters who ran the parish school were from the order of the Sacred Heart of Jesus and Mary in Honolulu. For me, seeing clergy of color helped me see the universality of our Church throughout my life. Today the parish remains diverse, offering Mass on Sunday in English, Spanish, Vietnamese and Igbo (Nigerian). Since 1986 he also served as a chaplain at Los Padrinos, a juvenile detention center, the second Sunday of every month, saying Mass and hearing the confessions of troubled youth.
Courtesy of the Acton family. Used with permission. All rights reserved.[/caption] I was one of hundreds who stood in line to personally give condolences and share how this priest had affected their lives. When you think about the role a priest plays in the lives of their parishioners and the incredible power they have to impact them in extraordinary ways - it is such a beautiful reflection of one living a life inspired by Christ. As I reached the front of the line, I assured the family that their loved one would continue to be a blessing to so many, hopefully providing a measure of comfort and consolation to them.

Priests used to be regarded as holy, supernatural, and above reproach. Following the bombshell revelations of the priest scandal in Boston, that all changed. My mother was not Catholic, but always respected Fr. Tom and had spirited conversations with him. She always helped us to know he was just a man working for Christ full-time. When he was elevated to monsignor under protest, he said he "just wanted to serve the people as a humble priest." I recall at one of our monthly dinners him saying that someone spat at him when they saw him in his clerics. He was devastated by the thought that so many people indicted all priests for the misdeeds of so few!

My dear sweet Fr. Tom was not perfect nor pious, but personable: a person whom I will miss and pray for every day of my life's journey ahead, but especially this month. May I humbly ask you to pray for him too? Eternal rest grant unto him, O Lord. And let the perpetual light shine upon him. And may the souls of all the faithful departed, through the mercy of God, rest in peace. Amen. Rest in peace Msgr. Thomas Acton.
---
Copyright 2018 Sherry Hayes-Peirce
About the Author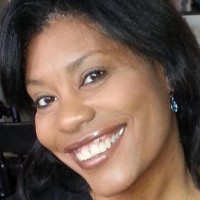 Sherry Hayes-Peirce is a Catholic Social Media Strategist, Blogger, Conference Speaker, Chief Inspirational Officer at Church Social Tips and Missionary Disciple of the New Evangelization. She is passionate about sharing her treasured time and talents to inform, inspire and engage the next generation of Catholics through technology.