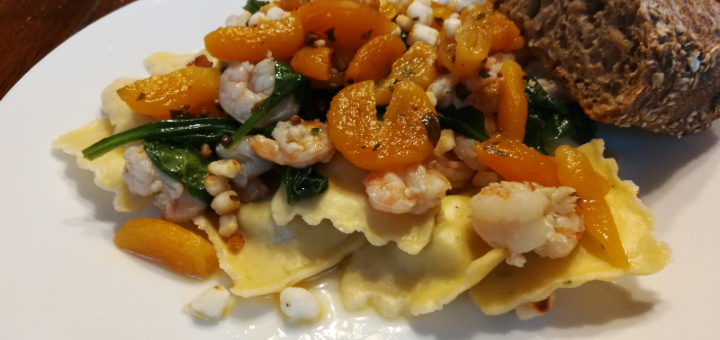 You can choose any pasta you like for this dish. It's pictured with store-bought spinach and cheese ravioli, but my husband doesn't care for ravioli. He ate his with sweet potato gnocchi. Use your imagination!
Copyright 2018 Karen Ullo. All rights reserved.[/caption]
Shrimp with Apricots and Roasted Goat Cheese
1 lb. pasta, prepared according to package For the sauce: 1 cup dried apricots, halved the long way (a whole 6-oz. bag) ½ cup white wine ¼ cup olive oil 2 t lemon juice ¼ t salt ¼ t red pepper flakes 1 sprig fresh oregano, remove the leaves and chop them Combine all ingredients and bring to a boil. Simmer while preparing the pasta and shrimp. For the shrimp: ¼ cup white wine 2 t lemon juice 1 T olive oil Salt to taste 1 spring fresh oregano, chopped Combine the above ingredients to make a marinade. Add: ½ lb. peeled and deveined shrimp Allow the shrimp to marinate while bringing your water to boil for pasta. When the pasta is about 3-5 minutes from being ready, heat 1-2 tablespoons oil in a large sauté pan. Add the shrimp and 1 or 2 cups of fresh spinach. Cook until just pink on all sides. For the cheese: Preheat oven to 400. Place 1-2 oz. goat cheese crumbles in a single layer on a pie pan or other baking dish. Roast about 7 minutes, until just browned. To plate, put down the pasta, then the shrimp, then the apricot sauce, then the cheese. Enjoy!
---
Copyright 2018 Karen Ullo
About the Author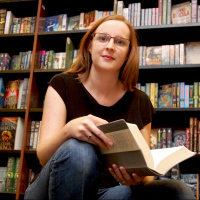 Karen Ullo is the author of two award-winning novels, Jennifer the Damned and Cinder Allia. She is one of the founding editors of Chrism Press, which is dedicated to publishing Catholic and Orthodox fiction, and the former managing editor of the Catholic literary journal Dappled Things. She's also a wife and mother of two. Find out more at KarenUllo.com.