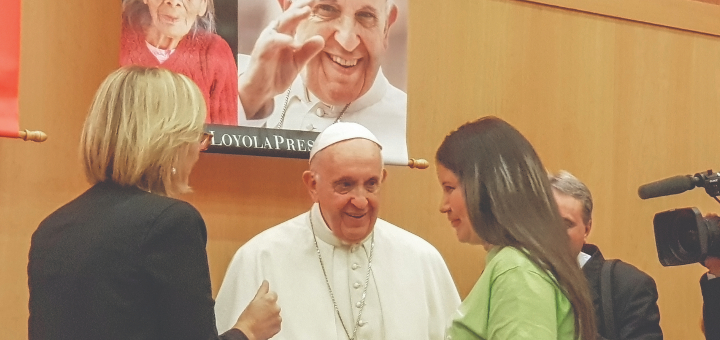 Yenifer receives a copy of "Sharing the Wisdom of Time" from Pope Francis and presents him with a gift from the community in Tarso, Colombia. The gift is a notebook with a wooden cover, with an image of Tarso church burned into the wood and messages from sponsored elders, Unbound staff and others from the community filling its pages. Courtesy of Unbound.org. All rights reserved.[/caption] Former Unbound sponsored youth turned social worker Yenifer Valencia Morales joined Pope Francis in Rome recently to celebrate the launch of his new book, "Sharing the Wisdom of Time." The Pope's book highlights the wisdom of elders around the world and encourages dialogue between generations. The concept for "Sharing the Wisdom of Time" came from the pope himself. It features conversations with Pope Francis and elders from around the world, including many who've endured great hardship. Yenifer, 22, who is from a small town in northwest Colombia, represented Unbound at the launch event Oct. 23 at the Vatican, where she was recognized for her work with elders and her contribution to the project. Representatives of Loyola Press, the Chicago-based publishing company tasked with creating the book, knew that Unbound, as the only major sponsorship organization to work with the elderly in the developing world, was uniquely qualified to help with the project. In May 2017, members of the Loyola editorial team traveled to Colombia to see firsthand Unbound's work with elders. Yenifer was assigned to travel with the Loyola team and introduce them to some of the elders she serves. During the visit, the team asked to interview Yenifer as well, and included her personal story in the book along with the stories of more than 20 elders sponsored through Unbound.
Unbound staffer and former sponsored child Yenifer visits with sponsored elder Olga in Olga's home in Tarso, Colombia. Courtesy of Unbound.org. Used with permission. All rights reserved.[/caption] Inspired by elders In her role with Unbound, Yenifer travels to communities where she works closely with sponsored children and elders. She delivers benefits and visits with them, and finds her contact with the elders especially gratifying. "My [great aunt] raised me," Yenifer said. "She passed away about 10 years ago. For me, working with [elders] is remembering my life. It's to remember the person who I owe everything to. Working with them fills me with joy because my childhood was very happy." Yenifer was sponsored through Unbound in 2006, just a few days before her 10th birthday. Sponsorship and an Unbound scholarship helped her continue her education. She joined the staff of Unbound's program based in Medellin in 2015. Unbound works with children, youth, elders and their families in economically developing countries in Latin America, Africa and Asia. Through one-to-one sponsorship, Unbound provides opportunities that help people lift themselves out of poverty. The program for elders is designed to help them live their later years with comfort, companionship and dignity.
---
Copyright 2018 Unbound.org
About the Author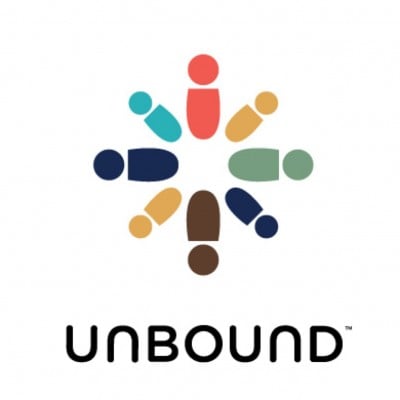 Unbound is an international nonprofit founded by lay Catholics grounded in the Gospel call to put the needs of the marginalized and vulnerable first. We build relationships of mutual respect and support that bridge cultural, religious and economic divides. We bring people together to challenge poverty in 18 countries. We invite you to join us. Find us on Facebook or Twitter.