Copyright 2018 Carolyn Astfalk. All rights reserved.[/caption] Welcome to the December 2018 edition of An Open Book, now hosted both at My Scribbler's Heart AND Catholicmom.com! An Open Book is all about what my family is reading this month, from the adults down to the little kids. Share what you're reading by linking up your blog post below. Simply write about what you're reading. You can make it personal or, as I do, extend it to the whole family. Your post can be as simple as a few lines about the book or as in-depth as a 700-word review. That's entirely up to you. You can even forego writing all together and record a video or simply post cover photos. No blog? No problem. Please share what you're reading in the comments. I've moved full-on into Christmas reading mode. While we won't decorate until Gaudete Sunday, and I'm not interested in listening to carols yet, in this one area, I enjoy Christmas a little early. Two new Christmas novellas have set the reading bar high this season.
I loved A Holiday by Gaslight: A Victorian Christmas Novella by Mimi Matthews. The cover conveys the historical Christmasy feel of the book set in Victorian London. I connected immediately with the main characters, who were straightforward and unpretentious (unlike most everyone else in the story). Scenes of dragging evergreen boughs through the snow and hauling yule logs to the hearth helped set the scene for a romance that crosses social-class boundaries.
Catching Christmas by Terri Blackstock immediately became one of my contemporary Christmas favorites. Gourmet chef-turned-cab-driver Finn ends up toting around an ill elderly woman while her frazzled granddaughter Sydney struggles to hold onto her job defending a defenseless, spoiled drunk. The story is the perfect blend of poignancy and humor (especially in regard to the cab service/Uber rivalry). In the season when God comes to us as an approachable babe in the manger, the religious message in Catching Christmas is on point.
After reading so many glowing remarks about The House on Foster Hill by Jamie Jo Wright, I couldn't wait to read it. I've been listening to it on audiobook, and the narration by Erin Bennett is very well done. The story moves between the early 20th century and present day, connecting Ivy Thorpe and the mysterious murder of a young woman to her descendant Kaine's relentless pursuit by a stalker following her husband's death/maybe murder. For both Ivy and Kaine, there is a strong and handsome protector on hand to add a touch of romance. So far, I'm loving this book.
My son's class has been reading the play Saint Joan by George Bernard Shaw. In helping him study for a quiz, I learned a little about the play and the playwright. Unhappy with the way Saint Joan of Arc had been portrayed, Shaw sought to write a play that showed the saint in a more realistic light -- proud, naïve, and foolhardy. With this play, Shaw is said to have reached the height of his fame as a dramatist.
In looking for some other books tucked away in the attic, my husband brought out a favorite of mine for our daughter to read. America's Favorite Backyard Wildlife is all about the little critters that we see in the yard (and dead on the road): squirrels, raccoons, skunks, opossums, etc. It's a fun and easy read of backyard tales and critter facts. Downside: My daughter now wants to keep a chipmunk as a pet.
If you read An Open Book regularly, you know that once my daughter finds a series or author she likes, she sticks with it. That is the case with Gary Paulsen. She's currently reading Dogsong, a Newbery Honor book set in Alaska. This one involves an epic journey with dog sleds. The cover is striking, isn't it?
On a recommendation from The Christian Fiction Girl, I borrowed Are You Scared, Darth Vader? by Adam Rex from the local library. My first grader has read it about six times in the past day. It's a humorous picture book in which a child poses a series of questions to Darth Vader as to what might frighten him. Toward the end, it slips into a kind of metafiction, reminding me of The Monster at the End of This Book. A fun read!
This is the perfect time for us to bring out the most unusual Christmas picture book we own: The Other Side of Christmas: An Upside-down Book by Beth Gully. (I recommended it in Under the Catholic Child's Christmas Tree last year.) Read the book for the Santa story of Christmas, then flip it upside down and read the Jesus story of Christmas. Clever and fun! [inlinkz_linkup id=808165 mode=1] Want more details on An Open Book? You can also sign up for An Open Book reminder email, which goes out one week before the link-up.
Check out the archives of An Open Book!
---
Copyright 2018 Carolyn Astfalk
About the Author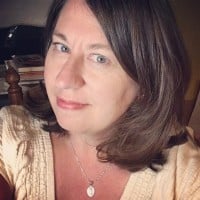 Carolyn Astfalk is a wife, mother of four young children, and a writer. Her contemporary Catholic romances are available at Amazon.com. She is a member of the Catholic Writers Guild, a Catholic Teen Books author, and blogs at My Scribbler's Heart. Visit CarolynAstfalk.com.