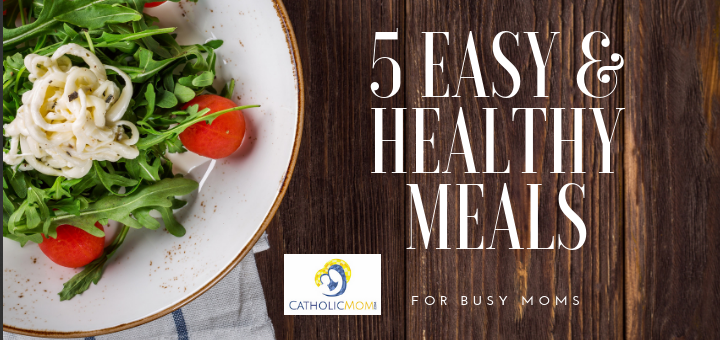 Image created in Canva using free elements.[/caption] Family dinners can be challenging, and making selections that are healthy and easy to prepare can even be harder! As a nurse, I try to select well balanced and healthy meals for my family, so today I'd like to share my top five healthy and easy recipes with you.
Easy Crockpot Chili
2 cans chili beans 2 cans diced tomatoes 1 lb ground turkey or extra lean ground beef 1 package taco seasoning Optional: low fat sour cream and low-fat shredded cheese Brown ground beef in skillet, then add taco seasoning to meat (yes – I mean taco seasoning! We love it better than chili seasoning!!). Transfer to crock pot. Add cans of beans and tomatoes. Cook on high for 2-4 hours or low for 6-8. Serve with low-fat shredded cheese and low-fat sour cream.
Turkey tacos
1 lb ground turkey 1 package taco seasoning Diced tomato Shredded lettuce Low-fat shredded cheese Whole-grain tortillas Optional: low-fat sour cream, avocado Brown ground turkey and add taco seasoning. Serve warmed tortillas with ground turkey, lettuce, tomato, and cheese. Use low-fat sour cream and avocado slices to garnish.
Lettuce Wraps
1 lb lean ground beef or turkey ¾ cup teriyaki sauce 1 cup sliced mushrooms 1 cup shredded carrots 1 cup diced pepper 1 tbsp chopped garlic 1 tbsp ginger 1 head iceberg lettuce or one large stalk romaine lettuce 2 cups whole-grain rice Cook whole-grain rice (I love to use my Instant Pot for this!!) Brown ground beef or turkey and add teriyaki sauce. Place in bowl. Sauté mushrooms, carrots, peppers, garlic, and ginger together and place in bowl. Serve in large lettuce wraps with whole-grain rice.
Grilled Chicken Salad
4 boneless skinless chicken breasts Lettuce Tomato Favorite salad toppings (peppers, mushrooms, carrots, cucumbers, broccoli) Spread a thin layer of olive oil on top of chicken breasts, then season them with your favorite spices (I personally like Montreal steak seasoning, even though it's for beef!) Grill in broiler for 10 minutes, then flip. Grill on second side and remove from oven. Serve over bed of lettuce with your favorite salad toppings and dressing.
Sushi bowls
3 cups cooked whole-grain rice (Again, I use my Instant Pot!) 1 package imitation crab meat 1 lb salad shrimp 1 lb scallops 1 large cucumber, sliced and quartered 2 avocados, sliced 2 Tbsp rice vinegar Toasted sesame seeds After rice is cooked, add rice vinegar and mix. Sauté shrimp and scallops. Serve rice in bowls. On top, place crab meat, shrimp, scallops, avocado slices and cucumber pieces. Sprinkle sesame seeds on top. Optional: sprinkle soy sauce on top.
What are your family's favorite easy, healthy meals?
---
Copyright 2019 Michele Faehnle
About the Author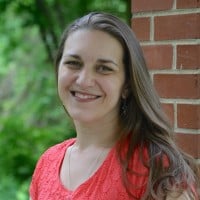 Michele Faehnle is a wife, mother of 4 and a school nurse. In her free time she enjoys volunteering for the church and is the co-chair of the Columbus Catholic Women's Conference. She is also the co-author of The Friendship Project, Divine Mercy For Moms, Our Friend Faustina and Pray Fully; Simple Steps to Becoming a Woman of Prayer. Read more of her work at InspireTheFaith.com.