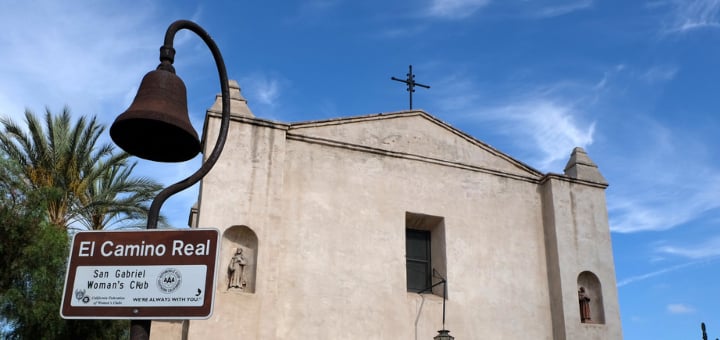 Image credit: Rachel Titiriga (2014),Flickr.com, CC BY 2.0[/caption] My son Kevin moved to New York City a few months ago. He has been exploring the city and its attractions. In addition, he visits as many Catholic churches that he can. He works near St. Patrick's Cathedral, so he attends Mass regularly there. At the various parishes he visits, he is learning about the various religious orders of priests. His only experience here has been with diocesan priests. One day he jokingly wondered if he should go to a Dominican, Franciscan, or Jesuit church for Mass. Oh, the choices. I was fortunate to grow-up in a parish that was staffed by a religious order: the Missionary Sons of the Immaculate Heart of Mary, commonly known as the Claretians. I have fond memories of the various priests I met in my early years. Last year my sister and I attended the funeral of a relative at San Gabriel Mission. Before the funeral, we toured the mission and its grounds. Turning a corner into the courtyard next to the mission church, I noticed a headstone. I immediately recognized the name on it as belonging to one of our former pastors. The following grave was of another pastor. I realized that we were in the Claretian cemetery. (The Claretians have served San Gabriel Mission for about 100 years.) As I looked around further, I saw the names of many of the priests who had passed through St. Anthony Claret parish, where I grew up. It was like a blast from the past. Many memories came flooding into my head. It was bittersweet seeing all those names. I prayed that all those men had gone to their eternal reward. One day Vicki and I went to our local Newman Center for Mass. There was a new priest there. When I read his name in the church bulletin, something immediately caught my eye; the C.M.F. after his name. A Claretian! We enjoyed his style, his preaching, his charism. We have been back a few times for his Masses. Around Thanksgiving there was a visiting priest at the Newman Center. Father introduced him as a fellow Claretian. He too impressed us. After Mass, Vicki commented that she really liked the two Claretians that she has experienced. It made me reflect upon the Claretians that helped shape my faith. Yes, I said to her, they really are good men with a good spirit. The Claretians were founded in Spain in the mid-19th century by St. Anthony Claret. They serve in many countries around the world. In the United States they serve mainly in Mexican-American parishes. They are involved in a wide variety of ministries. If you know a young man interested in the religious life, you might suggest that he research the Claretians. I hope that if Kevin finds a parish he likes that is staffed by a religious order of priests, his experiences with them will be as fruitful and enjoyable as mine. Do you have a favorite religious order? Please pray for all priests, diocesan and religious.
---
Copyright 2019 Michael T Carrillo
About the Author

Michael Carrillo is a retired police officer from a large California metropolitan police department. He is married to Vicki and they have five adult children between them. He is an unabashed fan of Jesuit education, though he regrets not obtaining one himself. Day hikes and walks give him opportunities and inspirations to look for and find God.