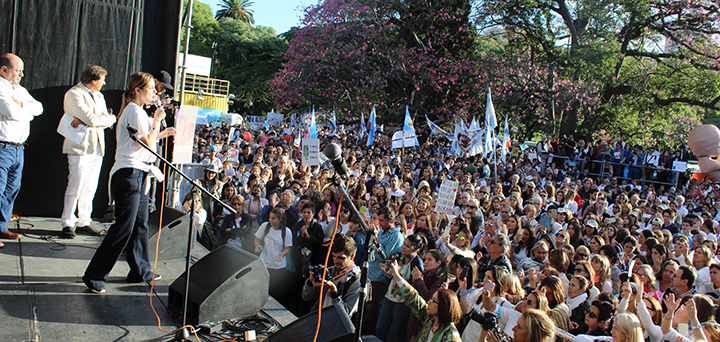 Courtesy of Patricia Sandoval. All rights reserved.[/caption] The following is an interview with international pro-life and chastity speaker, Patricia Sandoval, keynote speaker at the Walk for Life and subject of the book Transfigured: Patricia Sandoval's Escape from Drugs, Homelessness, and the Back Doors of Planned Parenthood: Q: Patricia, I know that you minister to men and women of all ages, but can you tell me, specifically, about your experience ministering to the youth? A: I was never going to tell a soul about my abortions, and here I am now telling the world about my three abortions and my work at Planned Parenthood. But even back then, I felt called in my heart to help the youth, I just didn't know how. I guess it's a charism from the Holy Spirit because I've spoken to millions of youth—in the United States, Panama, Guatemala, Mexico, Chile, El Salvador, Argentina, Peru, Costa Rica, Columbia, Italy, Spain, and France, and I never leave a talk without a long line of teens waiting to speak with me.
Courtesy of Patricia Sandoval. All rights reserved.[/caption] Q: Why do you get such long lines? Isn't that unusual? A: I think it's because I'm so vulnerable and transparent about my experience, and that gives them the freedom to be transparent with me. It builds a bond of trust. I feel like I understand them. When I look out a crowd of young faces, I feel like I'm talking to myself at that age, telling them everything I wish someone had told me. I wish someone had told me about chastity — the youth today don't even know what chastity is. I wish that somebody like myself could have come to my school and told me that I would suffer if I chose abortion, and I would cause a lot of damage to myself, my family, those around me, and my three children. Hardly anyone is telling the youth the truth. No one told me the truth. I was only told lies. I can relate to their confusion, their pain — their longing to understood and loved, and my heart goes out to them. I experienced the break-up of my family, rejection from my parents, sexuality with boyfriends -- which I thought was expected, and drugs -- which I thought were safe enough. When the youth come up to me afterward, they are so open and vulnerable. Many of them share things they've never told a soul. I try to hug them all.
Courtesy of Patricia Sandoval. All rights reserved.[/caption] Q: How have you seen the youth change after you've shared with them your testimony? A: That's a whole other book yet to be written. Their hearts are changed in just one hour. I think because I share my experience of so much love and forgiveness from God, that they experience His mercy, too. They decide they want to be different. They want to be good. They decide not to abort — so many lives and souls have been saved. They decide to be chaste. Many have entered the Church. A few boys have even decided to be priests after hearing me speak. In one school, two teenage boys came up to me and held me, crying, saying, "I've encouraged women to have abortions, and now I want to ask them for their forgiveness." One was a tall, athletic, strong-looking eighteen-year-old. He told me that when he sat down to hear me speak, he was angry and told himself, "I 'm going to sit here, and she's not going to change my mind. After my talk, he wept on my shoulder, and said, "You changed my heart. God touched my heart. I encouraged two of my female classmates, friends of mine, to have abortions, and now all I want to do is hold them and hug them and ask for their forgiveness." The other boy just hugged me and bawled.
Courtesy of Patricia Sandoval. All rights reserved.[/caption] A lot of the youth who've heard my testimony have become actively pro-life. Before then, the thought had never even occurred to them. Two girls from Mexico, ages 15 and 16, have their dear mother drive them every Saturday for 2-3 hours across the border into Texas to that they can pray the Rosary in front of a Planned Parenthood. Then they drive 2-3 hours back to Mexico. I have a picture of them kneeling in front of the Texas clinic. They've committed to doing this for a year!
Courtesy of Patricia Sandoval. All rights reserved.[/caption] Q: How much have you spoken to youth in the United States? A: I hope to speak here more. I've become a bit of a celebrity in other countries -- in Latin America, in particular. My YouTube videos have gone viral. One couple in Guatemala started a community run where families dress up as superheroes to raise funds pregnancy clinics. It's called "Heroes for Life and the Family." It's been such a success that Panama and El Salvador have copied them. They don't "Walk for Life" they run in costume for life! I encourage people to look at their YouTube videos. They are so joyful and heart-warming. And it began because one dad watched one YouTube video of my testimony. Here in the United states, I've spoken before many adults, but I haven't been invited to speak at many schools or parish youth groups. In Latin America, they throw open their doors to me, but not here in the U.S.
Courtesy of Patricia Sandoval. All rights reserved.[/caption] Q: Why do you think that is? A: I think it's just fear. Priests say, "Oh, no. We don't want girls and women to start crying." Or principals of Catholic schools say, "It wouldn't be good because we have students here who have had abortions." To all that I say, "Don't worry!" because I have been speaking to the youth in schools and churches for years, and I know the reactions. If they've been through abortion, they begin to heal. Yes, you're always going to upset one or two random people about something, and they calm down. Didn't Jesus say that would happen if we are doing His work? But torrents of grace rain down — every time. Ninety-eight percent of the people are so grateful. What people should worry about is to have the youth in their care and not teach them the truth. Some educators are throwing the souls of young people to the wind by allowing Planned Parenthood to teach them, like they taught me. I learned at age twelve how to put a banana on a condom. I learned that all kinds of sexual deviancy was perfectly normal, healthy, and to be expected -- and that abortion was a perfectly ethical solution. Planned Parenthood also taught me how to go to them for birth control and abortions, which I did. They still recruit workers right out of high school. When I worked there, all the girls working as "nurses" in the back office counting body parts with me were eighteen-to-twenty years old. This is what our Catholic school children learn and receive from society when we don't teach them the truth in Catholic schools.
Copyright 2019 Christine Watkins. All rights reserved.[/caption] With the way I tell my story, young people hear something hopeful. In reality, the they are so touched by God's mercy. I let them know that no matter where they've been or what they've done, that God can do something amazing with any of their wrong choices and their suffering. After my talks, they tell me how very grateful they are that somebody came to tell their story, and finally told them the truth. When I spoke a few months ago at St. Francis High School in Santa Cruz County, California, the students gave me a standing ovation after my talk. Gail Schumate, who invited me to speak, said she was walking on air for two months afterward with all the accolades and thanks she received. I will be speaking at another St. Francis High School, this time all girls, in Sacramento, California. I hope that these opportunities open up the doors for more schools to realize how incredibly important good pro-life and chastity talks are. The youth are grateful. They are converted and they go out to convert and heal the world. Isn't that what Catholic education is all about? Q: What do you feel you most want to impart to the youth today? A: Teens today need somebody to say, "Hey, I'm not judging you. I know what you're going through. And at the end of my talks, I always motivate them. I tell them that they're the ones who can change the world, that they're called to be the light of the world. I started my pro-life ministry at an older age and it's gone worldwide. They're young, and they can do so much more than I. They are the future. To learn more about Patricia Sandoval and her ministry, see www.PatriciaSandoval.com. To read more about her #1 Amazon best-selling book, Transfigured: Patricia Sandoval's Escape from Drugs, Homelessness, and the Back Doors of Planned Parenthood, endorsed by Fr. Donald Calloway, Archbishop Salvatore Cordileone, and Bishop Michael Barber, go to www.QueenofPeaceMedia.com/Transfigured.
---
Copyright 2019 Christine Watkins
About the Author