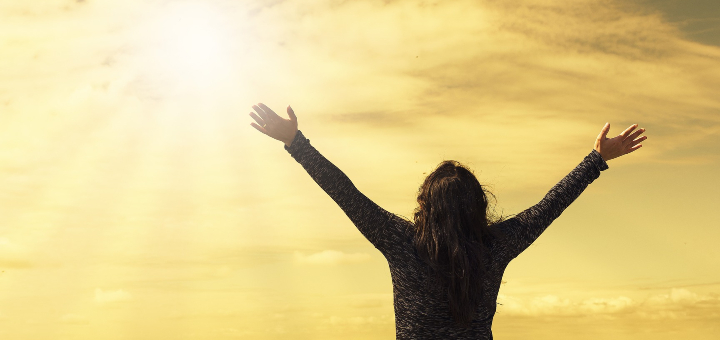 Image credit: Pixabay.com (2016), CC0 Public Domain[/caption] Take a deep breath, close your eyes, and exhale. What are we missing in our lives? I'm not asking what specific items have we misplaced, because we all have those moments of losing the keys, the cell phone, or forgetting to put socks on the two-year-old. No, I'm asking what are we missing from deep within the marrow of our beings. Those deep caves that rarely see the light, because it's too hard to share those blemishes, those humiliating memories, and those moments of regret. How can we survive from the lasting effects of these interior struggles? Often, we rely too heavily upon selfish solutions rather than turning towards the Blessed Mother and the graces offered by her Son, Jesus Christ. What does Our Lord offer us to grow among the thorns of our sufferings? He offers us the grace of contentment. The circumstances that initiate interior struggles are only the beginning of a bigger picture. The effects of our choices or sufferings may linger, but some are victorious scars that Christ uses to restore our confidence in the Divine rather than in our own feeble selves. How does this restoration begin from God? It begins with our submission to His Divine Will. There must be trust and an undying love that burns only for God's Glory. It is through His Will and His Love that we will be able to see past the sufferings, the blemishes, and holes of discomfort. We will be able to find that rather focusing on His Will, a spiritual level of contentment can be found in the soul.
"May You be blessed, O God, for everything You send me. Nothing under the sun happens without Your will. I cannot penetrate Your secrets with regard to myself, but I press my lips to the chalice You offer me." (1208) ~ St. Faustina
The word contentment has become a "bad word." It forces us to second-guess ourselves, our ambitions, and our achievements. In a face-paced world, where technology is obsolete before it was even introduced to the masses, our lives are consumed with having the next best thing. What we have is never good enough. This may be because we are searching in all the wrong places. Contentment does not mean we are satisfied with having nothing. It does not mean that we don't have dreams or spiritual aspirations. Instead, contentment gives us the ability to embrace our current phase in life as God's Will to benefit our soul towards our eternal salvation. What we have in this moment will not be the same forever, but we need to joyfully accept the present. Each and every saint understood the necessity of accepting their vocations, no matter their social class, the amount of labor, the hours of child-rearing, religious obligations, or their material achievements. It was through the acceptance of these daily mundane tasks that drew their souls closer to Our Lord, which ultimately gave them the graces needed to attain heaven. So, even through the dark hours of the soul, among emptiness and anxieties, Our Lord patiently waits for us to turn towards Him to find a degree of contentment.
"Oh, if only the suffering soul knew how it is loved by God, it would die of joy and excess of happiness! Someday, we will know the value of suffering, but then we will no longer be able to suffer. The present moment is ours." (963) ~ St. Faustina
We must all search for contentment in life. It will never be the joy and charity found in the heavenly court with the angels and saints before God, but we must make the most of every moment in this life to mold our hearts with the love of Jesus. With the grace of God, we can find contentment on this earth by trusting His Divine Will, but we must be willing to accept where God places us. This will enable us to live simpler and happier lives. Not only through materialistic minimalism will we reach contentment, but by removing what distracts us from God. Why did God create us? God created us to know Him, love Him, and serve Him in this world and to be happy with Him forever in heaven. (Baltimore Catechism, No.1) Let us not waste another moment towards our created purpose that leads to earthly and ultimately, heavenly contentment. It isn't an easy task to appreciate each frustration and struggle for Jesus, as our human frailty is against us, but through God's grace, such beauty may be reached. Contentment will never just appear. It is a process. The spiritual life is a daily battle. There is no better time to start then now, so close your eyes an place yourself at the feet of Jesus Christ, take that deep breath and inhale His love. Contentment is not a bad word, it's a beautiful and peaceful state fostered in the spiritual life with the grace of God to live in accordance with His Will and for His Glory.
"My God, although my sufferings are great and protracted, I accept them from Your hands as magnificent gifts. I accept them all, even the ones that other souls have refused to accept. You can come to me with everything, my Jesus; I will refuse You nothing. I ask You for only one thing: give me the strength to endure them and grant that they may be meritorious. Here is my whole being; do with me as You please." (1795) ~ St. Faustina
---
Copyright 2019 Danielle M. Heckenkamp
About the Author
Danielle Marie Heckenkamp is a stay at home mom and freelance writer who lives in the beautiful state of Wisconsin with her husband and five children. Motherhood has allowed Danielle to re-discover her love for writing. It is through her daily experiences as a mom and the love for her Catholic Faith that show forth in her writing. Danielle is the co-author of a nonfiction book about manners and common sense. She is a coffee-drinking, Midwest girl, who loves to spend time with her family, attempt outlandish recipes, and read any book she can get her hands on. You can find more of Danielle's writing at Loving These Days or step inside her daily life at her instagram account (@dmheckenkamp)