If I had half the energy with which my daughter sings "Let It Go" from the Disney movie Frozen, I wouldn't need my morning coffee. She loves to sing and dance to Disney princess songs and delights in wearing glittery dresses and pretend crowns. The deepest dream in her two year-old mind is to be a princess. I don't mind her love of princesses (having myself grown up on a steady diet of fairy tales), and I often remind her that she is a princess already because Jesus is King. Yet I do desire for her greatest goal to be not royalty but sainthood. In a world that encourages entitlement and materialism, how do we encourage our daughters to choose virtue and holiness over the glitter and glam of the latest Disney character? By introducing them to the saints when they are young!
I'm always thrilled to learn of new Catholic literature for children because stories are one of the best ways to convey truths in a memorable way (even Jesus used parables to teach!). Girl Saints for Little Ones, by Kimberly Fries, is a lovely book to introduce your young daughters to "true princesses," women saints who knew and lived their identities as daughters of the King. I love the format -- each page contains a short summary of a saint's life, a quote from that saint, and on the opposite page is a beautiful illustration of the saint with a caption explaining the picture or a specific symbol. The variety of women saints was wonderful and included various ages, vocations, and time periods. Your daughter will learn that there are so many ways to become a saint and that God delights in the uniqueness of each person. She will enjoy reading about the miracle of St. Elizabeth of Hungary, the hard work of St. Elizabeth Ann Seton, the courage of St. Joan of Arc — and you will, too! I was so happy St. Gianna was included, as our daughter is named after her. The stories of the saints are presented in mostly age-appropriate language for young children yet be advised that some of the stories include the reality of the saint's death/being killed, which may not be a topic you're ready to discuss with your very young children (for example, regarding St. Maria Goretti, it simply says that Alessandro was "mean" to her but it does share that Alessandro then "killed" her). I hope my daughter always delights in beauty and dances with joy, knowing her identity as a princess and daughter of the King. Yet by reading books like this to her and introducing her to the saints as friends and mentors, I know that she will learn that the best "happily ever after" is a life of holiness on earth and spending forever with God in heaven.
---
Copyright 2019 Laura Range
About the Author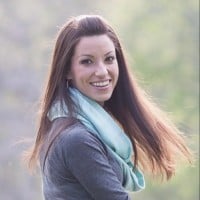 Laura Range is an RN-turned-SAHM living in rural Ohio. A wife and mother of 3 (plus one in heaven), she is passionate about marriage and family life, redeeming the culture, and cultivating community. She enjoys cooking (and eating) tasty food, crafting and DIY, good books, little moments, and keeping it real. She runs a local miscarriage ministry and blogs at Life is Beautiful.