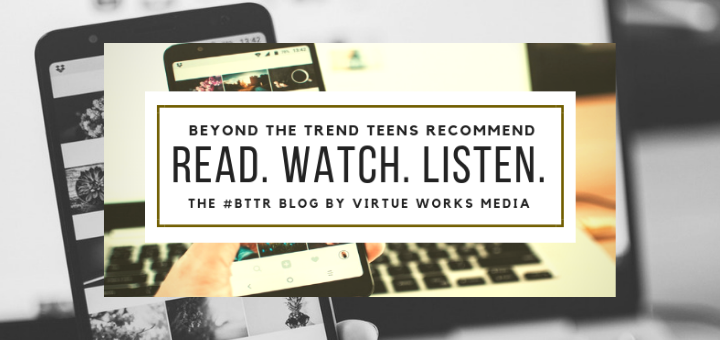 Image credit: Pexels.com (2018), CC0/PD[/caption] This is the Beyond the Trend Teens Recommend blog written BY Catholic teens for Catholic teens and their families. Virtue Works Media founder and Catholic Mom contributor, Cathy Gilmore, is the editor for the #BTTR Blogging team. These teens are called the "Beyond the Trend Teens" because their task as a bloggers is to look beyond trends to find hidden talent among Catholic creatives. They highlight Catholic authors and artists who show us how to #BeTheChange needed to make the world a BeTTeR (#BTTR ) place. The identities of the bloggers are kept semi-anonymous because ANY teen can be a Beyond the Trend Teen when they choose reading, media, and entertainment with content that goes beyond the status quo and actually affirms character and conscience. What these teens are recommending goes beyond books, videos and music. They are recommending we look at these authors and artists and notice how they are making a difference in our culture... and ask ourselves a question. How is God calling us: to discover their work, to follow in their footsteps, to embrace virtue as a transformative cultural force ... to use our creativity to #BeTheChange our culture, and our world, needs so much. Enjoy the #BTTR Blog and discover great choices for teens and their families to WATCH. READ. LISTEN.
WATCH: Patricia Heaton
By Jorge and Joe
Patricia Heaton was born and raised Catholic. She is a successful comedy actress starring in movies and TV shows.
Patricia Heaton has a heroic personal story. Her mother died when she was 12. After a marriage that ended in divorce, and some years spent away from the faith she grew up in, she met a priest who helped her reconnect with her Catholic faith. Her faith in God helped her to work through the annulment process and also to overcome alcoholism. She is now a very pro-life voice in Hollywood. It takes strength and courage to talk about pro-life anywhere. To speak up in Hollywood, where so many people embrace abortion, takes a lot of guts. She stands up what is right, even when many of her peers and friends don't stand with her. Her pro-life advocacy is where her faith shows in action. Here's a video interview with Patricia Heaton that touches on the power of faith in her life.
Moms Night Out
is a fun movie to watch because it is full of funny characters, and lots of situations that everyone can relate to. Patricia Heaton's character, as a pastor's wife who ends up in tons of embarrassing situations, adds a lot of comedy to the movie. If you want a good laugh, then watch this film. View the official movie trailer.
The Star
is a good movie to watch with younger siblings, or little kids, because it tells the Nativity story from the perspective of a cast of very funny animal characters. Edith the cow, voiced by Patricia Heaton, is pretty funny. We recommend this movie to anybody wants to enjoy a fun Christmas movie.
Watch the original movie trailer. Here's an interview with Patricia Heaten about her work and this film
.
Many people know Patricia Heaton from her two successful TV series,
Everybody Loves Raymond
and
The Middle
. In these comedy TV series, Patricia Heaton plays memorable characters who demonstrate crazy mix-ups in outrageous family life.
READ: Karen Ullo
By Lucy, Mary, and Emmy

Author Karen Ullo, creates literature that shows her love of her faith ... without trying to preach or teach it. She is a Catholic mom from Baton Rouge, Louisiana. Her novels are intense! Building on themes of salvation, her stories include priests and Catholic Masses, and display the saving love found in Christian faith.

Ullo has a vivid writing style that packs so much into each paragraph. Trustworthy relationships are portrayed in stark contrast to treachery. For this author, redemption is freshly depicted in a relatable story, one that older teens and adults can equally enjoy.
Karen Ullo's fantasy novel,
Cinder Allia
, is a great spinoff of the Cinderella tale. In this story, Allia, the heroine, must find her happy ending without the customary Prince Charming: He actually dies at the start of the story. Allia searches for freedom, freedom from her step mother and from the life of servitude forced upon her, but she does so with both courage and charity. With the prince's death, chaos and palace intrigue flow from inside the castle throughout the kingdom. Hidden identities, mysterious poisoned-dipped arrows and intense plot twists make this a captivating read for anyone who is around a sophomore or junior in high school or older.
The publisher's description of the book sums up a lot of reasons why teens, both guys and girls, will thoroughly enjoy this book:
Surrounded by a cast that includes gallant knights, turncoat revolutionaries, a crippled prince who lives in hiding, a priest who is also a spy, and the man whose love Allia longs for most — her father — Cinder Allia is an unforgettable story about hope, courage, and the healing power of pain.
Interested readers can get a copy of Cinder Allia at
Catholic Reads
or other retail sources. Her other novel: Jennifer the Damned is a great choice for anyone who is a fan of the Twilight vampire series. Because of some intense depictions, college-age teens may enjoy it the most.
See
Karen's work at the Catholic literary magazine: Dappled Things
. Listen to a
podcast interview with Karen Ullo
. Visit
KarenUllo.Wordpress.com
.
LISTEN: Nick Fabian
By Christian and Luke

Nick Fabian is a singer-songwriter who mixes club-style beats with a fresh kind of soul. He is a Catholic musician, but he doesn't just write worship songs. He released his first album, "Stuck In My Head," in 2018. His music is a style that you could enjoy listening to while working on a project at home, but it also has a great pop vibe that would be great to play at a party. It has a super cool acoustic sound, and the vocals and piano are especially great. Nick started out in Dallas, Texas where he would go to his parent's orchestra performances, and he learned his love for music. Three good songs that we recommend for teens (or anyone) to discover for some great listening are: "Stuck In My Head," "

Let Me Down,

" and "

Finally Falling.

"

Nick's music is a fresh alternative to a lot of the stuff that dominates popular music platforms. He chooses not to use explicit or offensive lyrics. He creates really good music that anyone can listen to. It's not what you'd hear at church, but it's still good for the soul. He's not afraid to create music with deep meaning. Nick's ultimate goal is to help people admire beauty, and ultimately the God who creates beauty, through music.

Nick is one of the great artists featured with a subscription to the platform to discover Catholic creatives called: Love Good Culture. Check him out on

LoveGoodCulture.com

. The #BTTR Blog is a recurring feature on the VirtueWorksMedia.com platform. Check out the first blog that launched the team. And listen to the #BTTR Radio Show that we are honored to record at a local Catholic Radio station from time to time. May God's grace enable all our us help our children and teens to live BEYOND the TRENDS and choose media and entertainment that feeds their souls.
---
Copyright 2019 Cathy Gilmore and the #BTTR Blog Team
About the Author