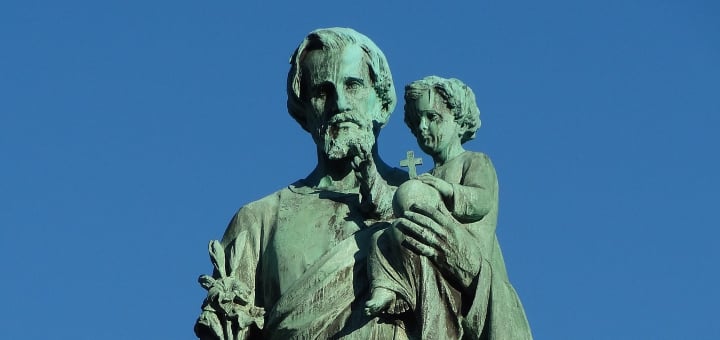 Image credit: Pixabay.com (2016), CC0/PD[/caption] If you asked the general public, they'd probably tell you that the Catholic Church has dedicated the month of March to St. Patrick. In my area the dear patron of Ireland has had many parties as well as a parade in his honor, and the Irish-dance studio students have been exhausted with performances and engagements. But as you know, March is really dedicated to St. Joseph the foster father to Jesus Christ. I'm not sure why St. Joseph does so poorly in the area of public relations. I think in part it's because the traditional images of St. Joseph do not do him any justice. He's usually sculpted or pictured wearing traditional biblical robes, holding a carpenter's square and a lily, as well as a baby Jesus: a baby, a tool and a flower all at the same time. Not many people can relate to that.
Copyright 2019 Elena LaVictoire. All rights reserved.[/caption] Adding to his popularity problems, St. Joseph's feast day always falls during the season of Lent - which never lends itself to a lot of feasting to begin with. And to make matters worse for the foster father of the Christ child, he follows that usurper, St. Patrick! St. Patrick: beloved saint of the Irish and all those who want to be Irish -- who himself was English and probably of Roman descent. It wasn't until 2013 that St. Joseph's name was finally included in Eucharistic prayers II, III, and IV! He gets a mention every week at Mass. And of course, he remains the favorite of property sellers who are trying to find the right buyer for their homes. Little statues of the saint fly off of the shelves at the local religious store, only to be buried upside down in the backyard somewhere. But at least that keeps St. Joseph's name out there. As Catholic moms, there is a lot for us to admire and respect about St. Joseph. He is the kind of saint we should encourage our sons to imitate, and our daughters to date. Here's why.
St. Joseph respected Mary's family. When St. Ann was trying to pick a suitable husband for Mary, she asked all of the suitors to lay their staffs in front of their home and that she would choose one of them in the morning. Whichever staff she chose, the owner could become Mary's husband. The next day, when St. Ann went outside to pick a lovely flower had grown on St. Joseph's staff and that is how he was chosen. This is why he is frequently presented holding a flower. St. Joseph trusted St. Ann's plans, and they both trusted in God's plan for them. He didn't balk at or try to change the process, which proved his love for Mary and trust in God.
St. Joseph was strong. We know he was a carpenter. He taught his trade to Jesus. But what gets lost in that translation is that he did all his work without power tools and any modern convenience. Being a first-century woodworker required brains and brawn in order to produce quality products to sell and support his family.
St. Joseph had endurance. He traveled with a very pregnant woman on a donkey nearly 100 miles to Bethlehem. Then after the birth of Jesus, he had Mary traveled with the small child another 400 miles into Egypt. That's a lot of walking and a lot of responsibility.
St. Joseph was brave. It was brave to accept a pregnant Mary as his wife. It was brave to take on the responsibility of traveling with her when she was so close to giving birth. It was brave to escape the wrath of Herod and flee into the desert. It was also brave to return to Nazareth and take up life once again. All the while Joseph trusted the dreams and signs that God Sent him. All of that faithful following of God's will is what makes St. Joseph great.
St. Joseph was humble. We don't hear from St. Joseph in the Bible much after Jesus gets left at the temple. That's probably because he lived a simple family life with his wife and foster son. He worked, played, ate dinner at home, and took care of his family until his death. By living his extraordinary life in an ordinary way, St. Joseph modeled humility and a holy life for all of us.
So put up your St. Joseph altars, enjoy some Italian bread, and eat your cream puff. This Lenten saint is truly worth celebrating! St. Joseph, Pray for us!
---
Copyright 2019 Elena LaVictoire
About the Author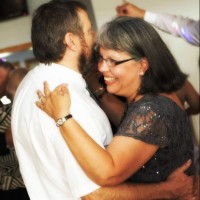 Elena LaVictoire is a graduate of Baker College and a retired medical transcriptionist. She is married and homeschooled six children. Elena is a public speaker on the topics of marriage, homeschooling, and confirmation preparation. She was also a contributing author to The Catholic Mom's Prayer Companion. Elena practices and performs with her flute and records with the Peace Together Choir. She blogs at MyDomesticChurch.com.