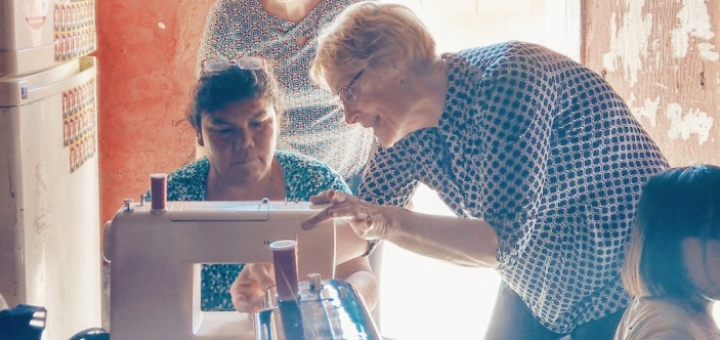 Photo courtesy of Alison McConoughey. Used with permission. All rights reserved.[/caption] For those of us who are learning towards middle-age, we're solidly established in our careers, parents to children, and knee-deep in mortgages. That's not at all missionary material, right? Aren't Catholic missionaries members of religious communities, unencumbered from the strains of family life and careers? Or, for the few posts available for lay people, aren't they all reserved for young singles? Not necessarily! Recently, I've gotten to know Alison McConoughey. Two years ago, her husband, Kent, felt called to full-time missions. Eventually, after two short-term mission trips, Alison conceded that God was, indeed, calling their family to full-time mission work. As she says, "I've learned that it's best not to say no to God!" Alison and her husband, Kent, quit their jobs, sold their house, and launched into this new adventure. Most importantly, they prepared their 7-year-old son as best as they could, as he is a full player in this missionary team. During their initial discernment process, they found the Family Missions Company, an organization of lay missionaries, serving all over the world. They went on a week-long missions trip with FMC to General Cepeda, a small town in northern Mexico. This is where Kent felt that God was calling them to full-time missions. After wrestling with the idea for months, Alison agreed, right before they went to Haiti for another mission trip. The trip to Haiti solidified their commitment to missions, and after training with Family Missions Company, they came back to live in General Cepeda, Mexico, where Kent felt that initial call. Nestled in the Sierra Madre mountains of northern Mexico, on the east side of the Chihuahuan Desert, General Cepeda is pretty remote. The nearest city, Saltillo is an hour away.
Photo courtesy of Alison McConoughey. Used with permission. All rights reserved.[/caption] While Saltillo has one of the best economies in Mexico, the prosperity doesn't reach all the way to tiny towns an hour away. General Cepeda is a farming community, but it is difficult to eke a living out of the desert. Young people tend to leave for factory jobs in Saltillo or Monterrey, so the rural villages surrounding General Cepeda are turning into ghost towns. One-room schoolhouses still exist here, and plenty of kids have to ride a bus to a neighboring village every day to even get their one-room schoolhouse education. The few who complete high school usually spend their high school years living on their own, at a boarding house in Saltillo. The shortage of priests that plagues the US is also felt in these small towns in Mexico. In many cases Mass is only heard once a year in these tiny towns. With an increasingly older population in these towns, it's harder for parishioners to get to a larger parish for weekly Mass. Enter the Family Missions Company missionaries! There are currently four full-time missionary families. Two of the families are from General Cepeda, operating long term in the community without any language or cultural barriers. The other two families are from the US, adding fresh perspectives and energy to the overall mission team.
Photo courtesy of Alison McConoughey. Used with permission. All rights reserved.[/caption] There are about 40 small villages surrounding the larger town of General Cepeda, which the missionary families visit on a weekly basis. They'll lead worship services, whenever possible bringing the Eucharist with them for distribution. They get to know their neighbors and check up on the older residents of their communities. If a community shows interest, they'll hold regular Bible studies. FMC's Mission House in General Cepeda has "door hours" where residents of the town know they can knock on the door and get some kind of attention: always prayer for a problem, but sometimes clothing donation, food, a ride to the doctor, and the like. The Family Missions Company leads weeklong mission trips, and the full-time missionaries often coordinate these, helping residents with construction projects and vacation Bible schools. Shortly after arriving in General Cepeda last year, the McConougheys were told of KM64, a village about a half-hour from General Cepeda, known for prostitution. Their interest was piqued about the town, so the McConougheys started to get to know the families in KM64. Alison wanted to help these women find some alternative to prostitution.
Photo courtesy of Alison McConoughey. Used with permission. All rights reserved.[/caption] The answer? Sewing and crafting. At first, Alison was told that the women of KM64 would not be interested in making things. She was getting together with a number of women in the larger town of General Cepeda for prayer and Bible study, all the while the women of KM64 were weighing on Alison's heart. After Bible study, the women of General Cepeda made bracelets together. As they did this, they prayed for the women of KM64.
Photo courtesy of Alison McConoughey. Used with permission. All rights reserved.[/caption] Despite other missionaries' warnings that the women of KM64 would not be interested, Alison jumped in anyway. Eventually, her mom and aunt came to visit, armed with sewing machines to donate. The women of KM64 have turned out to be sewing superstars, and are now making small bags on a regular basis. While they make their bags, they pray for the women of General Cepeda, just as the women of General Cepeda are praying for them. These women working and praying together have become the Espero Ministry. In Spanish, Espero means "I hope." Alison has set up an ETSY shop, and with her parents' help shipping the items, bags made in KM64 and bracelets made in General Cepeda are being worn and used throughout the US and Canada. All the bracelets have a milagro charm on them, reminding the wearer to pray for a specific intention. In many cases, women who wear the bracelets are now praying for the women in Mexico. This community is expanding, wrapped together in a ever-growing prayer network! When asked Alison about her goals for Espero, she responded, "It doesn't matter how many bags they sew, or whether they give up prostitution or not. None of it is worth anything without a life in Christ." The fact that this entrepreneurial activity is more of a prayer ministry is a sure sign that God is at work in the project. Given her natural inclinations, Alison is more comfortable running a business with concrete goals, spreadsheets, and plans. Or she'd prefer teaching and presenting, and then moving on. But no—this project, the passion of her time so far in Mexico, has become a prayer ministry. It just goes to show that if we're willing, God will take that willingness, and use it for things we could never have imagined on our own! For those interested in the Espero ministry, check out their ETSY store. Alison has also made a video, introducing the ministry to those interested in furthering the work the women in Mexico are doing.
Photo courtesy of Alison McConoughey. Used with permission. All rights reserved.[/caption] As it sounds, Espero is a female-dominated project. In fact, anytime FMC missionaries visit the villages, while they often have 10 or more women and children attend worship services. Men are harder to pull in. So Kent McConaghey has plans of his own. He's working with local contractors to pour cement floors into some of the houses of KM64, counting on the male residents to help with the work — they generally turn out well for construction projects! In a similar creative vein, a local friend has plans to start a gym. Kent has been helping this friend fix up the space. While the gym itself will be a benefit to the community, Kent and his friend are hoping to teach classes along spiritual themes, turning this gym venture into a bit of ministry, too! The McConagheys do remarkably well navigating a new culture, despite language issues. However, to continue their ministry, they are in need more partners for financial support. At this point, Espero is hardly self-sustaining, yet Alison does pay the women well for their work (whether those products have a buyer yet or not). Please add the McConoughey family and all of FMC missionaries to your prayers. While praying, consider whether God might be calling you to support them financially in their mission in Mexico. Beyond supporting Espero and regular prayer and financial support of missionaries, another way to be involved in missions is to take a mission trip. Thanks to FMC's philosophy, they're not just for college students! People of all ages are welcome on FMC trips, so bring your kids along! At the very least, you'll gain a better understanding of the world at the way God is at work. It's quite likely the experience will grow your faith. It's also possible -- like the McConougheys learned — that the experience could change your life. Come see how God is at work in the world! https://www.youtube.com/watch?v=DbgwXW-LgyY
---
Copyright 2019 Jill Michelle Douglas
About the Author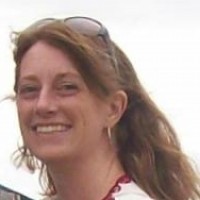 Jill Michelle Douglas lives in northern Mexico, where she often finds herself explaining Mexican Catholicism to other expats. When not bridging the Protestant/Catholic gap, she's usually toting her kids around, or working on her blog, Jill's Journeys.