Last year I read Pope Francis' exhortation, Gaudete et Exsultate/Rejoice and Be Glad, as soon as I heard about its release from an announcement here on CatholicMom.com. At the end of the religious education year, I selected the book as the parish gift to our volunteer catechists. When I heard about the opportunity to review Practical Holiness: Pope Francis as Spiritual Companion by Albert Haase, OFM from Paraclete Press, I looked forward to revisiting Pope Francis' ideas from the eyes of another.
The book chapters parallel those of the exhortation and provide reflections of what the author loved about Pope Francis' words and examples of how the ideas provided can positively impact spiritual growth in different contexts, viewing Pope Francis as a spiritual director. One of the areas that I have been pondering lately is how to walk well with others through different ages and stages of life, so I appreciated that the book was set up to highlight the background of Albert Haase, OFM, as a spiritual director and in supporting spiritual directors. The concepts could be applied not only to formal spiritual direction, but also to spiritual friendship and to nurturing the faith of family within the vocation of marriage. Direct quotes from Pope Francis' words from Rejoice and Be Glad were woven throughout, among Haase's reflections and connections to the exhortation. In the introduction Haase expresses a hope that reading his book will prompt people to read the original exhortation and continue reflecting on the richness of ideas contained. Each of the chapters concluded with reflection questions to aid readers in entering into Pope Francis' concepts more deeply. In addition, there is an appendix, 40 questions in 40 days grouped by chapter titles as headings. Practical Holiness is a good read for the Lenten season, showing connections between the Gospel and practical applications to our everyday lives through the guidance of Pope Francis' exhortation. It provides areas we can explore in our own lives, as we intentionally focus to reflect God's love in the world.
---
Copyright 2019 Amanda Villagómez
About the Author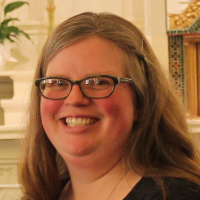 Amanda Villagómez is a wife, mom of 6, and teacher educator. On her personal site, she focuses on the beauty of becoming who God created us to be by celebrating the process of change and growth.