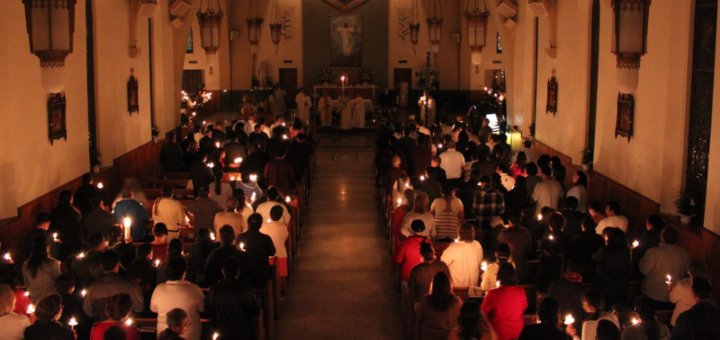 Image credit: Flickr.com (2011), CC BY 2.0[/caption] For the past several years, I have made an effort to attend all of the liturgies of the Triduum: Mass of the Lord's Supper on Holy Thursday, the Good Friday service, and the Easter vigil Mass. I hadn't attended any of these as a child or young adult, and so I feel like I have just "discovered" them, and for a cradle Catholic, this sense of newness and awe is quite exciting! As a result, sharing them with my own children has been very special. My son Henry, who is now 13, has attended the Easter vigil with me for a number of years, and even altar served at the entire Triduum last year with my encouragement. My daughter Anne, who is 7, has attended the Good Friday liturgy with me since she was a toddler.
Image credit: Flickr.com (2014), CC BY 2.0[/caption] This year, with Anne on the cusp of turning 8, and Henry wanting to serve again at the Easter vigil Mass, I reflected on whether or not she was old enough to stay awake for that liturgy, and also make it all the way through without complaining about how long it was. I did a little searching on my blog, and found that I took Henry to the Easter vigil for the very first time the same year he received First Eucharist, which is still one year away for Anne. I found my description of the event to be an endearing memory: "It involves FIRE, Henry! But it *is* longer, so you have to be patient." "Longer?! I don't think so, Mommy." "But ... FIRE!" Let's just say that I prevailed.
Image credit: Diocese of Gallup (2015), Flickr.com, CC BY 2.0[/caption] At 8 PM Saturday evening, Henry and I were sitting in the darkened church, craning our necks to see the fire getting started outside. As our deacon processed into the dark church with the lit Easter candle, intoning "Behold, the light of Christ!" I thought to myself how very grateful I am to be Catholic. Our faith is truly a treasure. I was teary as Henry and I had our candles lit, feeling so thankful that God is always there, even in our spiritual darkness. When the lights were flipped on dramatically as the cantor sang the Easter Proclamation, I could tell Henry was impressed. This, indeed, was different from any Mass he had ever seen. Following the Blessing of Fire and Procession of the Candle, we moved to the Liturgy of the Word. This is the tough part of the Easter vigil with kids! There are seven Old Testament readings at this liturgy, each with their own Psalm and prayer, and Henry's agonized face as he flipped through his missal said it all. At the pastor's discretion, the initial seven readings can be pared down, and our parish chose to read three of those, plus the Pauline epistle and the Gospel, so five readings in total rather than nine. Henry did great, and was patient throughout. Following the homily comes the third part of this Mass, which is the baptismal liturgy. Sublime! The litany of the saints, oh my! *ANGELS WERE LITERALLY SINGING* It was so beautiful. We had two catechumens (receiving Baptism, Confirmation and Eucharist) and two candidates (receiving Confirmation and Eucharist) at our parish. I teared up during the baptisms, and then when the congregation renewed our own baptismal promises, it was just ... only when I served as godmother at my good friend Irena's Baptism a few years ago, and when I was married, have I ever been that emotional at a Mass. When we moved on to the Liturgy of the Eucharist, I could feel Henry relax. He knew exactly how long we now had to go, and so he was cool with that. When I returned from receiving Communion, Henry leaned over to remind me that there was only one more Mass to go before *he* could receive Communion, which made me smile. When we got home, it was just after 10 PM. Although he was impatient at the beginning of Mass, I thought Henry did a great job overall, and I'm so glad he came with me. Looking back on those memories made me smile. My "little" guy is now as tall as I am and going to high school next year! When I asked Anne about attending, I once again mentioned the fire, because that's certainly a crowd pleaser. Also, Henry is serving the Mass, which makes it extra special. She was intrigued, and immediately asked to attend. Although she's younger than when Henry first attended, I think I'm going to bring her. Our earthly life is short, and we should treasure every Easter vigil Mass that we possibly can. To my mind, it's as close to a taste of heaven that we receive here. Do you bring your children to the Triduum liturgies? Or do you have plans to this year? I would love to hear about your experiences!
---
Copyright 2019 Tiffany Walsh
About the Author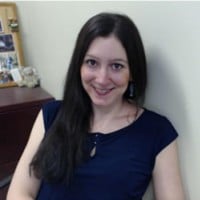 Tiffany Walsh is a wife and mother, a native western New Yorker, and a college librarian. She is a cradle Catholic who rekindled her childhood faith as a graduate student via her love of books, and is the author of Exploring the Catholic Classics, part of the Stay Connected Journals for Catholic Women series. She enjoys writing about faith, crafting, dance, fitness and wellness. Visit her blog at Life of a Catholic Librarian.