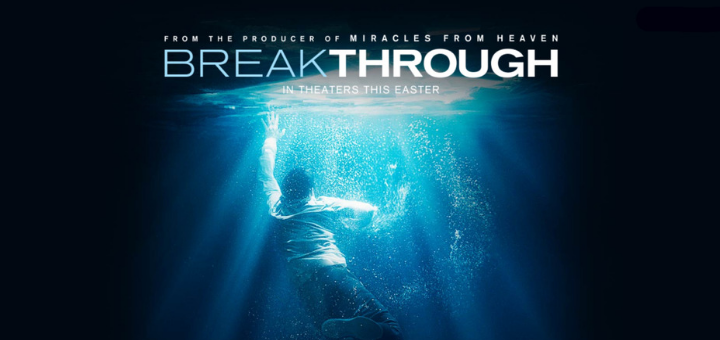 Have you seen the movie posters of a boy fighting for his life under water?
TM & © 2018Twentieth Century Fox Film Corporation. All Rights Reserved.[/caption] Breakthrough hits theaters Wednesday, April 17, just in time for Easter. I had the opportunity to see the film and interview some of the movie's key players. Here's the inside scoop and glam red-carpet pics! Catching up on his news feed on a flight from Dallas to Sacramento, Rev. Dr. Samuel Rodriguez began his journey as executive producer for Breakthrough, a story about a boy -- John Smith -- who fell through a not-so-frozen lake, was dead for one hour and through the bold prayers of his mom, was miraculously brought back to life. John is now 18 years old and sharing the story God gifted him, through the big screen. Evangelization at its sparkliest. Dr. Sam read John's story, used it in his Sunday sermon, and then received a message from a woman telling him he hadn't done the story justice. Turns out the woman was Joyce Smith, John's adoptive mother. The two then began a conversation that would bring them to where they are now, less than a month away from Breakthrough's opening day.
Rev. Samuel Rodriguez, Executive Producer of Breakthrough. Copyright 2019 Stephanie Stovall. All rights reserved.[/caption] Through a string of God moments, producer DeVon Franklin (Miracles from Heaven) came on board the project.
"I just feel like this space really requires authenticity … I think it's hard to make movies in this space if you're not living it. I don't know that I could produce these types of films and have an ear towards this type of content if I wasn't out there preaching and speaking in churches regularly … I know it, 'cause I live it. It's not something I do for money, it's who I am."
Franklin preached his first sermon at the age of 15.
DeVon Franklin, Producer of Breakthrough. Copyright 2019 Stephanie Stovall. All rights reserved.[/caption] Roxann Dawson is the director of Breakthrough, as well as a fellow Catholic mom. Dawson shared that her top reasons for being a part of this movie were here beliefs and her adopted daughter.
"This was one of the first times that I could actually do a film that reflected my personal beliefs … I also have an adopted daughter and that brought me very close to how Joyce feels. I felt that I understood her and not only that, but I felt I understood John better."
There is a scene in the movie where John reveals his challenges of being adopted through a school project. That very same project was one Dawson's daughter had to do, and she happened to experience the same emotions as John. That coincidence between the film and real life spoke to Dawson's heart.
Breakthrough director Roxann Dawson with her daughter at the red-carpet event. Copyright 2019 Stephanie Stovall. All rights reserved.[/caption] John's real-life Pastor Jason Noble, who stayed closely at the family's side while John was in the hospital, gave us the dish on his rocky relationship with Joyce Smith. In the movie their "new, hip pastor vs. traditional church member" drama wasn't how it played it out in real life, but it was meant to show real-world conflict that does exist inside church walls. Noble also shared why community is so important to Christian life, as greatly showed in the film.
"I think community is so important because we're stronger together than we are apart … and it's something we've actually lost, I think, in the church world today. People are so separated with social media … they're more lonely than ever … Who do you have when you walk through a difficult time with? You have to do it by yourself, it's difficult, compared to having a whole church around you walking through it."
From left: Rev. Samuel Rodriguez, John Smith, and Pastor Jason Noble at the Breakthrough red-carpet event. Copyright 2019 Stephanie Stovall. All rights reserved.[/caption] John Smith, 18 going on a mature 30, feels "It is a huge blessing, what else can you say, to have your story, something that God did so amazingly to my family be brought to the big screen. It's just a huge blessing to see how this has all been God-ordained since the time I was born."
Interviewing John Smith. Copyright 2019 Stephanie Stovall. All rights reserved.[/caption]
"Breakthrough is so unique, because everyone wants to look at these God-based films and go, Oh -- that's … all cheesy Jesus… it's another one of these stereotypical easy to predict films. This is yes, a God-based film, but you also have to realize we have science to back it up … God is the source of this whole story, but then we also have this little character behind it going -- I have science, I have 300-plus medical documents to verify why I'm alive. And that helps because when I'm talking to an unbeliever … they hear that there is a … number one in his expertise of hypothermia and drowning saying that this is a bona-fide miracle from God, what can you say to that? What can anyone say to that? They want to say it was the cold weather, well we have evidence to backfire that … This is such a remarkable film because we have more than just fiction, we have the truth. We have evidence. We have backup."
John Smith and Pastor Jason Noble grab selfies at the Breakthrough red-carpet event.[/caption] Then, my fan moment with This Is Us star, Chrissy Metz, who plays Joyce Smith. Sitting down to talk with her was like sharing a cup of coffee with an old friend.
Interviewing Chrissy Metz. Copyright 2019 Stephanie Stovall. All rights reserved.[/caption] She shared an incredible story, how three months before Metz knew this movie was going to be made, her mom had a major stroke.
"They were not sure that she was going to make it through the night. There was a lot of swelling in her brain … and I just said to my sisters -- We're going to pray for healing, for the swelling to go down and we're going to be very specific about what it is that we want and we're going to visualize it … and only think positive thoughts about it. I had someone come in and pray and we just sort of held a vigil … and the doctors couldn't believe that the swelling had gone down and that she had made it through the night and she wasn't going to have to have surgery. And they said okay, now that she's done all this, we don't know that she's going to be able to walk again. And I said okay, well, you also don't know my mom, and you also didn't think she would make it through the night … She now walks over 10,000 steps a day … She's now the healthiest she's ever been."
The author with Chrissy Metz. Copyright 2019 Stephanie Stovall. All rights reserved.[/caption] Don't forget to save the date for Jesus and Breakthrough, April 17!
---
Copyright Stephanie Stovall 2019
About the Author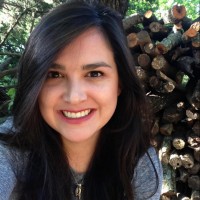 Stephanie Stovall loves Oklahoma State University and hanging out with her husband. She keeps Holy Mary busy praying for patience with her five little boys. Stephanie loves God, Catholicism and evangelizing with all her heart! You can find more of her messy thoughts over on TheBlessedFruit.com